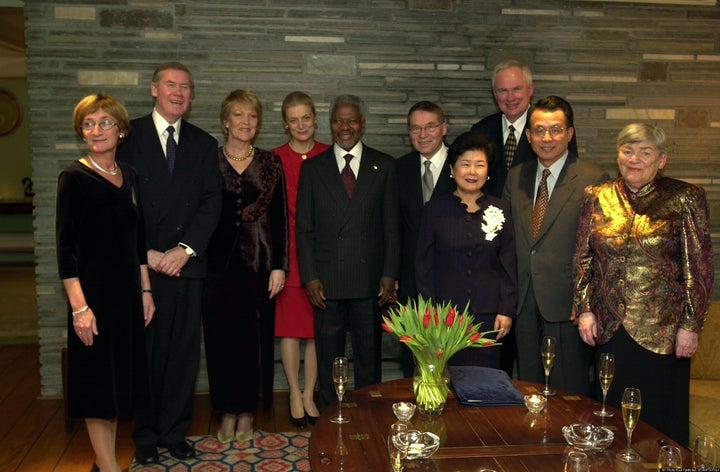 Former bishop of Oslo Gunnar Stålsett served for 14 years as a member of the five-person Nobel Peace Prize Committee. Now, as co-president of the global interfaith organization Religions for Peace, he travels the world, from hotspot to hotspot, working to solve conflicts. He and Katherine Marshall recently discussed how he and the Nobel Peace Committee see contemporary roles of religious leaders in working for world peace, and what motivates him in his global interfaith work. The full interview can be found here.
The Nobel Peace Prize will be awarded in Oslo today. Many recent Nobel Peace laureates speak about their religious inspiration. Yet religion is often associated with war. How do you reconcile these two faces of religion?
Religion indeed has a double face: one that looks to peace and reconciliation, the other to enmity, even hatred and conflict. This is a well documented historic fact, and it applies to all major religions. Fundamentalism and fanaticism, especially, mar the face of religions. Even in our time, fear of modernity and loss of identity lie at the root of many appeals to "holy war."
But few if any wars are purely religiously motivated. Religion is being hijacked as a convenient vehicle in struggles for ethnic, national and cultural identity or for social justice. These are often legitimate aspirations. It is an expression of despair when faith is perverted to be the motivation for use of violence and killing.
We need to accept that this abuse of religion may find inspiration in holy texts and holy myths. Rising above this perversion of the holy is what makes religion a powerful potential source for peace. Every religion has a blessing for peacemakers and an appeal to reconciliation with the real or perceived enemy. I believe that those who have tapped into the rich concept of "shalom-salaam" have the broadest possible understanding of peace as a holistic reality for the fullness of life, even under adverse conditions.
The two faces of religion cannot be harmonized. A choice has to be made, a choice for life, not for death, a choice for love, not for hatred, a choice for compassion not for conflict.
How has the Nobel Peace Prize highlighted religious voices?
The Nobel Peace Prize has highlighted religious voices by honoring persons for their work for peace, not for their words. In the list of Nobel Peace laureates, from over a century, are several persons who are identified as religious persons because of their explicit profession of faith. Many more have been spiritually motivated in their work for peace. This applies to individuals as well as organizations. No one doubts that religion has been the driving force for laureates like Archbishop Nathan Söderblom, Albert Schweitzer, Archbishop Desmond Tutu, the Rev. Martin Luther King, His Holiness the Dalai Lama, Mother Theresa and Rev. Perez Esquivel, who all were defined by their religious title. But many others, whose titles do not signal their spiritual motivation and religious affiliation, have in their acceptance speeches or comments testified to the power of faith in their personal life as integral to their vision for peace. For example, the Buddhist Aung San Suu Kyi of Burma, the Christian president of Korea Kim Dae Jung, the Jewish author Elie Wiesel and the UN secretary General Dag Hamarskjøld, whose Christian mysticism in many ways transcended religious definitions. For Muslim recipients, the faith dimension is always implicit, as for example for Egyptian Anwar Sadat, Palestinian Yassir Arafat and Iranian Shirin Ebadi.
However if one looks at the texts where the Nobel Committee states the reasons for selecting each person for the Prize, there is hardly any reference to religion or spirituality as the motivating source. Likewise, the committee keeps its silence about the laureates' ideological and philosophical inspirations. This reflects perhaps a culture of neutrality in matters that are religious, which is seen to be in the spirit of Alfred Nobel himself, and is very concordant with a Norwegian discretion about religious allegiance.
What about you? What inspires you to the work you do?
My deepest values come from growing up as a member of a minority group, in a pre-modern, very poor community where people felt strongly about solidarity. My grandparents migrated from Finland to the furthest-north corner of Norway. Minorities were treated badly then in Norway. Very early in my childhood I became keenly aware of the oppression of the Sami people, even if they antedated both the ethnic Norwegians and Finns in the region. This experience left me with an antenna for minority perspectives. I tend to see marginalization and oppression where others might not.
Growing up without electricity, running water, telephone or regular access to medical services helps me to understand intuitively -- in my body and soul -- the conditions of deprivation and marginalization of people in faraway corners of the world. From a very young age, my family ingrained a work ethic because we all had to work and contribute to produce income to live. I left home when I was 15 to support the household. Children learned to value not only the work itself but also being able to contribute. The value of sharing and solidarity was shaped by necessity, but it also came as part of an ingrained Christian tradition.
Religion was a natural dimension in people's lives but not often discussed. The Finnish revival movement gave my grandparents core values which they passed on to the next generation. The lasting impact was love of neighbor, solidarity, care for others and the Ten Commandments. Later in life I have seen that the "Great Commandment," to love God and your neighbor as yourself, stands out because it is a shared text of Jews, Christians and Muslims and a code shared by most other faiths. But I have also come to see that if the commandment were just to love God with all your mind and heart, that would be a recipe for Crusades and jihads under many names. Those who flew planes into the Twin Towers could say that they did it for love of God. But to love your neighbor? You simply can't say that you love God and hate your neighbor.
These values from my childhood influenced my understanding in layers over the years, including the often forgotten bottom line of love of self. To recognize people who have never been told they are lovable, no matter what has befallen them, is part of my credo. This heritage has led to a life-long engagement with people whose lives have been oppressed. It spilled over into my political life, into my thinking about the rights of women, into my understanding of conflict and my understanding of how we must approach immigrant populations. If "they" are forced to assimilate, their identities are violated, but a policy of integration may honor their religion and culture.
How did you come to be a pastor?
I oscillated for many years between being a medical doctor and a pastor. I heard Albert Schweitzer give his acceptance speech for the Nobel Peace Prize in Oslo in 1954, and he inspired me. Could I perhaps also be a doctor and a pastor? My choice was forced while I was studying at a seminary in the United States, working in a hospital on weekends, as an orderly. An extraordinary doctor there suddenly offered to finance medical school, start to finish. I was overwhelmed by his generosity, but it forced me to decide between ministry and medicine, and between America and my country, Norway. After a week of soul searching I told the generous doctor that "I would go home and give Norway a chance."
But the next pull was politics, and I was drawn into heated political times in Norway. Social issues were then on the front burner. I served on the Oslo City Council for eight years, insisting that we allocate the first site for a Muslim mosque in Oslo, at the time a very controversial position. I served as a junior minister in the government, an alternate member of Parliament, and chairman of a political party.
And then in 1979 I faced another crossroads: church or politics. And again I chose the church. I worked in Geneva for nine years as secretary-general of the Lutheran World Federation. This drew me deeply into a global ministry rich in challenging international issues. I was ready to retire according to Geneva rules at 62, but had a surprise election to become Bishop of Oslo in 1998. In this position also I saw interreligious dialogue and cooperation as a great imperative for our country, as part of an ever more globalized and interconnected world.
Since I retired six years ago as Bishop of Oslo, I have been able to spend more time on these critical global issues. I see my work not as traditional interfaith dialogue but as an active search for peace and global solidarity. Each of us and each of our faith and value traditions can do so much to improve the lives of individuals, the society and the world. We can and must be part of the answer to the great challenges of our time: environment, health, poverty and the status, role and dignity of women and children. I am very convinced that each religion and each believer has something to contribute, but it demands a sense of humility and a critical view of our own history, religion and faith.
Can you point to successes in interfaith work?
Interfaith work is a process. Results are not easily documented. It is about changing mindsets and cultures. I see it in a long perspective where I am presently deeply engaged in Kyrgyzstan and Burma, and I have seen in our program in Sri Lanka. Efforts to create dialogue between Sunni and Shia Muslims in Iraq have been extremely difficult. In the Balkans, dialogue between Kosovo Muslims and Serbian Orthodox leaders are encouraging. On another front, the banning of cluster munitions is moving forward, with mobilization of religious leaders and their communities.
I am relieved at a greater recognition today, at the political level, that we are not seeing wars of religion, as in the past, but conflicts exploiting religious differences.
That opens the door for wise religious actors to work for peace. I recently received the Order of Timor for my facilitation of peace and reconciliation after the national crisis in 2006, and I also take pride in The Guatemala Grand Order of Quetzal for my initiative and involvement in the peace negotiations in that country. The Russian Orthodox Patriarchate's order of St. Radonesh signals ecumenical cooperation in times of cold war. But such recognition of work for peace has little real value without people's commitment to the process of truth, justice and reconciliation. Outsiders can never be more than facilitators and advisors. Real change must come from and be rooted in the peoples themselves. Those who live the problem must also live the solution if it is to be long lasting.
Calling all HuffPost superfans!
Sign up for membership to become a founding member and help shape HuffPost's next chapter