The horrific shooting that left nine dead at Emanuel African Methodist Episcopal church in Charleston will be "etched in that community forever," according to Rev. Arthur Price. As pastor of 16th Street Baptist Church in Birmingham, Alabama, where four young girls were killed in a bomb attack in 1963, Price knows the scars such violence leaves on a worship community.
"Another word for church is sanctuary," Price told The Huffington Post. "The church is supposed to be a place of security and comfort. It's hard to take that such a horrific act could take place at a house of God."
But violent attacks, often motivated by hate, do happen in houses of worship across America. There have been at least six such incidents in the last seven years, and they always leave the community traumatized.
In interviews with HuffPost on Thursday, officials from houses of worship that had been through trauma offered advice for their brothers and sisters in Charleston, warning that it would take time, prayer, introspection and action to get back to a feeling of normalcy -- if they every get back at all.
One of those officials, Amardeep Kaleka, is a member of the Sikh Temple of Wisconsin in Oak Creek. His father, Satwant Kaleka, was one of the founders of the temple and one of the six people killed when a white supremacist attacked the religious community in 2012. Reflecting on that moment and the news on Thursday, Kaleka cautioned that healing comes slowly.
"In the immediate aftermath you are feeling grief, shock and trauma with major concerns of well-being. Normality is out the window, and nothing is ever going to be the same. We had a lot of soul searching, cried, and came together in vigils," he said.
In 2007, Pastor Brady Boyd had been at New Life Church in Colorado for three months when a gunman opened fire in the parking lot, killing two girls. He warned against trying to rush any grieving process. "It's not an easy process, it was a dark, dark day for us. It was a place people always felt safe -- that sense of safety and sacred got robbed. There are no easy answers and no quick fix. It took years for us to feel healthy or whole."
For those religious institutions and houses of prayer that have been afflicted by violence, recovery is defined not just in spiritual terms, but also in economic ones. In April 2014, the Overland Park Jewish Community Center in greater Kansas City was the site of a triple homicide after a neo-Nazi burst into the building with a handgun. Kara Cowie, a spokeswoman for the center, said that membership remains a problem to this day. It's one of the reasons, she said, that officials there declined to comment for this piece. They want to put the incident behind them.
Others who have gone through these traumatic moments were more eager to share their experiences. Kaleka said he will travel to Charleston to attend the upcoming Sunday service at Emanuel AME Church. His advice to Emanuel: "Be as open to the support that you will receive, knowing that there is no amount of support that will fill the emptiness that is left behind. The vigils can help, along with people coming to you telling you that they are with you. With us, it was important that non-Sikhs came to us in our time of need. Pray and unite. These are the only two things that can combat this type of evil."
Price encouraged the members of Emanuel church to remember their faith during a period of sorrow. "Lean on your faith and your belief and trust in God," he said. "God heals all, sees all, God will console them in this time."
The pastor also shared the positive actions for social justice that happened at 16th Street Baptist after the bombing. "People thought the deaths of those young girls should not be in vain. Those in the civil rights movement pressed even harder for civil rights and voter rights because the loss of innocent life was crying out for justice," he said. "It should help us to keep pushing for justice and equality in our society. Pray and value and appreciate each other. God will also make sure that justice will prevail."
Related
Before You Go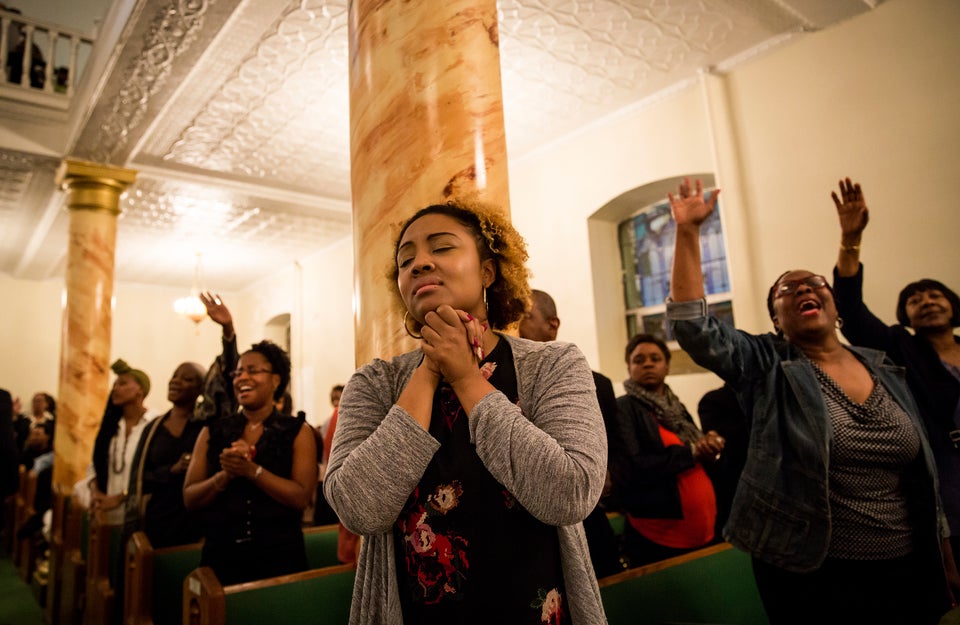 Charleston Church Shooting
Popular in the Community