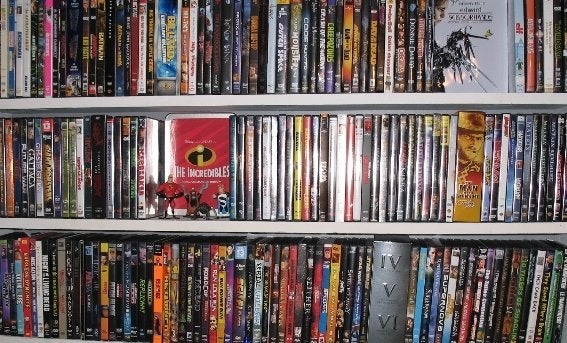 Just when we thought it was safe to forget about movie awards, at least until the Oscars kick in, the Movieguide Faith Values Award Gala comes barreling our way for the 17th straight year. The highlight of the event -- Feb. 11, televised from the Beverly Hilton -- is the presentation of Crystal Teddy Awards for the year's best movies. As an extra added attraction, Dr. Ted Baehr (is the Crystal Teddy named after him?) will present a "Report to the Entertainment Industry," using box-office analyses and "Movieguide criteria" to enlighten the "Hollywood leaders" in attendance. The press release I'm quoting doesn't say what "Movieguide criteria" are, but they evidently pack a wallop -- since this annual shindig started almost two decades ago, "the number of movies with positive moral content has nearly quadrupled."

I'm all for positive moral content, but somehow this gives me the willies, partly because I don't think my idea of cinematic decency is what the Movieguide gala plans to celebrate. We all know movies aren't what they used to be, but judging from the limited array of mainstream DVDs for sale on religion-connected websites I've checked, little this side of Young at Heart and Marley & Me is fit to be viewed. Not for the faithful are important movies like There Will Be Blood, with its spot-on dissection of American materialism, or The Diving Bell and the Butterfly, about a man who survives unimaginable disaster without calling in the clergy -- films of great moral courage that apparently don't carry the correct moral brand. Will we find brave, insightful fare like Milk and Waltz with Bashir in these emporiums when spring arrives? I doubt it.

At least these outfits and their customers simply ignore the pictures that irk them. Fair enough; I've been known to do it myself. What riles me more is the business of peddling movies on DVD after scrubbing them squeaky clean, or as we used to say in pre-digital antiquity, censoring them. You actually can buy There Will Be Blood from Clean Play DVDs, and the company promises a "clean, edited" version. Ditto for No Country for Old Men and, even more astoundingly, Sweeney Todd: The Demon Barber of Fleet Street. A clean, edited version of Sweeney Todd? What's the running time, three and a half minutes? Legal action has driven most such vendors out of business, but some appear to be holding on, snipping and bleeping Tim Burton and the Coen brothers into line. Remember the priest in Cinema Paradiso who rang a little bell when a movie got naughty, signaling the projectionist to take out his scissors? He's still around, and apart from his denomination he hasn't changed a bit.

Judging from posts on faith-based movie websites, lots of people wish the average Hollywood product had lower levels of sex, violence, and four-letter language; since I too am fed up with the idiotic vulgarization of contemporary pop culture, I sympathize with them to some extent. I've also had the pleasure of talking with Dr. Ted Baehr, who strikes me as completely sincere about his mission, if a tad overenthusiastic about "scientific studies" that prove the perniciousness of certain movie content.

And of course I respect the John Templeton Foundation, which sponsors fascinating research into the nature of life, mind, and the cosmos. But even this illustrious organization falls prey to hazy concepts and nebulous terminology when Movieguide is around. At the upcoming gala, Templeton awards will be bestowed for "inspiring" movies and "spiritually uplifting" screenplays. It would take a heap of Templeton research to pin down specific meanings of those words.

More broadly, organizations like Movieguide seem to think that "family," "film," and "faith" should be eternally conjoined; maybe three agreeable f-words cancel out the nasty one. According to my moral compass, families and films can flourish in the presence of faith, but they can flourish equally well -- morally, ethically, "upliftingly" -- in its absence, as some of the above-mentioned movies attest. I'd be less skeptical about the Movieguide Faith Values Awards Gala if its very name, dubious syntax and all, didn't have at least one conservative buzzword too many. Like love and marriage, faith and values don't always go together.
Popular in the Community