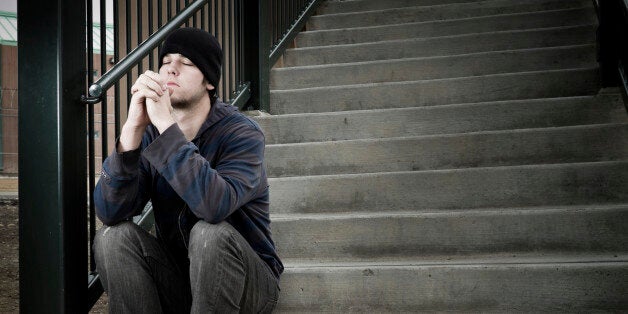 Click here to read an original op-ed from the TED speaker who inspired this post and watch the TEDTalk below.
During one of those interminable sleepless nights that followed the death of my oldest son, I crept downstairs in the dark and logged on to the computer to explore the views of the Christian Church on suicide. I was a midlife seminary student but, like most people, my knowledge of religious attitudes toward suicide was limited. I knew that suicide had been condemned by the early church and that those who died of suicide were once understood to be sinners of the worst sort, headed straight for hell. I knew that churches had at some point come to recognize that mental illness may reduce a person's capacity to make decisions and, therefore, his or her responsibility for a self-inflicted death. My hours on the computer that terrible night revealed little beyond that basic information.
Five years have passed and I have learned a great deal more about the attitudes of both the general public and the clergy toward suicide. I now realize that our family benefited tremendously from knowledgeable attitudes toward mental illness and from the generosity of religious authorities whose faith convictions center on a gracious, loving, and merciful God. I have many friends, colleagues, and mentors in the Jewish, Catholic, and Protestant clergy communities. No one in my family was ever subjected to condemnatory language with respect to our son and brother.
But since that time, I have heard stories and absorbed first-hand much that differed from our initial experience:
-- Church funerals denied because the deceased had died of suicide.
-- Parents asked, "How does it feel to know that your child is in hell?"
-- Schools holding elaborate memorial events for students who die in other ways, but balking at any recognition for a student who dies of suicide.
-- Pastors rendered so uncomfortable by the topic that they joke about it -- in front of survivors, those of us who have lost loved ones to suicide.
-- People who refer to suicide as a "selfish" or a "cowardly" act, or leap to assumptions about the family or community life of someone who has died.
They are sure that we will dismiss their beliefs, be shocked by their questions, or be appalled by their anger at God. Where suicide is at issue, they are sure that we are going to talk about hell. -- Rev. Mary Robin Craig
As a pastor who has lost a son to suicide, I am passionately interested in changing the ways in which we all respond to those who may be contemplating suicide, those who have made attempts which they have survived, and those left behind when loved ones have died.
Here are five things I believe we can do:
-- Let's expand our vocabulary. We can learn to say the word "suicide" out loud, and we can learn ways of describing death by suicide that do not imply that it constitutes a criminal act.
-- Let's educate ourselves about resources. Most of us are not qualified to assess a person's mental state. We certainly are not qualified to say, "She doesn't mean it," or "He wouldn't do that." Let's learn how to assist someone in finding needed help.
-- Let's create space -- for listening. Last year a friend said to me, about another grieving mother, "I just don't know what to do to help her." "She doesn't need you to do anything," I responded. "She needs you to hear her. She gets to grieve. She gets to ask her 'what ifs.' She gets to express her sense of guilt. What she needs is for you to be present to all of that."
-- Let's demolish the stereotypes. Many people avoid anyone whom they believe will preach at them or tell them what to believe. People who identify as atheists or agnostics or "spiritual but not religious," or who have decided that they are finished with God, often run as fast as they can from those of us who claim a religious identity. They believe that we will push our own faith agenda. They are sure that we will dismiss their beliefs, be shocked by their questions, or be appalled by their anger at God. Where suicide is at issue, they are sure that we are going to talk about hell. Let's help people find the language to describe their own experience, their own anguish, their own confusion. Maybe they need the traditional language of faith; maybe not. Let's invite; let's not impose.
-- Let's fling open the doors of our sacred spaces. A house of worship should be a place where the despairing can speak freely and be referred to appropriate help; it should be a place of welcome for a bereaved family planning the funeral of a loved one dead by suicide. Communities of prayer should offer resources for helping the despairing find life again. Communities in which the sacred is honored are called to surround those who grieve devastating loss with love and compassion. Those who are living through hell in this life should be embraced by those whose convictions spell hope and restoration.
If we are people of faith, we are called to embody the recklessly abundant love of a God from whom nothing can separate us. Not depression, not the consequences of mental illness, not death by suicide. We can do better for those who suffer. Let's be those people we claim to be.
Ideas are not set in stone. When exposed to thoughtful people, they morph and adapt into their most potent form. TEDWeekends will highlight some of today's most intriguing ideas and allow them to develop in real time through your voice! Tweet #TEDWeekends to share your perspective or email tedweekends@huffingtonpost.com to learn about future weekend's ideas to contribute as a writer.