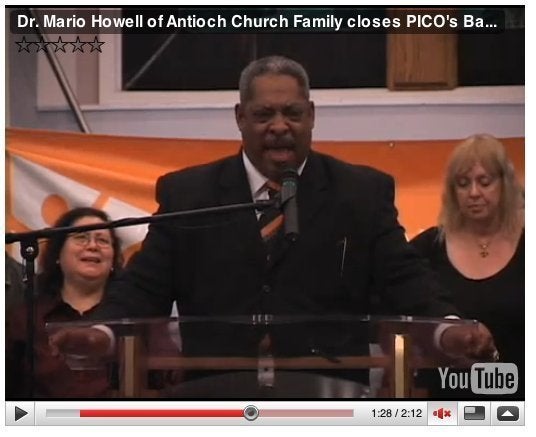 A network of religious community organizers is calling for its members to pull their money out of Bank of America after the bank failed to meet their demands during negotiations on Tuesday evening in Antioch, Calif.
"Just as Moses led the children of Israel out of Egypt, it is time to lead an exodus of our money from Bank of America," said Rev. Mario Howell, pastor of Antioch Church Family, according to a statement. "It is time to go to a bank which will serve us."
The faith-based divestment effort is separate but parallel to the "Move Your Money" campaign.
People Improving Communities through Organizing, a coalition with over 1,000 member congregations across the country, threatened to launch the divestment campaign if Bank of America officials did not agree to their demands, which included a 90-day moratorium on foreclosures. Other groups, including the SEIU and the NAACP, joined PICO at the negotiating table with bank officials.
"Bank of America had nothing -- no new ideas or proposals to offer to keep families in their homes and end the suffering in our communities," said PICO's Rev. Lucy Kolin, who led the negotiations, according to the statement. "We offered them a clear statement of the bottom line: Keep people in their homes. Do no harm. Put in place a moratorium so that Bank of America can get its act together and stop hurting our families and our communities. We went into this meeting willing to be hopeful, but we were disappointed."
A Bank of America spokesman told HuffPost on Tuesday that a foreclosure moratorium would be unnecessary because the bank doesn't foreclose on a homeowner eligible for a modification under the Obama administration's Home Affordable Modification Program.
"In fact, blanket moratoriums put properties at risk, particularly if the property is vacant, and can interfere with the process of reselling properties at market values that could assist with the recovery of local housing markets," said the spokesman.
But PICO maintains that Bank of America has been foreclosing on eligible homeowners and even people current on their payments: "In Texas, Bank of America foreclosed on a family that was current on their payments," said PICO in a statement. "The family discovered this mistake when they returned from work to find they were locked out of their home."
A Texas homeowner is suing Bank of America for mistakenly foreclosing on a property the bank did not own, according to a report from the Galveston County Daily News. (Though that incident had nothing to do with modifications under HAMP.)
PICO said that it is asking the Treasury Department to investigate and impose penalties on Bank of America and other banks it says are failing to comply with the administration's modification program. Treasury did not immediately respond to a request for comment from HuffPost.
Congregants prayed and listened to speeches while Tuesday's meeting took place.
"We will fight till we can't fight no more," said Rev. Howell. "We don't want just one or two to get a modification, we want everyone to have a modification! We want everybody to have a new loan! We want everybody to stay in their home!"
WATCH video of Howell's bank-bashing sermon as Tuesday's negotiations wrapped up:
Calling all HuffPost superfans!
Sign up for membership to become a founding member and help shape HuffPost's next chapter