"Without faith, there is no hope, and without hope there is no future." During a December meeting in Berlin with a group of Christian development actors, German Parliamentary State Secretary Hans-Joachim Fuchtel of the Federal Ministry for Economic Cooperation and Development spoke movingly about the power of religious values to motivate people and their governments to act decisively on behalf of the millions who suffer across the world. He also set the responsibility to act squarely in the context of faith and the moral values that, his comments suggest, are inextricably linked to a religious heritage. He cited Paul, the Ten Commandments, and the example of the life of Jesus in pressing the point that religious values clearly belong in discussions about the international development agenda because faith, hope, and charity are what it is primarily about.
Germany's official focus on religion as a central factor in development strategy reflects a new willingness to explore and speak to the positive and negative roles that religious beliefs and institutions play in world affairs. Germany is not alone in this trend: particularly in Europe, it seems, country after country is stepping back and asking what religious beliefs and practices have to do with development, and how policies should take into account the growing recognition that "faith matters", however sensitive and complicated the links to the earthly topics of statecraft, foreign aid, and coming to grips with environmental challenges.
The negatives about religious roles blare forth in news reports: extremism and violence tinged with a religious aura, questions about human rights, the sufferings of religious minorities, and unease about women's equality among them. The positives have had less focus in official circles but amount to a compelling mosaic of selfless work by countless people and institutions to address individual suffering and to work for a better world. In European explorations of religious roles in development, concerns about "culture wars", above all reproductive health, have been less a lightening rod for polemical discussion than in the United States, and strategies touching on religious roles take human rights as a framework basically for granted. An exception is the recent backlash against LGBT rights in some world regions which tends to creates considerable consternation, division and tension.
Germany has long relied on an impressive array of faith-inspired organizations (Bread for the World is the umbrella organization for numerous Protestant organizations and Misereor for Catholic development organizations) for development work (they receive government funding). But the religious element of development has rarely been discussed openly.
In November 2014, The Development Ministry launched a new "Charter for the Future". It is the product of technical analysis within the ministry and an active dialogue with civil society partners. Respecting and protecting cultural and religious diversity is one of the strategy's eight pillars. Supporting religious freedom as a basic human right is linked closely to a broad understanding of development that includes action on human development, economic growth, climate change, and security.
Against this backdrop of a fresh focus on ethics, religion, and development, Berlin was a fitting place to reflect on the "state of development" and to highlight the milestone year that lies ahead in 2015. Germany celebrated in 2014 the 25th anniversary of the fall of the Berlin Wall. Remnants of the wall are a reminder of dark years of a divided nation and anti-Muslim demonstrations pose troubling current challenges. Thus past, present, and future are vividly juxtaposed. Looking ahead to 2015, the slew of planned global events put the ethical and practical challenges facing the world community in start relief. Notably, the United Nations General Assembly will meet in September to finally agree on new goals for development which will build on the Millennium Development Goals, and the Paris Climate Change summit in December will grapple with the looming challenges to the environment.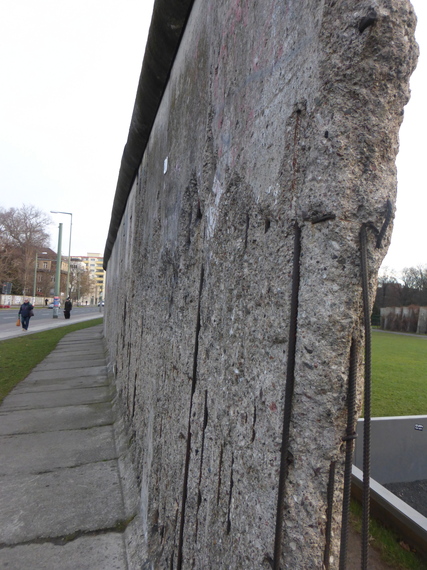 When world leaders met in the year 2000 at the United Nations, they set out challenges that they believed were worthy of the great milestone of a new millennium. Attuned to the demands for accountability, sensitive that we "treasure what we measure" and convinced that deadlines focus the mind, the Millennium Development Goals had measurable targets and deadlines. The main deadline year is 2015, now upon us. Meanwhile, global economic crisis has underscored the brittleness of the global economy, rising and often unexpected violence presents new challenges for security, and global climate "weirding" is increasingly hard to deny. The ethical imperatives that a serious discussion of religious roles and values bring into focus are needed more than ever.
Calling all HuffPost superfans!
Sign up for membership to become a founding member and help shape HuffPost's next chapter