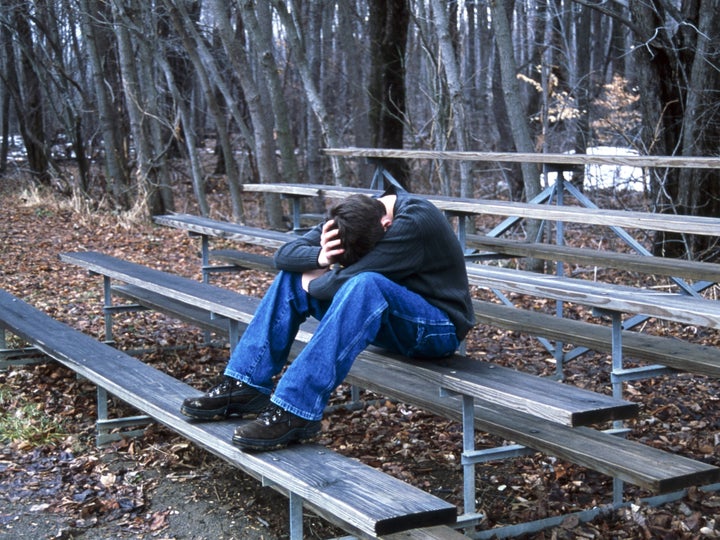 I have been simultaneously horrified, saddened, and enraged at the spate of suicides in the last month by teenagers and young adults who were bullied for being, or being perceived to be, gay. Billy Lucas, 15, hung himself on September 9 from the rafters of a barn. Seth Walsh, 13, hung himself on September 19 from a tree in his backyard. Tyler Clementi, 18, jumped off the George Washington bridge on September 22. Asher Brown, 13, shot himself in the head on September 23.
As an openly gay minister, theologian, and seminary professor, these suicides have brought back vivid memories of being bullied myself in junior high school. I remember being taunted so badly at the bus stop on Helen Drive that I no longer wanted to go to school. I remember being kicked out of my tent at Cutter Scout Reservation, with my possessions thrown in the dirt, and spending the rest of the night under a picnic table. I remember spending my recesses and lunch breaks in the Taylor Intermediate School library, which was a place of refuge for me, thanks to Mr. Rand, the kind-hearted librarian.
I believe this recent string of suicides by LGBT young people is, at root, a religious problem. For me, there is a clear and indisputable link between these horrible deaths and the rhetoric espoused by anti-gay Christians who continually condemn lesbian, gay, bisexual, and transgender (LGBT) people as sinners worthy of divine punishment. Where else do you think the bullies learn their behavior? No matter how well intentioned, anti-gay Christians need to understand that their nonstop rhetoric of sin and punishment creates a toxic environment that views LGBT people as less than fully human and thus deserving of socially or religiously sanctioned violence -- including self-inflicted violence.
A number of LGBT people of faith and our allies have started to do something about this problem. Rev. Stephen Sprinkle, an associate professor of practical theology and director of field education and supervised ministry at Brite Divinity School in Fort Worth, Texas, has uploaded a YouTube video called "It Gets Better." Rev. Sprinkle talks about his own experiences as a closeted gay high school student 40 years ago in a religious setting and gives hope to isolated LGBT youth around the world. Rev. Sprinkle also attended the funeral of Asher Brown and wrote a recent article about it in the Dallas Voice.
Rev. Cody Sanders, a Baptist minister and doctoral student at Brite Divinity School, has written an excellent opinion piece called "Why Anti-Gay Bullying Is a Theological Issue." He writes about his own journey from sadness to anger in reading about these deaths, and he challenges all ministers, church communities, and people of faith who remain in "comfortable silence about sexuality" to speak out against this bullying. As Rev. Sanders puts it so well, the longer we wait, the more young people will die. I am proud to have met Rev. Sanders this past summer at the Human Rights Campaign Summer Institute for Religious and Theological Study.
The Rev. Elder Nancy Wilson, the moderator of the Metropolitan Community Churches, the LGBT-affirming denomination in which I am ordained, has issued a call to action for the ending of bullying and harassment against LGBT teens. For Rev. Elder Wilson, "spiritual comfort is not enough." She urges all people of faith to do something to help stop this bullying, whether it is visiting a local school, teaching a Sunday School class, or talking to the young people in our own lives.
Harvard Divinity School is sponsoring an upcoming panel discussion on "Queer Youth and Religious Debates Over Sexuality" with LGBT religious leaders, activists, and thinkers such as Rev. Harry Knox, Rev. Irene Monroe, and Dr. Mark Jordan. My own institution, Episcopal Divinity School, is sponsoring an upcoming panel discussion, "The Gender Continuum," on the critical importance of religious institutions and people of faith being engaged about issues of sexual orientation and gender identity.
Finally, my friend Shay, who calls himself the "Anarchist Reverend," is fellow seminary graduate from Union Theological Seminary in New York. Shay is on the ordination path and self-identifies as a trans man. He has a wonderful blog about Christianity and trans issues, and he has started a campaign for LGBT religious leaders to speak out about their experiences on YouTube as part of the "It Gets Better Project" started by the gay syndicated columnist Dan Savage. Shay has recorded his first-ever vlog, which can be found here.
Regardless of one's view about sexual ethics, family values, or same-sex marriage, I believe that encouraging or contributing to violence against LGBT people, either directly or indirectly, is the true sin against nature and creation. The steps that the above LGBT religious leaders and allies are taking to stop the bullying and harassment of LGBT youth affirm the truth that God is love and that we are all created in God's image and likeness.
I challenge all people involved with anti-gay faith-based groups to practice what they preach and condemn all forms of violence, self-inflicted or otherwise, against LGBT people. They can no longer remain silent and wash their hands of responsibility, as Pontius Pilate did with Jesus of Nazareth, in the face of the growing number of deaths of LGBT young people. Regardless of what these groups may believe about sin, they need to speak out against this violence. That, to me, is what it truly means to love God and to love your neighbor as yourself.
St. Paul writes in his First Letter to the Corinthians that the great theological virtues are faith, hope, and love. We must give faith to our LGBT young people that things will get better, no matter how bleak things may seem right now. We must give them hope that there are others out there who care about them. And we must give them love by speaking out and acting forcefully against LGBT violence in all its forms.
Related
Popular in the Community