Click through the slideshow to look at photos from the Faith House Manhattan Tour Bus: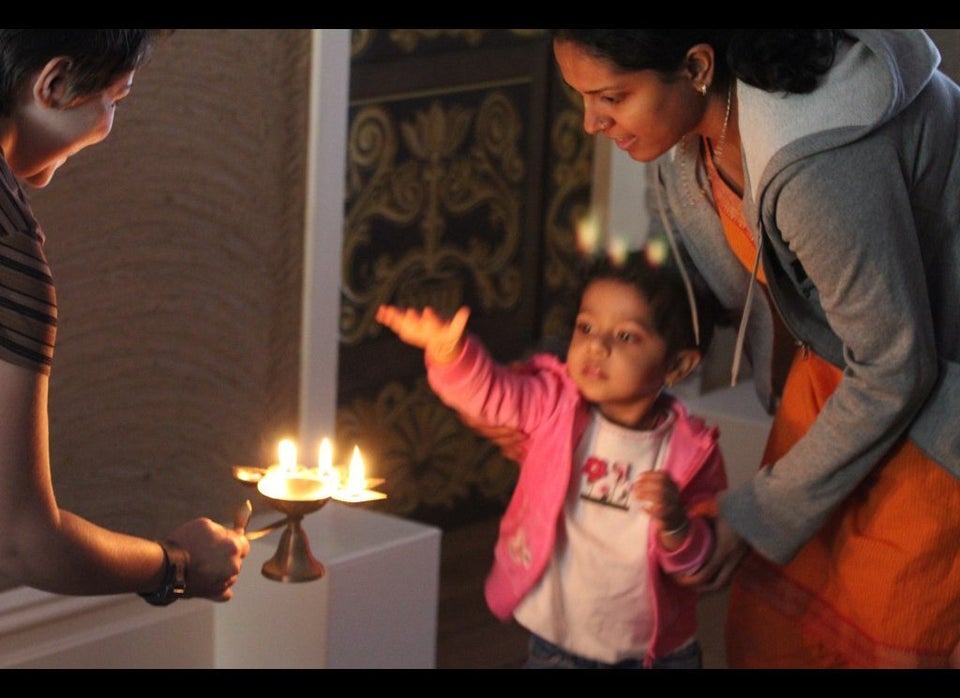 We are coming to a realization that religious zealots cannot be fought with indifference. Extremists of all nationalities and religious persuasion feeding on prejudice, legislating exclusion, and resorting to violence cannot be prevailed upon by people with less passion. Telling them to "cool down" and to "be moderate" will not do it. We must allow fires greater than theirs to arise. Our passion for a whole and interdependent word must rise above their passion for a segregated and zero-sum world.

In Faith House Manhattan, a non-profit inter-religious "community of communities," we believe that the time of isolated faith is over. We believe that to know who I am, I must also know who you are. For three years now we have hosted more than 60 Living Room gatherings where people can experiences the practices of another religion (or path, including atheism). We invite all to join our "co-laboratory" of interdependence: "Experience your neighbor's faith, deepen your own."

Our call is to get radical. Very radical. We hold that in today's world, religious people have to remap their reality to include -- in tension and in gratitude -- 'the other.' While our ancestors may have fought for independence, ours is the great struggle for interdependence. 'The other' is not over there, but all around us. While we have been conceiving of the world in vertical terms (whose party is better, whose institution is larger, whose nation is stronger, whose god is bigger), the world is becoming increasingly horizontal, and wonderfully so. Can we learn to be a part of the whole?

This past year, Faith House started a new program with four religious communities in Manhattan, who were part of a "Tour Bus" with reciprocal visits to each of our main religious gatherings. We brought people together to trespass imaginary boundaries while preserving the real ones. From an experience of worship at a Hindu temple, to a Jewish Shabbat service, to a Sufi Zikr, to midweek "Space for Grace" at a major Protestant church -- either as "Interfaith 101″ or an opportunity for seasoned pilgrims to be hosts or guests in their own setting -- this seven-week adventure was a unique New York City experience.

One of the participants, Bhakti Center monk and teacher, Chris Fici, summarized the experience this way:
Experience Your Neighbor's Faith, Deepen Your Own. This is a personal revelation a lot of us have shared recently on the Faith House Bus Tour, as the different sounds, colors, tastes and waves of devotion we have experienced together in our different houses of faith have made a deep communal resonance in our souls.

Too often (at least from my own perspective) our own practice can become caught in the mechanical. Living as a monk, in an intense and insulated environment, I often see how my consciousness during our morning meditation is directed towards how tired I am, or how I might be upset with this monk or that monk. The beautiful essence of our prayers and singing and dancing together remains lost to me.

As I was soaking up the whirling sanctity at our wonderful Bus Tour event at the Dergah of the Nur Ashki Jerrahi Sufi Order, the pain of my own disconnection in my own practice became manifest, and that void was quickly filled by the wonderful and mystical people I saw around me, deeply absorbed in the love and vision of the Divine. I came to realize that what they were experiencing was something I had access to every day, if I chose to. I saw very clearly how we were all pearls on the same thread of God's mercy. I returned to my own community and practice with a sense of renewal that has stayed with me ever since.

The interfaith experience is very important for me, and I think for all of us as a common human family. The turbulence of our age calls for a communication between peoples of faith that transcends our superficial differences and allows us to drink from the immense well of wisdom God has given us, to give solace and take profound action to help cure our shared ills.

This turbulence also calls from us a tremendous maturity from our humility, from a recognition that we cannot possibly have the exclusive answers, that the pieces of the puzzle we need come from our brothers and sisters in faith. In Thomas Merton's journals of his final and fateful journey to India and Indonesia, where he breathed deeply of the eastern faiths that had always intrigued and inspired him, he related a realization in this regard that has deeply touched me.

He says that those who are mature in their faith are able to enter into the experience, philosophy, and practice of another faith and gain a practical wisdom which they can take back into their own renewed and strengthened spiritual life. This is the essence of my own personal adventure in interfaith. To be able to see of and hear of and speak about and taste of and move within the common thread of our faiths together is one of the most profound experiences I have ever had in my life. It links me to the maturity needed to answer the spiritual call of our time, and I imagine it may do so for you as well.

I am always eager to point out to others that New York City is a deeply spiritual place. I want to encourage others to develop the vision of the great rivers of faith which run through this town, which are not always visible beyond the surface tumult and loosely organized chaos.
When you come to New York City, you can enjoy a Broadway show, walk the Brooklyn Bridge, check out that special night club you found on Google, enjoy this gastronomical paradise with more than 4,000 restaurants, but don't miss the rich undercurrent of spirituality you can find at every corner. The many religious traditions can help you understand yourself, and perhaps rekindle a passion for your own faith, an encounter that will change you forever. You might even come back to your home and do something radical like taking time to understand the faith of the other, whose life is now inextricably intertwined with yours.
Read articles and reflections about each stop on the Faith House tour here.
Related
Popular in the Community