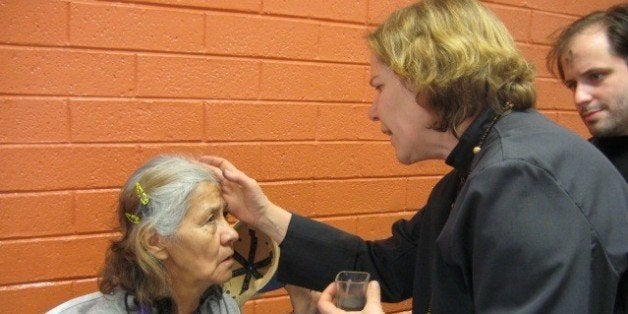 About fourteen years ago, I took my first communion. I hadn't known -- in fact, hadn't remotely considered -- that I was looking for God. I didn't believe in God: I was just poking my head into an interesting-looking building to see what was going on. Over the next decade, buoyed by the promise that a knocked-on door will be opened, I spent a lot of time in churches, seeking and sometimes even finding.
If you want to find God, look inside a church. That doesn't seem unreasonable to most Christians, or even to unbelievers like the one I was. But it isn't the whole story.
St. Gregory of Nyssa Episcopal Church, where I took that bread, was the place I first encountered prayer, the Bible, sacraments and other Christians. It's where I was baptized, where I was taught about the faith, and where, inspired by communion, I started a food pantry, set up right around the same altar. It became the place I worked, as a lay preacher, pastor and liturgist; the place I wrote about, and a portal into all kinds of other church communities.
And then, just as I was getting used to the idea of working for what my priest friend Paul calls "the company" and my pastor friend Nadia calls "the Jesus business," the hot breath of the Holy Spirit drove me back where I started -- outside the building and looking for God.
In the years I've been a Christian, a lot of other Christians have left the building, too or, more accurately, they have found ways to encounter God outside the boundaries of what happens inside churches on Sunday mornings. Church, in the sense of a discrete, set-aside ritual space run by set-aside religious professionals, is perhaps weaker as an institution in the United States than it's ever been. While religious fluidity and denomination -- switching among Christians are increasing -- and the numbers of non-Christian believers are growing -- a significant number of Americans have just stopped participating in religion, with fully a quarter of all adults under thirty saying they have no religious affiliation at all. Across the country, mainline Protestant congregations are consistently getting older and smaller, with many of them laying off staff and closing their doors.
And yet there's a growing network of "unhoused" congregations that meet outdoors to serve people who live on the streets; all kinds of new public rituals of blessing (of bicycles, of pets, of backpacks) are taking place in parks and on sidewalks; there's a reinvigorated interest in outdoor religious processions, and there are hundreds and hundreds of churches offering ashes outside for Ash Wednesday. Since 2010, I've taken ashes to the streetcorners, taquerias, bars and beauty shops of my own neighborhood on Ash Wednesday, and the practice has taught me a lot about faith.
While God is remarkably flexible about showing up anywhere -- in a feed trough, a burning bush or a prison cell -- the eyes of my own faith see the most on urban streets. I believe paradise is a garden, but heaven is a city.
Though prophets tend to describe the heavenly city with imagery that leans heavily on golden robes, sparkling fountains and precious stones, the actual urban place I've lived in for more than twenty years -- the Mission District of San Francisco -- has changed my view of heaven. I've begun to see how the New Jerusalem might look less like a pious Disneyland and much more like, well, the "New Jerusalem" bodega run by Syrian Christians that I trudge past on my way to work, its dingy pink front plastered over with Miller beer signs, its enthusiastic, unshaven owner waving and smiling each new day as he opens the door to welcome in a straggling, polyglot parade of school-kids, nurses, winos and day laborers.
In the haphazard sprawl of a city, only the astronomically rich and walled-off can pretend that our human ideas of order -- like the geometric grid of roads laid over the Great Plains, or the forced cleanliness of suburban shopping centers -- are stable. The sheer unpredictability of city encounters makes it impossible to presume, as many churches do, that God's grace must be sequential -- measured out at regular intervals in baptism, confirmation, communion, marriage, burial -- and will happen to everyone at the prescribed time, in the same way.
In a city, grace just falls all over the place. People march around in front of a supermarket carrying pictures of the saints, and I'm invited to kiss them. Strangers build altars in the courtyard of a housing project or ask the Virgin to protect them from the migra, and I'm invited to hold hands and pray with them. Jesus keeps dredging up odd fish in his net and dumping us all out on the sidewalk, wriggling and shining, to reveal his Church.
I begin to see that city-ness, not necessarily prettiness, is a characteristic sign of heaven. Sexier and more beautiful than Eden, it's a crowded, busy place jammed with languages and peoples, including those who argue incessantly with one another. It's not homogenized: there's room for all differences, desires, sufferings and healing. The city of God is a place so mixed, so layered, and so apparently impure that it proclaims a love vaster than we can come up with on our own. Here it is: Heaven on earth.
This post is an excerpt from Sara Mile's book City of God.
Sara Miles is the author of City of God: Faith in the Streets, and of Take This Bread: A Radical Conversion and Jesus Freak: Feeding Healing Raising the Dead.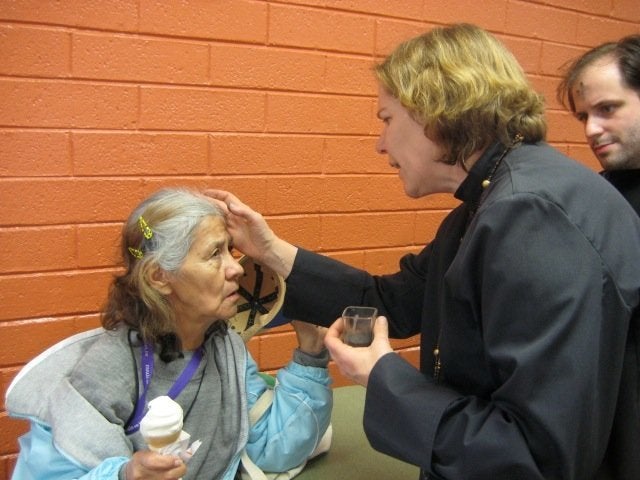 Sara Miles
Related
Popular in the Community