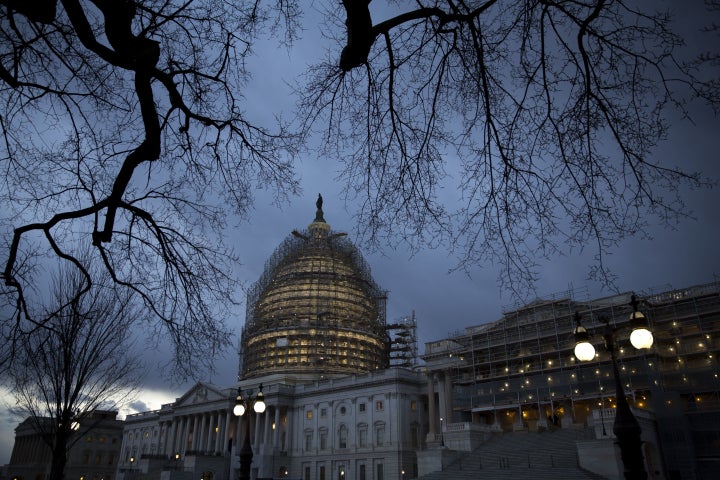 Nearly 500 Christian, Jewish and Muslim faith leaders have signed a letter asking Congress to close loopholes in federal law that allow domestic abusers to own and buy firearms.
"Domestic violence, dating abuse, and stalking are extreme violations of the dignity and humanity of a person, and these crimes have no place in our faith traditions," the letter reads. "As people of faith, we affirm the right of every person to live free from violence, and we ask that you act now to protect that sacred right."
Under current federal law, individuals convicted of a domestic violence misdemeanor are prohibited from owning or buying guns -- so long as the target of their abuse was a spouse, ex-spouse, someone they had a child with or someone they lived with. As it stands, the federal definition of domestic abuser excludes dating partners, even though they commit around half of all intimate partner homicides. And convicted stalkers don't fall under the federal gun ban, even though stalking is a known indicator of future violence in abusive relationships.
On Wednesday, faith leaders plan to bombard members of Congress with tweets, emails and calls asking them to support legislation to close those loopholes during a day of action organized by Jewish Women International's Interfaith Coalition Against Domestic and Sexual Violence.
"The law's narrow definition of intimate partner relationships leaves a dangerous loophole," said Lori Weinstein, CEO of Jewish Women International, in a statement. "Faith leaders, Republicans, Democrats, and gun owners support this legislation. It's not controversial; it's common sense, and we need it now. Women's lives are depending on it."
"It's important for people to remember that while gun violence that is attributable to ideology, terrorism, et cetera is a critical and real issue, the issue of gun violence related to domestic violence is an everyday occurrence," said the Rev. Dr. Derrick Harkins, senior vice president of Union Theological Seminary in New York and former adviser to President Barack Obama.
"Very often the families and individuals who are victims of this type of violence are part of our communities, and it stands to reason that the faith community would speak out about this issue," he said.
Rabbi Menachem Creditor of the Congregation Netivot Shalom in Berkeley, California, pointed to the Jewish concept of pikuach nefesh -- which means "saving a life" -- when asked why he was lobbying Congress on gun violence.
"People of conscience and faith have been let down over and over by our elected officials," he said. "The Jewish community is paying very close attention and is taking full responsibility to end violence against girls and women, both in Jewish homes and institutions, and in society."
A signed copy of the letter will be delivered to members of Congress next month.
Melissa Jeltsen covers domestic violence and other issues related to women's health, safety and security. Tips? Feedback? Send an email or follow her on Twitter.
Popular in the Community