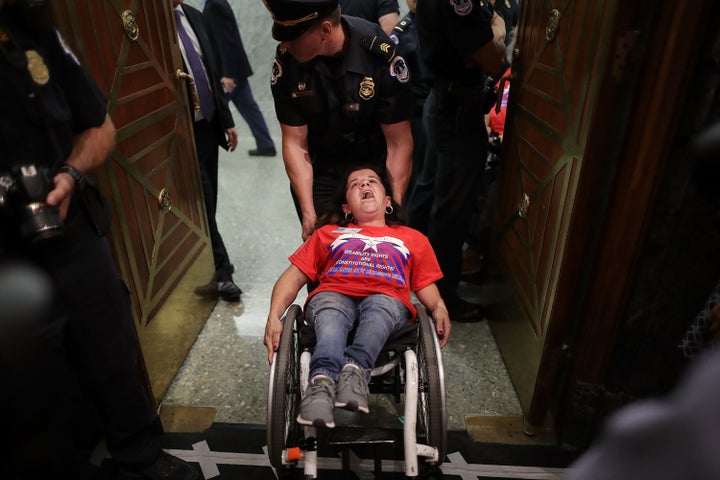 A contingent of over 3,000 faith leaders released a letter to members of the Senate on Monday urging them to vote against Republican legislators' latest attempt to repeal the Affordable Care Act. 
On Sunday evening, Republican senators circulated a new version of their much-disputed legislation to repeal "Obamacare." Like the initial draft of the bill first introduced by Sens. Bill Cassidy (R-La.) and Lindsey Graham (R-S.C.) in late July, the new proposal would decimate existing federal health programs, reduce government spending, and potentially leave millions of Americans without insurance.
The new bill, dubbed Graham-Cassidy, would also include an aggressive assault on protections for people with pre-existing conditions, as well as provide a cushion to offset the impact of funding cuts in several states.
"It was a tremendous relief that Congress was working in an open, bipartisan way to improve our health care system," wrote the faith leaders in their letter, referencing efforts by Republicans and Democrats over the last month to collaborate on a plan.
"But now, we are outraged that Congress would abandon these efforts for another partisan attempt that would take healthcare away from millions of our people."
The letter garnered signatures from faith leaders in all 50 states. African Methodist Episcopal, Baha'i, Baptist, Catholic, Muslim, Jewish, Presbyterian, Sikh, Episcopal, Unitarian Universalist, and myriad other faith traditions are represented in the letter.
In addition to the elements of the new bill that would cut federal health care spending and gut Medicare, the faith leaders also urged Congress to act on two existing health care programs that are up for extension.
"To allow Graham-Cassidy to pass the Senate – and to allow the CHIP and DSH programs to lapse – is to allow the health of America's most vulnerable people to face unnecessary and immoral obstacles," wrote the faith leaders.
Several of the signers delivered the letter in person to the Senate ahead of Monday's finance committee meeting, which drew hundreds of protestors to Capitol Hill. Additional faith leaders lined up outside the hearing in the hope of getting a seat inside, waiting in silent vigil with their religious texts open on their laps, according to a release.
"Once again, a group of white, male Senators have crafted a plan that is out of touch with the realities of millions of ordinary families and fails the moral tests of our faith," said Sister Simone Campbell, of NETWORK Lobby for Catholic Social Justice, in a statement.
The activist nun called the proposal "immoral" and "reckless" and said it would likely most impact "people struggling to get by, the sick, and the elderly—the very people Jesus teaches us to put first."
REAL LIFE. REAL NEWS. REAL VOICES.
Help us tell more of the stories that matter from voices that too often remain unheard.
BEFORE YOU GO
PHOTO GALLERY
Health Care Protests At U.S. Capitol