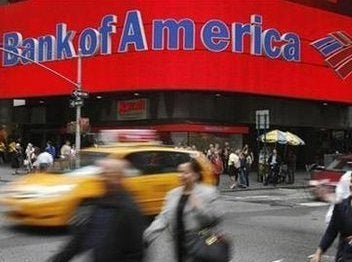 A group of faith and labor activists and local political leaders is meeting with Bank of America officials Tuesday night in Antioch, California in an effort to force the bank to do a better job of modifying home loans. If Bank of America doesn't right ship, the group says they'll take their money out of the bank.
The coalition is led by People Improving Communities through Organizing, which boasts 1,000 member congregations across the country. The group also includes the NAACP, the Center for Responsible Lending and the SEIU, among others.
"We're here to offer Bank of America an opportunity to stop being bad for America and [instead] be America's financial champion," said Rev. Tony Pierce of Illinois People's Action on a conference call with reporters.
"The overall foreclosure rate has continued to increase," said PICO's Tim Lilienthal. "Recent reports show that 14 percent of all mortgage loans -- nearly one out of ever seven homeowners -- are delinquent or in the foreclosure process."
"If we don't see results, we will ramp up into a national divestment campaign," said Gina Gates of the Holy Trinity Catholic Church in San Jose. Gates said the church began organizing parishioners to divest personal and business accounts from Bank of America on Dec. 5. "We have continued to do so and we will continue to do so if we see no results."
PICO and the other groups will ask Bank of America for a 90-day moratorium on foreclosures, principal reductions and quicker responses to mortgage modification applications.
Bank of America said in a statement to HuffPost that it does not proceed with a foreclosure sale when it's established contact with a customer who may be eligible for a modification.
"Because we have this process in place, a proposal for blanket foreclosure holds is unnecessary," wrote a spokesman. "In fact, blanket moratoriums put properties at risk, particularly if the property is vacant, and can interfere with the process of reselling properties at market values that could assist with the recovery of local housing markets."
The spokesman also wrote that "Bank of America has COMPLETED nearly 500,000 modifications in 2008 and 2009, including more than 250,000 completed modifications in 2009 alone. We are demonstrating strong momentum in the HAMP program, in particular, including becoming the first mortgage servicer to surpass 200,000 customers entering HAMP trial modifications and processing and underwriting more than 20,000 loans in December -- placing these customers in the final stage of the modification process."
Call PICO's effort a parallel "Move Your Money" campaign for faith-based community organizers.
"If we start moving institutional money, we're looking at billions of dollars potentially," said Lilenthal. "I think it's a call out to other major banks but also independent banks to basically earn our money."
Bill Ragen of the Service Employees International Union said the SEIU has been recruiting Bank of America employees to act as informants about certain bank practices -- by helping the SEIU advocate for a ban on commission-based pay and quotas that encourage employees to put customers in loans they can't afford.
"There is a group of people who had an advance view of this disaster before it unfolded in public, but they had no ability to prevent it," he said. "They are the front-line Bank of America employees... People in branches who were told to steer to people into adjustable rate mortgages instead of fixed rate mortgages."
Asked how the SEIU hooks up with current Bank of America employees, Ragen said, "We just started going around to bank branches and talking to people." He added that stronger whistleblower protections would allow bank employees to speak up and put a stop to bad lending practices. Last year the SEIU produced a video with former low-level employees speaking against the bank.
"We think that if they have whistleblower protections, if they're able to organize, they could head off some of these practices, they speak out and say, 'It's wrong that my job security depends on pushing people into adjustable rate mortgages.'"
Ragen said former Bank of America call center employee Chris Feener would participate in Tuesday night's negotiations.
Bank of America said there's nothing unusual about a meeting with faith and other groups.
"We meet routinely meet with numerous organizations across the country to hear their concerns, discuss their ideas and ensure they have an understanding of Bank of America's performance in helping our customers who continue to struggle in this economic environment. We have met with this organization previously on numerous occasions and see this as an opportunity to continue that dialogue."
Calling all HuffPost superfans!
Sign up for membership to become a founding member and help shape HuffPost's next chapter