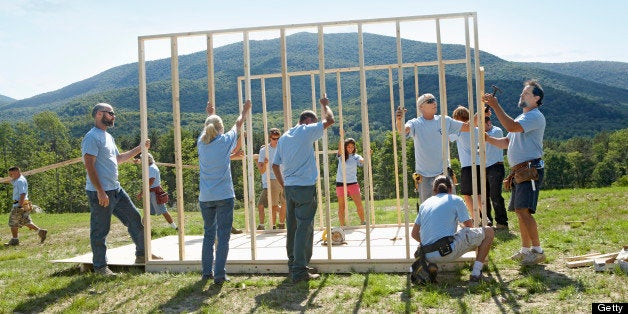 Have you ever received a "pity invite" to a party that seemed like a last-minute afterthought, and when you got there you felt like you didn't belong?
In the late '90s, I attended the President's Leadership Summit in Philadelphia. Everyone there was famous, so no one was treated as such (except Oprah). I found myself on the sidelines, awkwardly standing next to Stephen Covey. Since no one was talking to him, I introduced myself.
What I remember about our brief conversation was Covey shaking his head when we talked about our efforts to inspire young adults to serve. A devout Mormon and the author of many books including Seven Habits of Highly Effective People, he explained that the Mormon Church had figured out how to do that a long time ago.
He had a point. The Mormons have established a culture of engagement and service for young adults. It is a given that young Mormons will participate in a term of community engagement as a rite of passage.
Faith-based communities have quite a bit to contribute. And although faith-based communities have been invited to the service "party,' I have always felt the invitation wasn't necessarily extended with enthusiasm and I often experience half-hearted welcomes and a level of discomfort when working together.
Ever since the Corporation for National Service and AmeriCorps were launched, there has been unease about how faith-based communities and their interpretations of service relate to what is supported by the federal government.
As a founding member of the Commission on National Service (the precursor to the Corporation for National Service), we struggled with the need to affirm and build up what existed while nurturing innovation. With time, the distance between faith and service has only grown wider.
Earlier this week, the Aspen Institute published a document proposing a bold, comprehensive plan to expand National Service. The document is titled "A 21st Century National Service System: Plan of Action."
Many of the leaders of this effort are significant figures in current American culture. Among them are Alan Khazei, a candidate to fill Ted Kennedy's seat in the US Senate, and John Bridgeland, the former director of the White House Policy Council under George W. Bush. Also signing the declaration were Donna Shalala, who served as Secretary of Health and Human Services, and Wendy Kopp, the founder and CEO of Teach for America.
This courageous document has captured the attention of the media and the imagination of the American people. It is the cover story for the July 1 edition of Time Magazine, and the caption reads: "How Service Can Save Us."
Indeed, we need a national service policy that is comprehensive, compelling and coordinated. But I admit that I got stuck on the word "save."
I am certain the way it was used on the cover of the magazine, which incidentally was founded by Henry Luce, the son of a Presbyterian missionary, did not refer to religion. Nonetheless, I could not help but ponder the use of "save."
Will service save us? As people of faith, we know that service is important, but we also know that it is our faith and faith community that inspires and sustains us in that service. But there is little to no talk about this in the world of service.
The executive summary of the report states that "Service shaped the Greatest Generation," and that as a result of their military service, my father's generation served more, gave more and attended church more. I cannot speak for all WWII vets, but my dad's faith called him to serve in the war and it was his faith that led him to serve in the church and in the community throughout his life.
The report barely mentions faith communities or faith leaders though. It should be noted that two of the former directors of the White House's Faith-Based Initiative, John Dilulio and Joshua DuBois signed the document. Other than that, there were no local clergy or national denominational figures, no Catholic educators or Quaker peace activists. There is no mention of any of the faith-based young adult volunteer programs, which if you add up those participating in the Volunteers Exploring Vocation cohort, number close to 2,000. There isn't a strong appeal to faith communities to get involved, or recognition of any of the work they have done to promote service and justice.
It is not an intended slight.
Many of the leaders of the service world are very spiritual and active in their respective faith communities. But why would anyone who is talking about positive social change and building an inclusive community invite the Christian Church to the party? Hasn't it been the church that often polarizes the American people, rather than unites it? We have to own up to the fact that this has been many people's experience and has affected how they interpret our faith communities. But that's not the whole story. The problem is that we are not telling our story and we need to. Now.
Who is noticing this omission? Who wants to challenge a culture that embraces a theology that in one way or another suggests service has become the pathway to salvation? Why are we not claiming the fact that most people who serve come to it through faith, not through political or nonprofit leaders?
I cannot yet tell what is more alarming. The fact that the architects of this National Service strategy have such a limited view of the role that faith communities have played and still play in launching and sustaining important social movements in this country and around the world or that it appears that religious leaders have little idea that this service work is going on and that they think it doesn't concern them.
The church needs to wake up and meet the national service movement where it is. It is time to stop bemoaning the loss of the prominent public voice we once had, and start participating in the service movement as something beyond our efforts to control. We will not take it over, instead we must be aware of its power, appeal and importance. We will not compete with it, because its mission overlaps with our own. The service movement is the pulse of this generation but it is the right and good thing to do. If we dismiss it, we will fail to be part of the defining social movement of this generation -- a movement in which we have a natural place and role as people of faith.
Calling all HuffPost superfans!
Sign up for membership to become a founding member and help shape HuffPost's next chapter