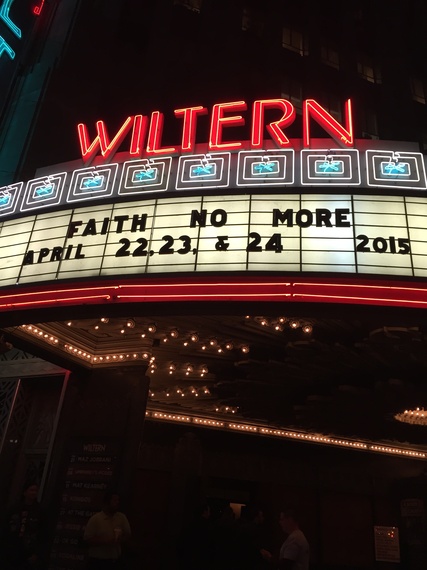 Rock band Faith No More has never been known for its subtlety. Even in quiet, almost introspective moments, there's a layer of darkness and angst that gives way to a razor sharp, if not borderline perverse, sense of humor. So when the band took the stage this week for the first of three sold out shows at The Wiltern in Los Angeles, the setting seemed simple. The band, all dressed in white, casually walked on stage surrounded by white flowers (think low budget, conservative party at a gymnasium) and performed "Motherfucker", one of its brand new songs.
Currently in the midst of its first North American tour since 2010, which is completely sold out, the band hit the road before the release of its seventh album, Sol Invictus, available May 19. Somehow that seems fitting for a band that has always challenged its fans with its abrasive and never tame sound. Playing new songs before the record's release really forces an audience to pay attention to take in something they are unfamiliar with. You can easily lose a crowd that way, but that wasn't the case during Faith No More's 90-minute performance. Often fans don't want to hear new tracks from its tried and true favorite artists, but at The Wiltern, the news songs blended seamlessly with "the hits".
Sol Invictus, which will be released on the band's newly formed imprint Reclamation Recordings, was overseen by founder and bass player Bill Gould.
"Here we go," said Gould. "First North American tour dates, some in cities we haven't played in over 17 years. We are armed with the new material and ready for whatever comes our way."
The music of Faith No More has lived through five presidents, wars, economic boons and busts, global meltdown and revolutionary rebirths.
"When we first started rehearsing [for the reunion]," Gould says, "Our brains were there but our bodies weren't. The muscle memory wasn't there yet. We had to play these songs we hadn't played in 14 years. But it came back, and it was incredible to hear our songs onstage, coming out of us again. When we debuted our new song 'Matador,' we just told them it was a cover song and they still went crazy."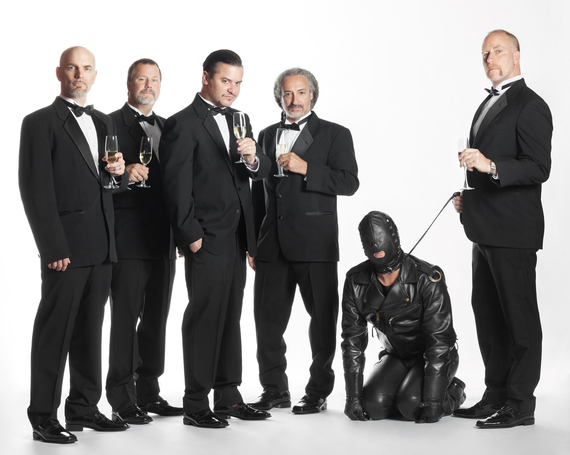 While the band soared in the '90s, thanks in parts to its bold music videos (who can ever forget the flopping fish in "Epic"?), frontman Mike Patton also proved to be a tour de force and any time he's onstage, all eyes are clearly fixed on him. When Patton joined Faith No More in 1988, he replaced previous singers Chuck Mosely, and even Courtney Love. His antics may not be the same as they were 20 some years ago--he did look sharp in his dress whites and gone were the pajamas and combat boots look--and his voice is still clearly one of the best in rock; mightily taking on rap, scream-o, crooning and even opera.
While the band is best known for its The Real Thing released in 1989, I think its last two releases; King for a Day... Fool for a Lifetime (1995) and Album of the Year (1997) are its best. And Sol Invictus, bolstered by beefy tracks like "Superman", "Cone of Shame", "Motherfucker" and "Matador" don't look back as much as they charge full steam ahead through the current music landscape.
"When we split up," Gould says, "we explored what we could do on our own. During that time, we each developed what was a natural part of ourselves. Now, coming back, we have a wider perspective so we can do things we didn't even think of back in the day. If we were to decide to do a country western music, it would still sound like Faith No More. Together we have a strong collective identity, and when we work together it makes its own animal."
At The Wiltern show, the band's set list ran the gamut as "From Out of Nowhere" was the second song of the night, quickly followed by "Caffeine" and somewhat of a surprise, "Epic" was the fifth song of the evening. They also dusted off their cover of The Commodores "Easy" and Burt Bacharach's "This Guy's in Love with You". While keyboardist Roddy Bottum and bassist Gould reminisced about growing up in LA and going to The Wiltern to see movies, Patton quickly quipped that the San Francisco Giants always beat the Dodgers. People have been shot for less in Los Angeles, but fans took it in stride as just another joke with bite from the charismatic singer.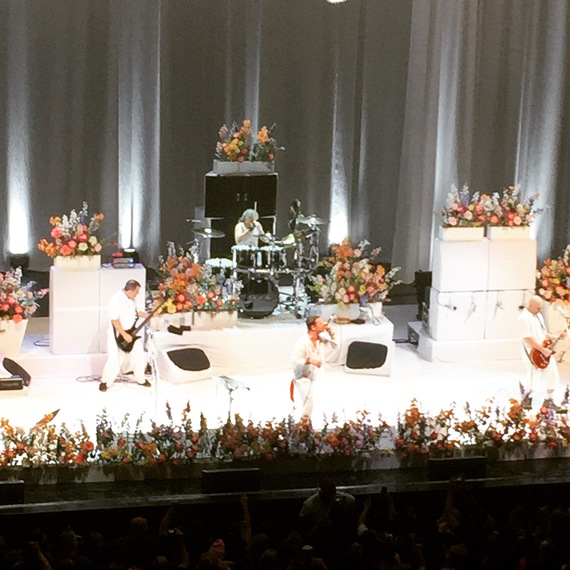 Finishing with a hippie rendition of its new track "Black Friday", Patton, with tambourine in hand, closed the show in a festive mood, but the track isn't a crowd pleasing show closer. Then again, that's classic Faith No More who always refuse to do the expected.
Set List:
Motherfucker
From Out of Nowhere
Caffeine
Evidence
Epic
Sunny Side Up
Get Out
Mid Life Crisis
Everything's Ruined
The Gentle Art of Making Enemies
Easy
Spirit
King For a Day
Ashes to Ashes
Superhero
First Encore
Sol Invictus
Separation Anxiety
This Guy's in Love With You
Second Encore
Black Friday
Popular in the Community