Ric Alba is a legend to fans of 1980s alternative/punk/new wave Christian music. He played bass on Undercover's eponymous debut album, then went on to play with the Altar Boys. He released one solo album before coming "out of the closet" and disappearing from the Christian music scene.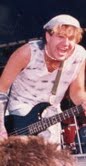 Today, Ric and his partner own an interior design firm in California. Ric still plays music, most notably recording a new Dead Artist Syndrome (D.A.S.) album with a fellow legend of the alternative Christian music genre, Brian Healy.
Who were your biggest musical influences growing up?
Schroeder, from the Charlie Brown gang, gave me my first inspiration when I was around 5. He was a little boy like me, but he was playing Beethoven's Moonlight Sonata, and I just assumed it was natural for little boys to be able to do that. I remember reaching up to my grandma's piano to feel out which keys made the song's opening three-note pattern, and found them. My dad ran out and got a piano and I've been gradually figuring out that piece by ear ever since. I'm almost to the end and I think I'll leave it where it is. Ludwig's ending drags out too long anyway. He'll thank me, and I'll accept the grade "F" I'll get from music teachers.
After that the only music that existed for me until Led Zeppelin was The Beatles. I learned a lot of Paul's parts, then onto John Paul Jones, and would you believe, Gene Simmons, who was always underrated as a bassist. I still play those slapped parts from "Detroit Rock City" warming up the bass.
Back in the '80s, Christian artists were sometimes promoted as "the Christian alternative" to secular artists. As in, "If you're a Christian and you like this secular artist, then you should be listening to this Christian artist." Were you thinking about that while you were a part of the CCM scene?
I think nearly all bands are in one way or another doing what somebody else started, while guilty of pointing fingers and calling others derivative. But it's no crime. Just as in the secular world, bands take after other bands that inspired them, and so did we. We played the way we felt inspired to play.
In the evangelical world though, it was expected that the bands had evangelical reasons for whatever we did. If a band reminded one of say, The Clash, then it was presumed that band's purpose was to evangelize fans of The Clash. Navigating our way through the evangelical industry, eventually I realized that it got the job done to go ahead and let it be painted like that's what we were doing if that's how they needed to paint it. They had their reasons I'm sure, and I have no reason to say their hearts weren't pure. But really, we were all just playing the way we enjoyed playing, inspired by and building on the work of those who were already playing that way. We said that a lot, but some folks still kept wanting to paint it as a calculated evangelical strategy. Oh well, OK... My, what brilliant evangelical strategists we all were!
You left the Christian music subculture in which you were living in order to be openly gay. How did folks respond?
With very few exceptions, I didn't give them a chance to. In 1992, some time after having been excommunicated, I started living a gay love life and disappeared from Christendom so profoundly it was like faking my own death. During the Altar Boys, I had formed so many friendships with fans, who, I feared wrongly, were too young and impressionable to have to deal with this change in me, so I went quietly into the night. Touring as a Christian musician to support Holes in the Floor of Heaven [Ric's 1991 solo album] was out of the question because that would mean living in a closet. By that time I was so involved in helping to alleviate the AIDS crisis, which had been caused in great part by society forcing gay people into closets.
When it comes to church folks, their reaction didn't come until I showed up a couple years ago on social media. Most of the peeps I knew were still around, still making music, still being a kind of family. So much has changed since 1992, and it feels more like a family now than it didn't even then. This is because I can now let myself be known in ways I didn't dare during the '80s.
Everyone has the drive to be known and loved. During the '80s I couldn't let myself feel the love so much, because I felt I wasn't letting people know the real me. When you're delivering to friends and fans, someone other than your true self, it's nearly impossible to absorb the love people send you. It always feels like it was meant for someone else, and that you're taking love under false pretenses.
Today, what would you list as your favorite Altar Boys songs, and why?
The song, "Against the Grain" is a champion among the songs Mike (Stand) and I co-authored, because it represents a sharp turning point. We'd sung so much up to that point about what was wrong with the world. But I wasn't really in the world that much. The church was my world, and yet it was still one that had all kinds of things wrong with it. "Against the Grain" was to me, our first steps toward addressing that fact head-on, beginning with the question, "What do we mean by "Christianity"?
This is an abbreviated version of Ric's interview. The full interview is available here.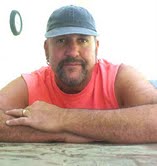 Calling all HuffPost superfans!
Sign up for membership to become a founding member and help shape HuffPost's next chapter