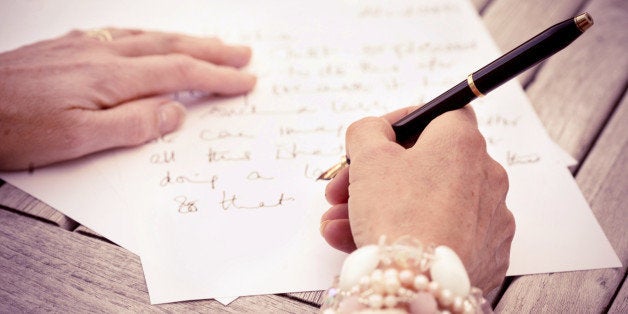 Almost every Thursday evening for the last two years, I've volunteered to run a writing workshop for women in recovery in the Bedford-Stuyvesant section of Brooklyn. While the group is diverse, composed of entrepreneurs, teachers, cooks, performers, counselors and students, all are in need of a safe space to get healthy. I do not always know the specifics of each woman's journey to the writing table and they don't always know mine, but what we do share is a commitment to write on Thursday nights. I bring to the workshop words, images or objects as starting places for our writing, but we are not bound by these prompts. We also write what we are moved to write and share with one another. The writers all agree to treat each piece of writing as delicately as a newborn baby. Judgement has no place at our table.
The workshop comes to life through the NY Writers Coalition, a broad network of writers throughout the city who run writing workshops for those whose voices have been historically stifled by poverty and injustice. Its architects, including its inimitable founder Aaron Zimmerman, built the organization around the idea that everyone is a writer, regardless of formal education and experience. Workshops are held in senior living communities, under-resourced schools, LGBT and youth shelters, recovery programs and prisons, and are powered by the belief that we generate social change when we unlock the power and strength of voices shut away.
Faith takes many forms. I find it at our Thursday writing table and my fellow writers teach me how to keep it alive.
One participant, Laidy, wrote about self-love like it was her native language. Her poems guided listeners through the peaks and valleys of recovery, and she created vivid characters -- a young child curls into Shel Silverstein while her peers recite Sunday prayers dutifully, an explorer's wit and curiosity keep her on the streets until dawn, an addict searches to extend the high but falls, senses dulled, back to himself, a mystic paints unseeable dimensions. During the year we wrote together, Laidy published a book of poems through the Coalition and constructed a vision of a new life. She left New York on a Greyhound headed South, joined a church group, started her own writing workshop and began selling her book. Others who remember her as Madonna hold her space at the table.
Charmaine shared the stories inside of her in a softer tone. The first time she read her work to the group, her voice quivered like harp strings, deep but gentle. The book she's writing tells of mothers lost, physical and emotional abuse, cycles of dependency, an iron clad sisterly bond, and hope for the future that only faith can explain. She shows her characters' scars with honest, brave language and invites the rest of us to dig deeper for stories inside ourselves. Charmaine soon went back to school, secured her food handler's license and spring came. She finished a full draft of her book before she left the program and continues to write.
Maya Angelou once said, "I have found that among its other benefits, giving liberates the soul of the giver." I was drawn to the Coalition because I realize that as long as I remain within the four walls of what is familiar to me, I am less able to understand where the world most needs to be mended. What I have found here is light. And with light, there's liberation.
This post is part of a series produced by The Huffington Post and NYC Service, the latter of which is a division of the Office of the Mayor of New York City, Bill de Blasio. NYC Service promotes volunteerism, engages New Yorkers in service, and mobilizes the power of volunteers and service year members to impact New York City's greatest needs. To learn more about NYC Service and volunteer opportunities in New York City, click here.
Popular in the Community