Six food halls have opened in the past five years in Manhattan, from Gotham West Market to Eataly near Madison Square Park, Plaza Food Hall at Fifth Avenue, Gansevoort Market in the Meatpacking District, Hudson Eats at Brookfield Place in Battery Park City, and City Kitchen in Times Square. Prepare your palate....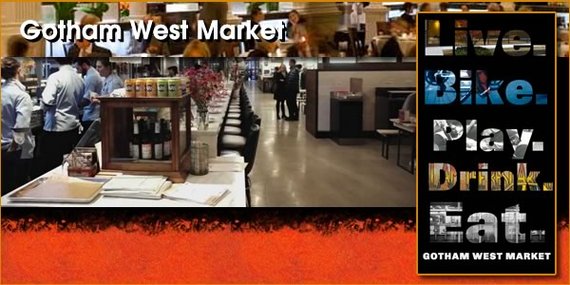 Gotham West Market
600 Eleventh Avenue
New York, NY 10036
(212) 582-7940
Opened in 2013, and has become a favorite of our City's foodies. Some of the city's star chefs do their thing at this food hall offering both counter and communal table seating. Here is a tiny tour of the treasures you will find...
Uma Temakeria; Chef Chris Jaeckle (all'onda) serves made-to-order sushi hand rolls, featuring temaki and NYC's first sushi burrito.Indie Fresh; chef prepared healthy foods. Ample Hills Creamery; Brooklyn-based Zagat's #1 rated ice cream shop in New York City.Blue Bottle Coffee; best coffee ever. The Cannibal; market-driven charcuterie, small plates, beer and cocktails.El Colmado; Chef Seamus Mullen of Tertulia.Genuine Roadside; AvroKO, the design and hospitality firm creates burgers, shakes, tacos, cocktails and more. Ivan Ramen Slurp Shop by Ivan Orkin, the world-renowned ramen expert.Choza Taqueria; authentic Mexican food.NYC Velo has its second bike shop. Evelyn's Kitchen; owner and executive chef Ayala Donchin serves her signature Pudgies (soft, doughy, 'more-than-a-cookie' cookies!) in flavors such as Banana Pudding, Coconut Cream Pie and Devil Dog.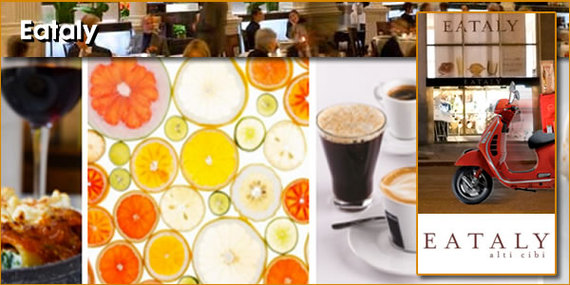 Eataly
200 5th Ave
New York, NY 10010
(212) 229-2560
Oscar Farinetti is the founder and creator joined by Mario Batali, Joe Bastianich and Lidia Matticchio Bastianich bringing the best Italian products made by regional farmers, bakers, and pasta makers. Eataly is the largest Italian marketplace in the world, offering a variety of restaurants, food and beverage counters, bakery, retail items, and a cooking school. The restaurants on the menu at Eataly include Baita, Pranzo, La Pizza & La Pasta, Le Verdure, Il Pesce, Manzo, and La Piazza.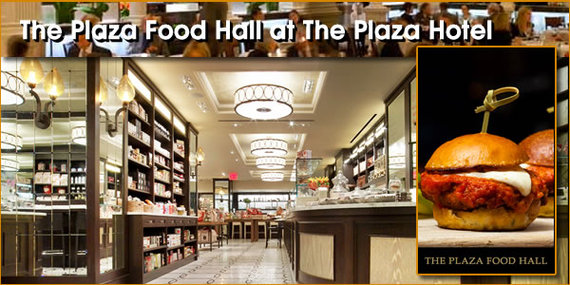 The Plaza Food Hall at The Plaza Hotel
1 West 59th Street
New York, NY 10019
(212) 759-3000
Located in the most famous and elegant hotel in the City, the 32,000-square-foot space is a haven for locals, tourists, and hotel guests to meet, dine, and shop in a space much like European food halls. Dive into divine fare by Billy's Bakery, Chi Noodle Bar, Epicerie Boulud, FP Patisserie, Kusmi Tea, Lady M, La Maison du Chocolat, Luke's Lobster, No. 7 Sub, Olma Caviar Boutique & Bar, Ora di Pasta, Pain D'Avignon, Piada, Pizza Rollio, Sabi Sushi, Tartinery, Todd English Food Hall, Vin Sur Vingt, Vive la Crepe, William Greenberg Desserts, YoArt Frozen Yogurt Boutique; all in one divine space scattered with table seating, communal seating, and bar seating.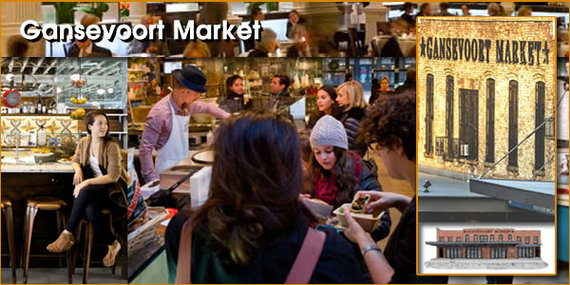 Gansevoort Market
52 Gansevoort Street
New York, NY 10014
(212) 242-1701
Located in the Meatpacking District, an airy 8,000-square-feet of seating, browsing, and eating. Enjoy; Bangkok Bar, The BRUFFIN Cafe (a light and flaky, brioche-like pastry filled with high quality ingredients sourced from around the world), Cappone's Salumeria, Champion Coffee, Crêpe Sucre French crêpe bar, Dana's Bakery, Sushi Dojo Express, Donostia, Ed's Lobster Bar, feelfood, Flower Girl NYC, Heermance Farm, Il Conte Italian Pasta, Luzzo's Pizza, Meatball Guys, Meyers of Keswick, Mission Ceviche, M'o Il Gelato, M Terranean, Organic Gemini, Palenque, Tacombi Tacos, tease NYC, and Yiaourti.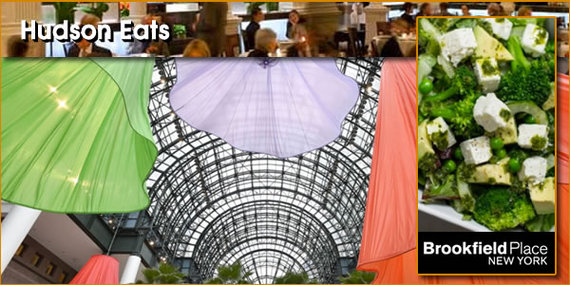 Hudson Eats - Brookfield Place
200 Vesey Street
New York, NY 10281
(212) 417-7000
First and foremost the views are spectacular: seating in the second floor space overlooks the New York Harbor and New Jersey beyond. Battery Park City's 600-seat, 35,000-square-foot food hall features are star studded lineup that expands constantly: Umami Burger, Tartinery, Blue Ribbon Sushi, Black Seed, Little Muenster, Skinny Pizza, Dig Inn, Sprinkles, Olive's, Chop't, Dos Toros, Mighty Quinn's, Num Pang, Northern Tiger, Amada (coming soon), Digg Inn Seasonal Market, Financier Patisserie, P.J. Clarke's, and Parm. Le District is the 25,000-square-foot French inspired marketplace of bustling districts of culinary-specific stations, restaurants (Beabourg, le Bar, L'Appart), and a fantastic fresh grocery.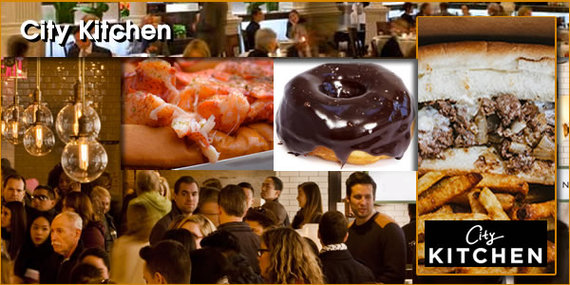 City Kitchen - CITY KITCHEN at ROW NYC
700 8th Avenue at 44th Street
New York, NY 10036
Showcases nine gourmet vendors to the heart of it all; Times Square. Lobster rolls from Luke's, doughnuts from Dough, sushi from Azuki, burgers from Whitmans and seasonal fare like Wooly's shaved ice and Sigmund's Pretzels. Kuro Obi features ramen bowls, Gabriela's serves fish tacos, and another outpost of Madison Square Park Lebanese favorite, Ilili Box. The space has an industrial feel; white subway tile, steel and leather stools, reclaimed wood, marble countertops and Italian glass chandeliers.

Food Hall Happenings....on to the next!

Eataly's founder, Oscar Farinetti, has announced plans to open two more Eataly locations in Manhattan, while a Nordic-themed food hall is slated to open in Vanderbilt Hall inside Grand Central Station.
Restaurateur Danny Meyer is dominating dining; opening up a 40,000-square-foot food court at Hudson Yards.

Anthony Bourdain is opening Bourdain Market on Pier 57 at the Hudson River on the edge of the Meatpacking District. Estimating a two year build, planned are 100+ retail and wholesale food vendors from New York, the nation, internationally and at least one full-service restaurant. Singapore-style hawker market(A hawker centre or cooked food centre is an open-air housing many moveable stalls that sell a variety of inexpensive food), with communal eating spaces surrounded by small stands selling street foods from around the world -- many of them mom-and-pop operations. This will be the biggest and best; 155,000 square feet, which dominates the scale of other food markets.

Happy Dining & Happy Shopping!
Related
Popular in the Community