An extremely fake interview with actress Drew Barrymore is making the rounds on Twitter after a passenger spotted the article in an in-flight magazine.
Writer and political analyst Adam Baron was on a flight to Cairo when he flipped to an "interview" with Barrymore in EgyptAir's in-flight magazine, Horus. He took photographs of the article's wild "quotes" and tweeted about how surreal it all was. The tweet quickly took off:
A spokesperson for Barrymore told HuffPost the actress "did not participate" in the interview and that her team is "working with the airline PR team."
The article, bylined Aida Tekla and full of grammatical errors, claims that Barrymore has left the limelight to focus on the "crucial role" of being a mother.
"I would only resume my career when I feel that my daughters can depend on themselves," the actress is quoted as saying.
The interview opens in the most bizarre and, frankly, offensive way possible: "Despite being unstable in her relationships most of her life, despite the several unsuccessful marriages and despite the busy life of stardom that dominated her life for several years; the beautiful American Hollywood actress Drew Barrymore has recently decided to temporary [sic] take an unlimited vacation to play her most crucial role as a mother."
The article continues: "It is known that Barrymore has had almost 17 relationships, engagements and marriages" and that psychologists believe that her "behavior is only natural since she lacked the male role model in her life after her parents' divorce when she was only 9 years."
"Ever since that time, she has been subconsciously seeking attention and care from a male figure; but unfortunately things do not always go as planned and she has not yet succeeded in any relationship for various reasons," the piece adds.
If you're internally screaming, you're not alone.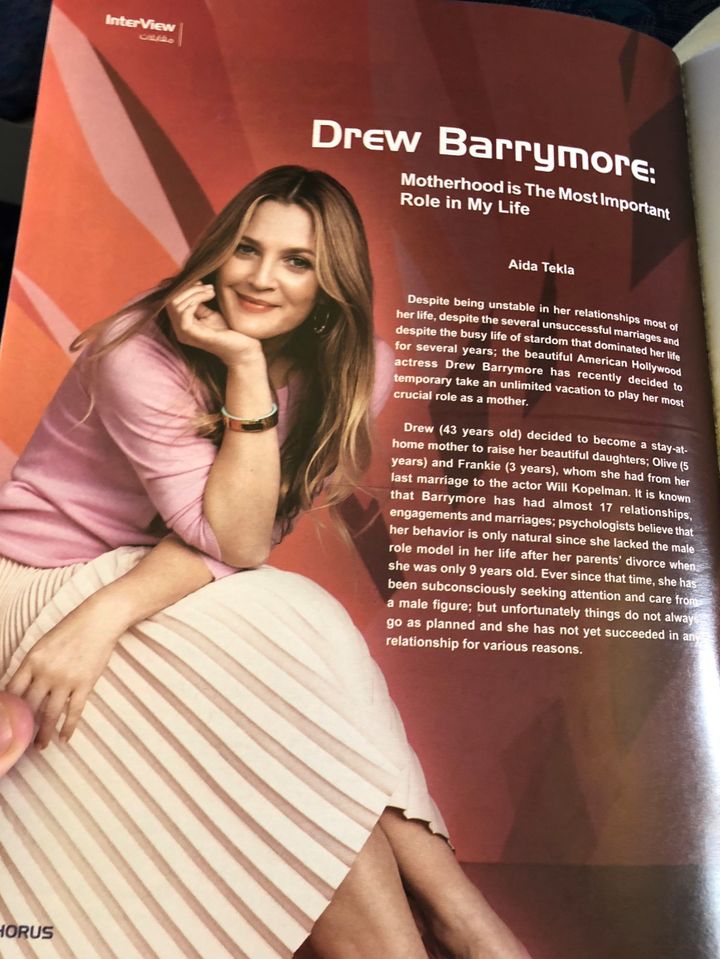 Barrymore's "responses" to many of the interview questions are also flat-out bonkers, including one comment on the "status of women" in the world today.
"I cannot deny that women made a great achievement over [the] past century, there is significant progress recorded by people who study women status throughout history," the error-ridden quote reads.
"This is naturally reflected on women in the west who will not be satisfied unless they gain the rights they deserve to the society. This is especially true since women exert tremendous efforts that men are incapable of exerting due to their numerous commitments and obligations."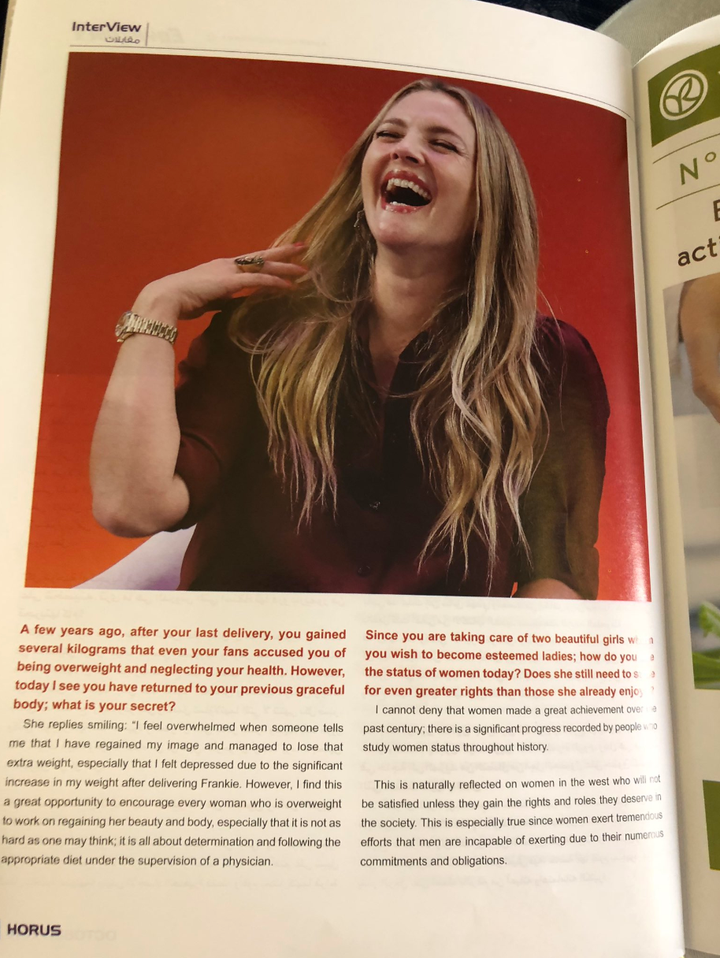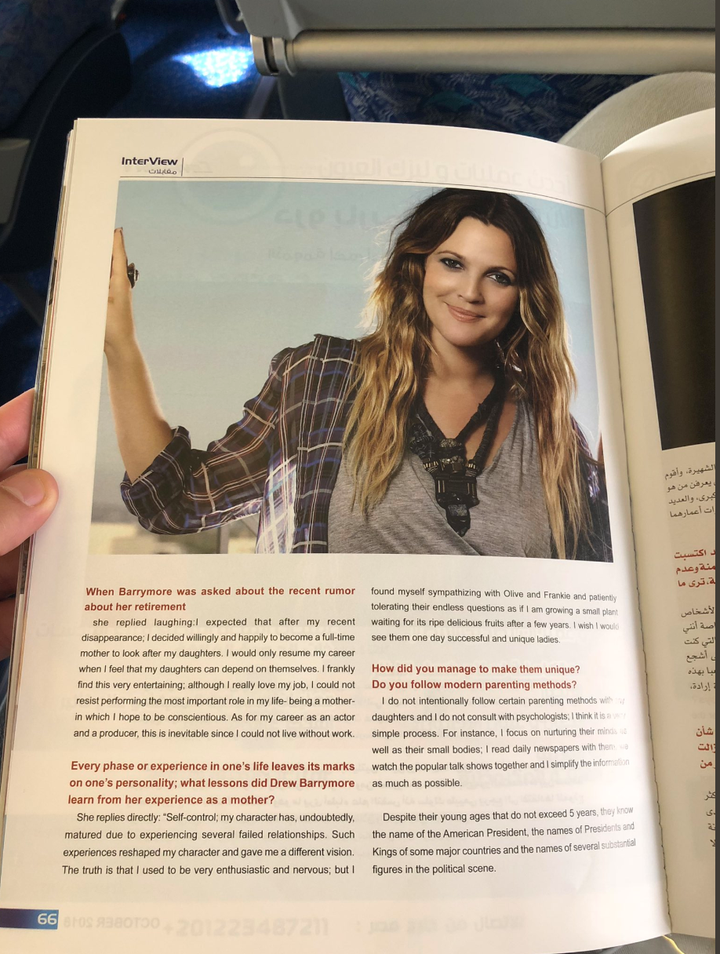 The interview also discusses Barrymore's weight after giving birth.
"I feel overwhelmed when someone tells me that I have regained my image and managed to lose that extra weight, especially that I felt depressed due to the significant increase in my weight after delivering Frankie," the actress is quoted as saying. "However, I find this a great opportunity to encourage every woman who is overweight to work on regaining her beauty and body, especially that it is not as hard as one may think; it is all about determination and following the appropriate diet under the supervision of a physician."
EgyptAir did not respond to HuffPost's request for comment on the article, and HuffPost did not find a current publishing house for Horus.
However, EgyptAir's official Twitter account tweeted on Tuesday that the piece was a "professional magazine interview conducted by Dr. Aida Tekla, former president of the HFPA (Hollywood Foreign Press Association)."
The former HFPA President is known professionally as Dr. Aida Takla-O'Reilly and could not immediately be reached for comment.
This story has been updated with a statement from EgyptAir.
Before You Go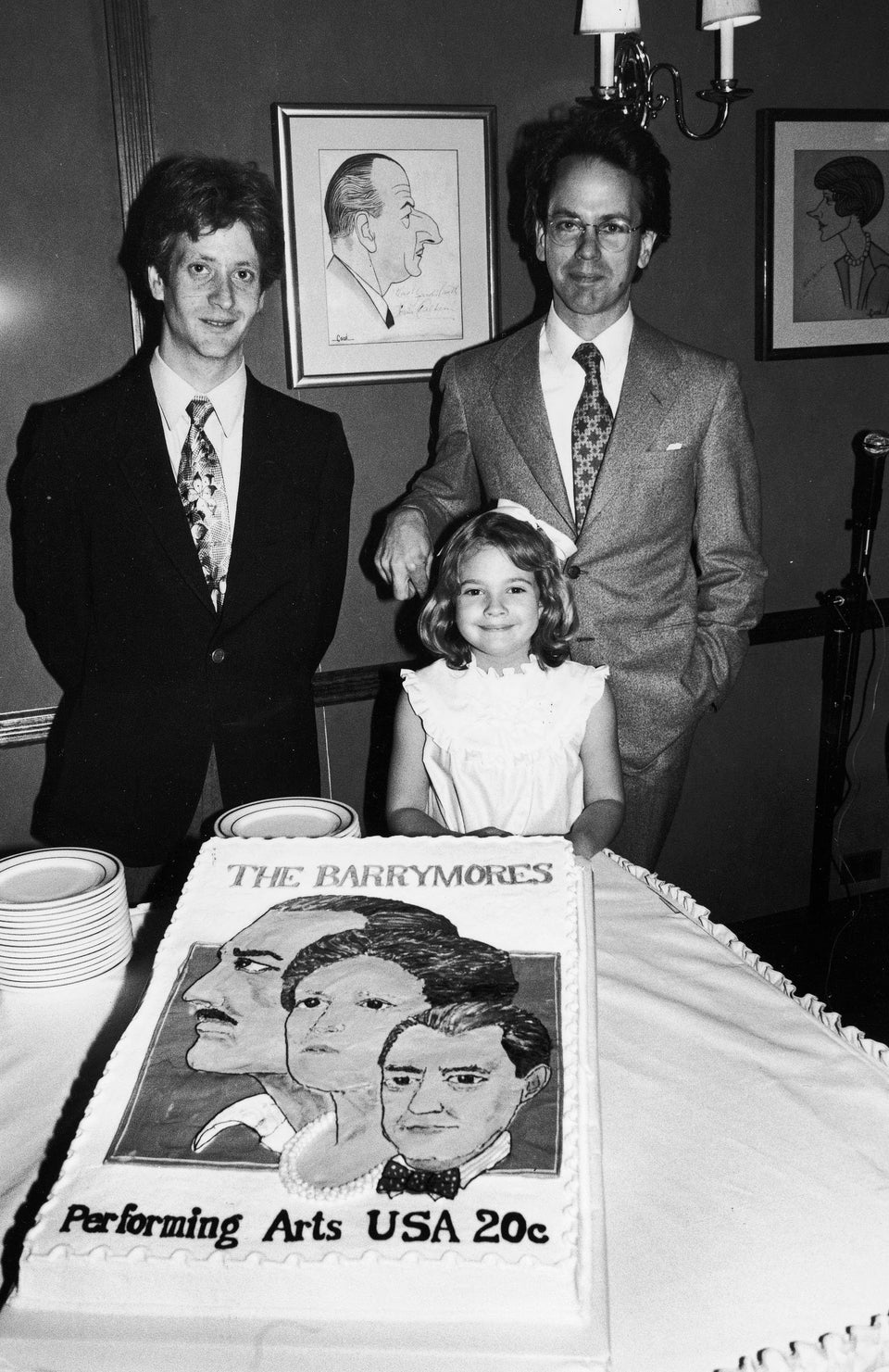 Drew Barrymore's Style Evolution
Popular in the Community