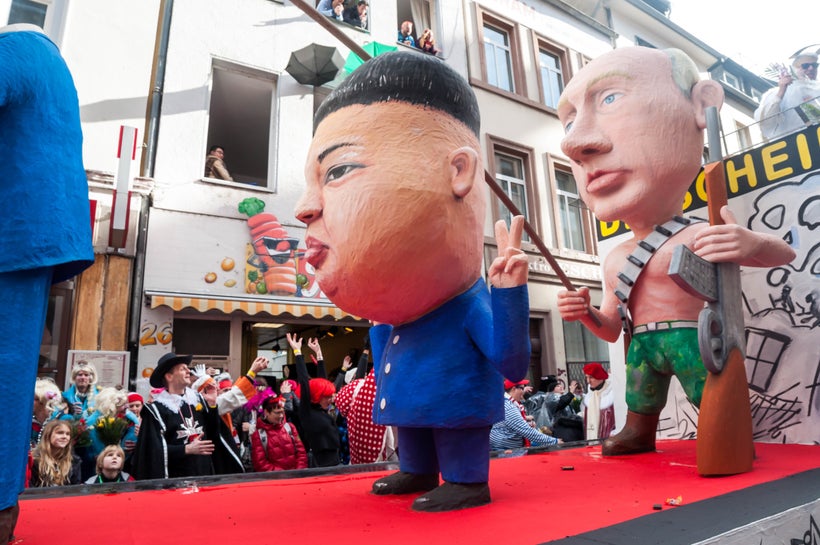 Trump's exercise of U.S. leadership overseas remains naive, fraught with confusion
In several international arenas, the administration of novice commander-in-chief Donald Trump is aiming for the stars. Why not shoot for the moon, proponents say, and take advantage of high expectations?
The problem in attaining exceptional outcomes is threefold, in a way that manifests with all sorts of policy paradoxes between official, highly contradictory statements.
First: we must refute the idea that military force wielded by the 45th president is somehow more mighty and intimidating. Second: there's the mistaken notion that Trump holds more sway with global players and can massage a "deal" where past presidents could not. And third: the obsolete campaign pledge on non-intervention abroad has fallen by the wayside.
At this juncture, Trump is faced with the reality that his geopolitical assets and liabilities are mostly the same as Obama, Bush, etc. Using force comes with the same dangers. Good deals are as hard to pin down as ever. And by virtue of precedent, our empire isn't going anywhere.
A coherent national security strategy should guide the various policy directives emerging from the White House so that diplomats and Pentagon planners know what tactics to employ. The president is not obliged to telegraph his every move, but we simply need a sense of unified purpose in projecting power overseas in a reasonably predictable manner.
That being said, there can be a variety of approaches to the vastly different foreign policy issues around the globe. However, it's completely erratic and nonsensical to speak simultaneously about being the best dealmaker, anti-terror strongman, and hands-off leader.
Obviously the proof is in the pudding, and it's still early days for the people's billionaire who has repeatedly said that the challenges of governing far exceed what he anticipated.
Let's look at three key areas where the talk has not yet translated into noteworthy accomplishments: North Korea, Middle East peace, and the war on ISIS.
Kim staying put in Pyongyang
As the geopolitical mess that the media has most covered during the last few weeks, the threat of impending conflict over North Korea seems to have eclipsed the Syrian battlespace for attention.
With Vice President Mike Pence telling the DPRK during his visit to South Korea that "the era of strategic patience is over," commentators began taking stock of the rising temperature.
After the Americans and South Koreans conducted annual military drills, Pyongyang upped the ante with its own largest-ever drill to mark the anniversary of the founding of their army. That was 10 days after the massive annual April 15 parade to mark Kim Il-Sung's birthday.
On the missile-testing front, 2017 appears to have set a record. One needs only to look at the timeline of launches conducted by the North to see that five have already taken place since February. With varying degrees of success, Kim Jong-Un has nonetheless proven improved capacity to send medium-range ballistic missiles over the Sea of Japan. And fears remain that North Korea will perform its sixth nuclear test.
Meanwhile, Trump has sought to draw a red line, arguing that a nuclear-armed Pyongyang -- despite not yet being able to send atomic bombs very far -- is a "real threat to the world."
"People put blindfolds on for decades, and now it's time to solve the problem," Trump said.
Yet beyond the harsh words and bizarre optics around the botched deployment of the USS Vinson aircraft carrier, Washington remains unsure how to respond to rising bellicosity. Leaning on Chinese President Xi Jinping to rein in its recalcitrant ally, Washington seems loath to undertake any pre-emptive strike either to send a symbolic message or do real damage to launching equipment.
Hawks in Congress such as Sen. John McCain (R-Ariz.) have even cautioned against such a U.S. attack but said "we have to consider that option" if all else fails. In the meantime, do we have a decent plan of action other than simply praying that China steps in as regional hegemon and temporarily smoothes over the tensions in Northeast Asia?
The main takeaway is Trump's odd declaration that he "would be honored" to meet with Kim, who he called a "pretty smart cookie." Yet of course the circumstances for such an event are far-fetched, especially now that the North is alleging the CIA plotted to assassinate Kim.
Palestinian leader in Oval Office photo opp
In an unlikely turn of events, Trump has once again demonstrated a penchant for the bizarre, the unforeseen, and the ludicrous. With Palestinian Authority President Mahmoud Abbas losing steam at home, the U.S. leader threw the aging figurehead a lifeline. By inviting the moderate but enfeebled Abbas to participate in a charade, there is renewed chatter about pathways to Middle East peace.
But to be clear, the theory that a final-status deal rests right around the corner couldn't be further from the truth. On the one hand, Trump elucidated no original or cohesive thought this week on how to fashion an actual agreement. And on the other, a grinning Abbas mentioned nothing new that would lend substantial credence to the press hype that key elements are lining up.
Lionizing a narcissistic Trump might be a sound way for the Palestinian leadership to ensure a rejuvenated stream of funding from the international community. However, the made-for-TV exchange on May 3 was completely lacking in any practical discussion of next steps for the ill-fated "process."
"Never in decades of involvement have I heard a US president more confident with less prospect," tweeted Aaron David Miller, after Trump told Abbas, "We will get this done."
Perhaps it would be possible to leave the tough negotiating to advisors like Jared Kushner and Jason Greenblatt, and vest authority with Sunni Arab allies to promote the regional conditions that might facilitate an agreement between Israel and the Palestinians. But this is frankly not possible without a basic understanding of common ground.
Aside from token pressure on the Israelis to stop new settlement construction, and a statement in vain about the Palestinians ending their financial support to those convicted of terrorism, the "peace" conversation was limited to Trump's pledge "to mediate, to arbitrate anything they'd like to do." Until the parties manage to hash out core issues, this superficial banter will not suffice.
Contrary to the oft-repeated campaign slogans that "America First" would preclude the U.S. from getting bogged down in Middle Eastern quagmires, we have continued to lead the 68-nation coalition in the fight against the extremist group in Iraq and Syria.
Intervention based on Obama's plan has resulted in a huge drop in the number of foreign fighters, and a large reduction in the online propaganda campaign by ISIS. The White House is still charting the same course to cut off funding and foster intelligence-sharing with our allies.
And the semantic debate over "radical Islamic terrorism" has mostly been made irrelevant by Tillerson's realist refusal to needlessly pester the likes of Jordan, Egypt, and Gulf Arab nations with rhetorical bluster.
While some analysts believe Trump made good on a promise to wipe ISIS off the map by dropping the Mother of All Bombs on their Afghanistan hideout, the fight for Mosul is ongoing, and the battle for Raqqa not yet begun.
There is little doubt that by this time next year ISIS will control much less territory than the Islamic State does now. However, the turf war will continue for the foreseeable future, with U.S. troops being committed for the long haul. In addition, the group will likely turn back into more of a transnational terror organization more similar to al-Qaeda, rooted not as much to a particular homeland as it is to carrying out savage acts of violence wherever it can.
While no one really expected ISIS to disappear within "30 days," odds are that the turmoil straddling the Iraq-Syria border will continue to absorb our resources and guarantee many years of chaos and destruction reaching far and wide.
The ISIS "cancer" is thus one of many examples of where Trump talk just can't cure pre-existing foreign policy conditions.
Calling all HuffPost superfans!
Sign up for membership to become a founding member and help shape HuffPost's next chapter
This post was published on the now-closed HuffPost Contributor platform. Contributors control their own work and posted freely to our site. If you need to flag this entry as abusive,
send us an email
.