Two bills introduced in the California legislature aim to stem the spread of fake news by teaching students to better evaluate online media.
As an increasing number of Americans have begun getting their news from Facebook and other social media platforms, there has been a proliferation of deliberately false or misleading news stories. During the 2016 presidential race, the trend turned particularly insidious as headlines like "FBI Agent Suspected In Hillary Email Leaks Found Dead In Apparent Murder-Suicide" found massive online audiences, despite being completely fabricated.
There's disagreement over what, exactly, constitutes "fake news," and President-elect Donald Trump and others conservatives have recently used the term to describe reporting they feel is unfair or unflattering.
However, two California lawmakers argue that regardless of politics, it's critical for the next generation of voters to be well-informed, shrewd consumers of news.
AB 155, introduced by Assemblyman Jimmy Gomez (D-Los Angeles), would require the state to incorporate "civic online reasoning" in its existing curriculum frameworks. Citing research that shows young people are particularly likely to believe fake news stories, the bill's text argues that such standards are necessary to help students "judge the credibility and quality of information found on Internet."
"The inability of young people to distinguish between real news and fake news makes them less informed about important civic issues and poses a direct threat to our democracy," reads the bill.
The bill's companion in the state Senate, SB 135, would similarly require the state's education board to create a "media literacy" curriculum. The bill, authored by state Sen. Bill Dodd (D-Napa), hopes to "ensure that young adults are prepared with technology literacy and computer skills in order to utilize social media sites responsibly."
"The rise of fake and misleading news is deeply concerning. Even more concerning is the lack of education provided to ensure people can distinguish what is fact and what's not," Dodd said in a statement. "By giving students the proper tools to analyze the media they consume, we can empower them to make informed decisions."
Before You Go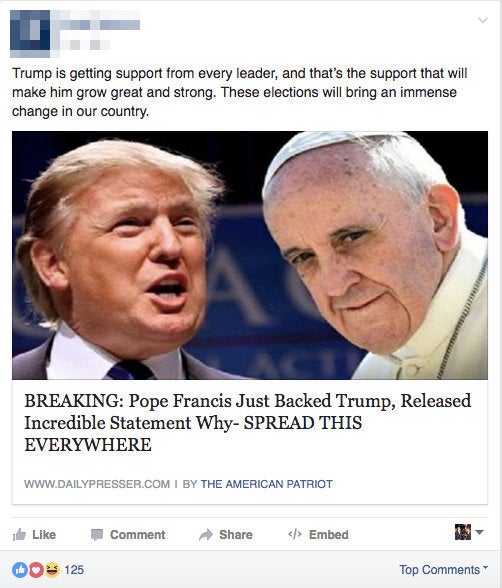 Fake News Spread By Social Media During The 2016 Election
Popular in the Community