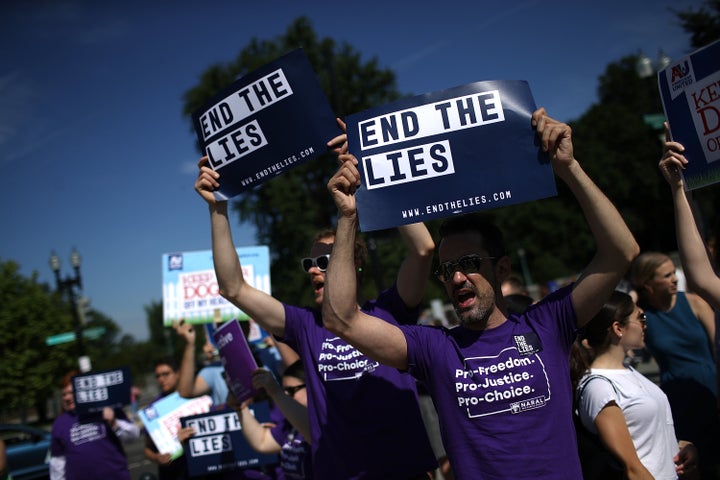 On the off chance that you know anything about me, it's probably about my work as a comedian, or maybe as the co-creator of The Daily Show, or as one of the co-founders of Air America Radio. But it is my current role as founder and chief creative officer of the reproductive rights nonprofit Lady Parts Justice League that has me writing today.
While hard work and a lot of luck played a large part in my success, another crucial reason I was able to pursue my dreams was that I had access to a safe and legal abortion at the age of 17.
But the path to getting that care was not easy. In fact, it was paved with deception because as a pregnant teenager, I was tricked by an ad on a bus for a fake woman's health center, also known as a "crisis pregnancy center."
Most people have never heard of "fake reproductive health centers" and yet there are over 4,000 of them across the country. These centers pose as women's health clinics, despite often having no licensed medical professionals on staff. They exist solely for the purpose of luring women in the door and counseling them against abortion. Compare that to the just under 800 comprehensive reproductive healthcare clinics that provide a wide range of actual medical care, including abortion.
The "crisis pregnancy center" that lured me in and deceived me is the exact kind of fake clinic that SCOTUS, in a 5-4 decision in NIFLA v. Becerra last week, ruled has the constitutional right to deceive women about their reproductive care.
National Institute of Family and Life Advocates (NIFLA) is the organization representing fake clinics in this case, and Attorney General of California Xavier Becerra represented the state. The case is pretty simple: In 2015, the state of California passed a law called, "The FACT Act"― simple legislation with two requirements:
First, it requires any licensed community clinic whose "primary purpose is providing family planning or pregnancy-related services" to disclose to all patients that the state of California offers "free or low-cost contraception, prenatal care, and abortion." This is important. The FACT Act doesn't require them to refer or promote any of these services, it simply requires they must let the patient know the state provides them at low or no cost.
Second, the law also requires that the unlicensed fake clinics disclose in both their facilities and in their ads that they are not licensed, medical providers.
NIFLA argued that enforcing laws that require transparency in health care is "forced speech" and violates the First Amendment and the Supreme Court agreed. What this means is that any licensed community clinic that provides reproductive care and is opposed to abortion can legally deny pregnant people information about how to access one. Even worse, the decision grants unlicensed, sham clinics the constitutional right to continue hiding the fact that they are not REAL health care providers, allows them to continue to dress up in lab coats impersonating doctors, to perform ultrasounds, give women whatever results they feel like and then lie to you and me about the safety of abortion or how to even access abortion.
As someone who fell prey to one of these places, this ruling is personal.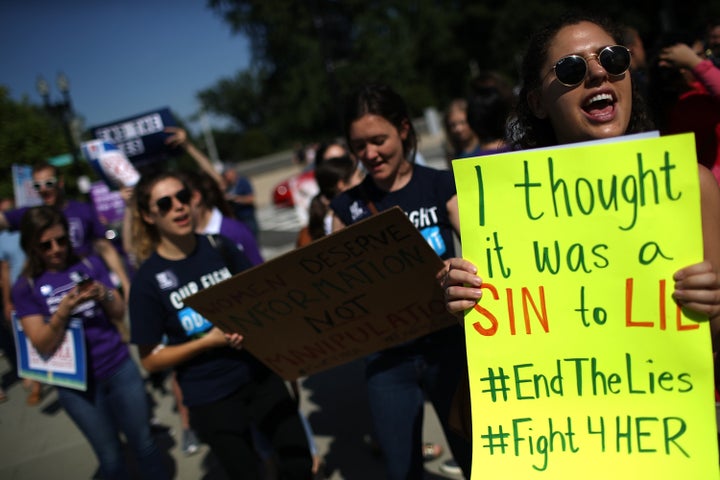 My experience with a fake clinic was in the late 1970s, before home pregnancy tests were widely available. In the pre-internet age, if you were a teen and needed help with ending an unintended pregnancy, the advertisements they plastered on buses and billboards saying, "Considering abortion? Call us! We offer free pregnancy tests, choices, and options," were powerful. I had nowhere else to turn and that number on the poster was my best hope.
I called from a payphone and was relieved I could get an immediate appointment. When I walked up, it was not what I had expected. It was a house, not a clinic, and the interior looked more like my Catholic living room than a medical facility: plaid couch, posters of Jesus, the "Footprints" poem. But when the woman came out from behind a door wearing a lab coat, I felt hopeful again. I was sure this "doctor" would provide compassion and guidance. I wanted to confide in her that I was in an abusive relationship that I didn't know how to get out of, but the one thing I knew for sure is if I had a baby, I would never escape.
But she wasn't a doctor. She was just wearing a doctor's coat. How was I to know? What kind of person would ever pretend to be a doctor? I was sure she would help me. Instead, she opened a book containing images of bloody fetuses and as she turned the pages, she explained this is what I was asking to do to my "baby." She parsed words to scare me, telling me abortion was against "our law" (read "canon law" or her law). But like a good manipulator, she knew I would hear the law. I did, and her calculating choice of words had the desired effect. I felt like a baby-killing criminal.
After shaming me about having selfish, "sinful sex," she finally laid out the "choices" they offered at this place. "Lizz," she said, as she looked down at the sheet I filled out to recall my name. "Your options are mommy or murder."
With deceptive sounding names like "Choices for Women" or "Pregnancy Decision Health Center," these sham artists operate, not only with impunity but are also outright predatory. They often open up right next door to abortion providers and will approach women heading to their actual appointments to lure them over to their facilities. This is done to confuse patients and trick them into walking into the wrong door or building, causing them to miss their actual appointment. Their strategies are endless, manipulative, and terrifying.
"With deceptive sounding names like "Choices for Women" or "Pregnancy Decision Health Center," these sham artists operate, not only with impunity but are also outright predatory."
The stone cold truth about this case and the people who filed it is this:
These fake women's health centers have built an industry out of lying to women about their health care options. They are so committed to deception, they fought all the way to the Supreme Court to defend their "right" to do so and last week, the Supreme Court ruled in their favor. So here we are, living in a country where lying to women is now a First Amendment right.
Maybe you don't believe in abortion. Maybe you think people shouldn't choose to have one. But do you believe that it should be legal for fake doctors to lure desperate pregnant people into a fake clinic for the sole purpose of misleading them about their health care options? Do you think people seeking medical care should be tricked into doing what someone else thinks is right?
This ruling allows people to stalk women in need; it allows them to lie to them and shame them in their most vulnerable hour.
So between this ruling and the announcement of Justice Anthony Kennedy's retirement, we are in the fight of our lives. Abortion providers are already outnumbered by fake clinics almost 5 to 1. If all of us do not demand recognition of the full humanity of women be a litmus test for Kennedy's replacement, we will be forced to seriously consider grave options of what to do when, not if, Roe v. Wade is overturned. The next Supreme Court justice will have a massive impact on reproductive health care, and the entirety of our democracy, possibly for the next three or four decades.
Now is not the time to be quiet or tired. We must organize our asses off to make sure people understand how much power state and local governments have in creating abortion laws. Hint ― They have all the power!
We must expose these fake clinics, while also electing not only congressmen and senators that support abortion rights but also state legislators and governors who understand that abortion rights are human rights.
I can write today about my horrible experience of trying to obtain an abortion because I was lucky enough not to fall for their tricks and was able to access the abortion I needed. I want other women to have the same options I had and the freedoms I now have as a result of that choice.
Support HuffPost
At HuffPost, It's Personal
Popular in the Community