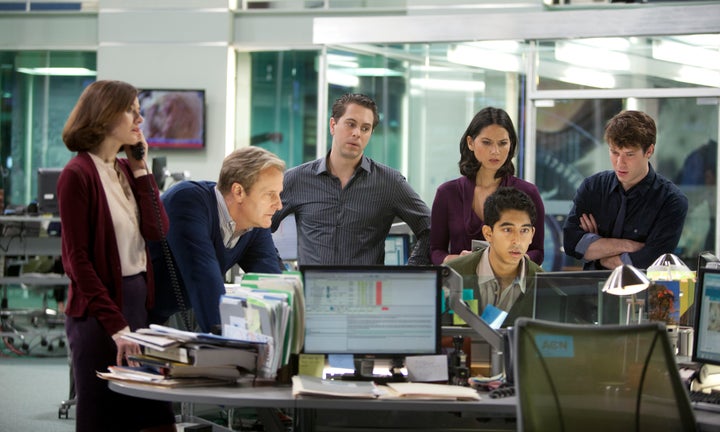 The night that HBO's drama "The Newsroom" premiered, comedian Patton Oswalt Tweeted a call to arms for would-be satirists to take aim at one of the show's particurly kooky characters:
Within days, multiple accounts had been created for just about every character, from Waterston's Charlie Skinner to Jeff Daniels' Will McAvoy. The various characters constantly talk to each other and to fans -- creating a thriving ecosystem of political and social critique that's even more lively than the one on "The Newsroom."
Long Island University professor Thomas Fahy, who wrote a book about Aaron Sorkin, explained that the screenwriter's dialogue is unusually well-suited to parody.
"Because it is so rhythmic and because Sorkin manipulates rhythm so well, it makes his prose enjoyable to spoof," Fahy told The Huffington Post.
All the managers of the "Newsroom" accounts contacted by The Huffington Post refused to reveal their true identities to the public; they cited a desire to maintain the fictional veneer of their characters. But most were willing to discuss the motivations behind their accounts -- and there were some striking parallels in their explanations. Most of them said their goal was less to parody Sorkin's highfalutin rhetoric than to advance his political idealism.
"I enjoy 'The Newsroom.' I'm not a cynic at all. I'm a huge Sorkin fan," the writer behind @WillMcAvoyACN told The Huffington Post in an email. "My account is designed to be more of a reinforcement parody, while the 'Studio 60' accounts are more of a critical parody ... they are intentionally drawing attention to the shortcomings of the source material."
The writer of @NewsroomJim, an account based on the character played by John Gallagher, Jr., told HuffPost that his first name was Ben, he was 35 years old and that he works as a producer for a local affiliate of a major news network. Ben also said he was motivated by Sorkin's approach to politics, noting that the show's confrontation of actual current events made it especially appealing as a platform for discussion of the news.
"Because I've been frustrated with the way things are run in my newsroom, it gives me an opportunity to give voice to the frustrations of those people who are working in newsrooms around the country ... The show and these Twitter feeds are giving voice to a lot of peoples' frustrations about politics today," Ben said.
The man behind @DrunkWillMcAvoy, which has more than 500 followers, said he enjoys being able to use the mask of his account to disseminate controversial opinions without drawing ire to himself.
"When I say that I want to round up the GOPers spreading misinformation about climate change or healthcare and drown them like cats in a bag people seem to forgive me of my lust for violence," he said in an email. "Whereas in real life I try to maintain a moderate viewpoint on most things."
"Newsroom" protagonist Will McAvoy would almost certainly approve of @DrunkWillMcAvoy's pugnacity and righteous indignation. On the other hand, in the show's pilot, Jeff Daniels' character was shocked to learn that he had a blog, so he would probably be bewildered by the whole concept of fake Twitter accounts. He might even be critical of the trend -- after all, there's something a little bit fishy about advancing the cause of truth from behind the smokescreen of a false identity.
But even if Will McAvoy and his fictional colleagues at ACN might be dubious, HBO has signalled its approval. The writer of the @MackMcHaleACN account, based on Emily Mortimer's executive producer character, said that, because she works in a high-pressure job in the tech world, she doesn't have time to update her account often. For that reason, she offered to give HBO control of her account soon after starting it. But the network declined her offer.
"They, um, are enjoying the free labor," she explained in an email. "They sent me two pens as a thank you (and to be completely honest, that kinda worked 'cause I'm a total sucker for free nerd stuff)."
Click through below to see sample Tweets from some of the most active fake Twitter accounts based on "The Newsroom":
BEFORE YOU GO
PHOTO GALLERY
Fake 'The Newsroom' Twitter Accounts