The inauguration of Donald Trump is heating up to be the must-miss show of the season, but many are clambering for tickets, even on craigslist! I thought I'd help and throw another pair in the mix and conservatives weren't intelligent enough to read between the lines and see that it was a joke.
"Donald Trump's Inauguration Concert - $50"
Two tickets in hand to see international musical superstars '3 Doors Down' and country singer 'Toby Keith'! Bring your camera cus this is not the crummy Obumma show with U2, Beyonce and Bruce Springsteen...
Click the screenshot to read the entire listing!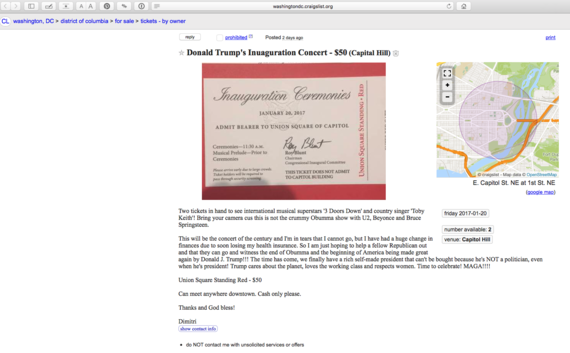 I know they fell for it because I called to see what sort of response it was getting. The contact number I provided is that of a Russian restaurant in Washington, D.C. I was quickly told there were no tickets, but did query on how many calls they'd received - far too many to count. Awesome!
Fun tweets and replies regarding the must-miss show of the season!
The replies to '3 Doors Down' announcing their appearance are simply epic.
The forecast isn't looking wonderful, but it's safe to assume he will not mind.
Thanks for reading! Add me on facebook and give my new stand-up album a stream or download.
Your snowflake,
Tommy Campbell
As of publication the listing is still active with hits going up by the day.
REAL LIFE. REAL NEWS. REAL VOICES.
Help us tell more of the stories that matter from voices that too often remain unheard.