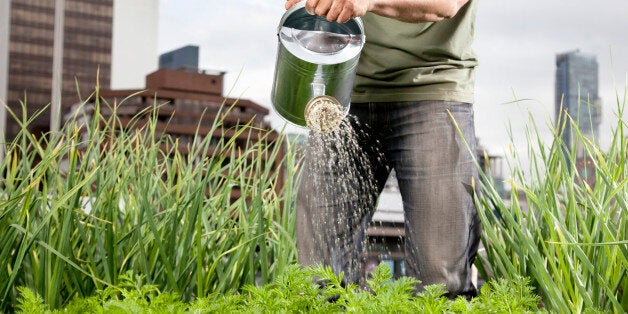 "It was an insulated cabinet at the junkyard and it was cheap. So, I took a refrigerator and repurposed it into a heater," said Hugh Toepperwein.
Fake. Artificial. Virtual. Forty years ago, Hugh Toepperwein had an idea that would revolutionize the word "fake."
Forty years ago, artificial plants were burgeoning. Urban living was the trend, yet people wanted their homes and offices to feel warm. The conveniences of the city were met with the angst of nature, but without the maintenance. Plant killers ran amuck, and Hugh Toepperwein saw this as a business opportunity. He saw an opportunity to grow his passion for plants, and save one plant and their killer worldwide at a time.
So, Hugh found himself in a junkyard, buying a cheap refrigerator to experiment. He envisioned preserving live plants. Somehow, allow a live plant to remain lush, green and supple, requiring no maintenance. He took a $10 bathtub to be used as a soaking tank and reversed a vacuum to make a sprayer, to color the leaves. Forty years ago, Hugh Toepperwein began his artificial plant business called Toepperwein's of Texas.
With meager beginnings, from the junk yard to his garage, Hugh designed, preserved and crafted two products. He had only one employee, which was his son, who clocked in after school was out. Hugh took his experience from selling terrariums and gathered a client list. He targeted interior designers with panache that saw his hand made goods as art, rather than an accessory.
Along with big hair and JR Ewings, the 80's grew the market for big plants to give big personality to an interior space. Toepperwein's of Texas was also becoming too big for the garage, so Hugh purchased a dance hall on Interstate 10, outside of Houston, where it's still located today. He fired his son, allowing him to concentrate on high school, and hired full time employees.
By the 90s, the Toepperwein name was recognized nationwide for Hugh's Pinocchio products. While he carried a full line of silk plants, it was the preserved plants that looked, felt and even acted real. So real in fact, constant calls of panic were intercepted, because house sitters were watering them. In 1994, Hugh entered a contest at the International Silk Flower and Accessories Exhibition in Las Vegas. He custom made a preserved bonsai that sat 6-foot-tall and only dwarfed the competition. He was one of a few that hit the jackpot in Vegas, taking home the trophy.
With the millennium and everyone panic stricken from Y2K, the ever-hip Hugh offered the first "virtual plants." Like Pacchetto, with finite detail, Hugh continued to replicate God's art.
Toepperwein's plants have been throughout the White House, never divulging political secrets. They've adorned lobbies of Fifth Avenue offices. They've lined halls of luxury hotels and ritzy River Oaks, Houston homes. And Toepperwein's was the only one considered for a custom made piece in The George W. Bush Library.
Hugh established a company that still prides itself on hand made art. Art so real they make Pinocchio jealous. As many natural pieces as possible, are woven into each product. Hugh finds exotic wood from Africa or striking seeds from the Amazon. His keen eye, that salvaged junk into tools, saw a mold spore from bird droppings, and turned it into an art installation.
It's not just Hugh's artistry that made his empire different. Hugh's personality is contagious. His employees are his family and customers are his friends.
March 10, 2016, Toepperwein's of Texas is turning 40. In a day and age where people are attention deficit and technology flashes past faster than the speed of light, Toepperwein's continues to remain constant. Here's to 40 years of "faking" it!