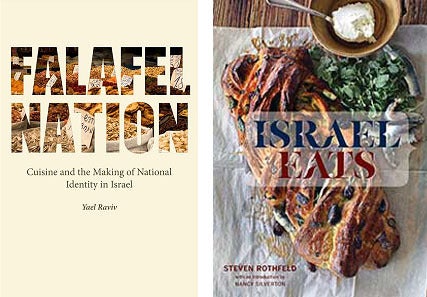 There is no question that a new wave of Israeli cuisine has infiltrated the hearts and stomachs of the culinary inquisitive.  Even the new British Prime Minister, Theresa May, recently identified herself as an "Ottolenghi" girl.  To translate: She loves the cookbooks of Israeli chef Yotam Ottolenghi and Palestinian chef Sami Tamimi, whose lusty olive oil-drenched, deftly herbaceous, vegetable-forward, sun-kissed repertoire (and wildly popular restaurants) satisfy her culinary longing.  Mine, too.  In 1996, I predicted the proliferation of a "new Israeli cuisine" in an article I wrote for the New York Times, called "A Region's Tastes Commingle in Israel" – presaging its glorious ascent a decade ago.  (It is perhaps most beautifully documented in Janna Gur's 2007 seminal cookbook, The Book of New Israeli Food.)
The essence of modern Israeli cooking reflects a regional in-gathering of peoples from Lebanon, Syria, Jordan, Egypt, Morocco, Yemen, Palestine, and as far as Iran and Iraq, with only a smattering of Eastern European nostalgia gracing tony menus.  Put their recipes and ingredients into the hands of hyper-inventive Israeli chefs and you get a glorious hybrid of Med-Rim cuisine. 
Enter Falafel Nation.  In a brilliantly researched and comprehensive tome (published by University of Nebraska Press, 2015), the author and culinary scholar, Yael Raviv, Ph.D. dissects, with disarming objectivity, the genesis of the Israeli kitchen. The book's subtitle: "Cuisine and the Making of National Identity in Israel," depicts the sociological, agricultural and political timeline against which Israel's many culinary modalities are observed.  That Israel appropriated so many Arab/Palestinian dishes, despite a population base of Eastern Europeans, and usurped the humble falafel as an Israeli/Jewish food, is duly noted. Another way to look at this, however, is to engage the more genial notion of culinary migration or integration as a lens for peeking into any modern country's kitchen window.  Ms. Raviv is nothing less than astutely fair and her exposition of falafel's culinary journey, rolling through Israel's history into a national icon, is a fascinating one.  
Ms. Raviv focuses on the period between the 1905 wave of immigration to the Six-Day War in 1967, when Israel's gastronomic narrative had its literal roots in working the land.  Being a pioneer meant hard labor and the cultivation of crops (turning the desert into an oasis), but came with great esteem and was far more valued than food as a source of pleasure (let alone as a status symbol as it is today.)  Food was agriculture; food was part of the burgeoning community collective; food was a potent symbol of nation-making.  Why falafel (ground fava beans or chickpeas mixed with spices and fried), and not hummus, schnitzel, or chopped salad, became the semaphore of Israel's culinary history, is not only beguiling, but one of the many reasons to pick up this book.  If once Israel's attitude toward food was "utilitarian and functional," according to Ms. Raviv, decades later it has become a global brand of innovation and pleasure. 
Enter Israel Eats, the newest of the deluge of Israeli-inspired food books or, more accurately, travel cookbooks (How I like that idea!).  Written and photographed by Steven Rothfeld (with an introduction and recipes by chef Nancy Silverton) the book's approach is more cinema-graphic with sweeping landscapes, captivating portraits, and some very cool recipes (a few even new to me.)  It was published last month by Gibbs Smith.  Rothfeld unexpectedly dedicates the book to WAZE, the Israeli-divined navigation app that allowed the author to find his way around the labyrinthine towns dotting the countryside.  How curious to me that both Steven and Nancy came to the conversation as late as they did.  On my first trip to Israel in 1980 I discovered that the food was part of the "greatest story never told."  Local cherry tomatoes tasted like candy, grilled skewers of foie gras were served in casual restaurants, there were lashings of primal tahini everywhere, and Israeli vegetable-inspired breakfasts were, and still are, to die for!  Yet, I am so glad they came to recognize a part of themselves in the multi-faceted culinary ideologies embedded in Israel's quirky, irrepressible, brilliant food scene.  
Rothfeld's stunning photos tell part of the story; the choice of subjects, recipes, and personal essays fill the rest.  The writing is beautiful, with a refreshing of-the-moment quality.  I was pleased to see chef Uri Jeremias's wise face and beard (I adore his restaurant Uri Buri in Akko); and I enjoyed the patter between Rothfeld and chef Eyal Shani, owner of one the most exciting restaurants in the world, North Abraxas, in Tel Aviv.  The radical simplicity of his slightly charred roasted beet carpaccio (with its striking dollop of crème fraiche and golden olive oil) is mouthwatering.  You will feel like you are there, indulging, and making gastronomic sense of everything around you.  Abundance in the desert.  Passion on the plate. Rothfield's Israel Eats far exceeds expectations.
Calling all HuffPost superfans!
Sign up for membership to become a founding member and help shape HuffPost's next chapter
This post was published on the now-closed HuffPost Contributor platform. Contributors control their own work and posted freely to our site. If you need to flag this entry as abusive,
send us an email
.