This article was written by Leah Chernikoff and originally appeared on The Inside Source, eBay's digital style magazine. To read the full interview, click here.
Doesn't it seem like it's always Fashion Week? Fall collections began showing last Thursday in New York. But as street style photography blogs and social media image-sharing platforms multiply at breakneck speed (are you on Pinterest yet? Instagram? How to keep up!?), excitement over what editors and stylists are wearing to the shows nearly overshadows the hype for the new collections. Nearly.
Photographers have been staked outside the tents and the peacock-ing has begun. So we checked in with a few of our favorite editors to get a preview of what they've been wearing this past week. Trend trackers, take note -- this is almost as big as what's on the runway.
Elle Strauss, Senior Fashion Editor, Lucky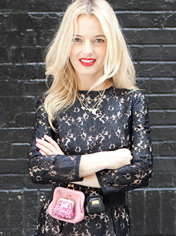 No 21 fuchsia silk button down with a frill back: "I am obsessed with Alessandro Dell'Acqua's signature line. The colors and fabrics he uses are so beautiful. I can't wait to see what he does for fall!"
Topshop petite stonewash skinny jeans: "I'm having a '80s moment! It's nice to find a pair of jeans that fits me perfectly. I'm only 5'1."
Marc Jacobs black leather tote with gold hardware: "This is like a Fashion Week survival bag. I can literally carry everything in it and it goes with every outfit."
Susan Cernek, Executive Fashion and Beauty Editor, Glamour.com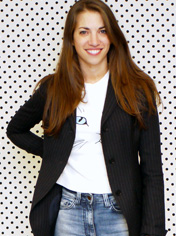 Our Glamour x Opening Ceremony cat sweater: "On sale 2/15. I couldn't resist [and got an advanced edition]!"
A white Peter Pan-collar dickey (from CeCe Toppings): "most likely tucked into the aforementioned cat sweater."
Coach classic leather duffel (in red or navy): "to complete my Greenwich circa '87 look--and so I can tote my two phones, two cameras, Kindle, flats and snacks around all the livelong day."
Stevie Dance, contributing editor at Oyster and contributor at Vogue, Harper's Bazaar Australia and more (and street style catnip)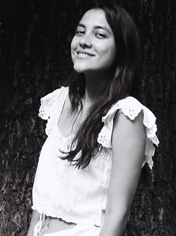 Proenza Schouler Baja pullover: "for its 'Point Break', easy appeal."
A Phillip Lim bag: because you can literally fit anything in Phillip's bags.
A.P.C. boots. "I walk everywhere during shows when I can, so its all about boots for me."
Sydney Wasserman, Fashion Editor, Elle.com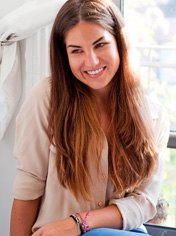 J+ coats from Uniqlo: "I own three of these wool coats in different cuts and colors and they're honestly a lifesaver. Flattering, easy to style around, and most importantly, warm!"
Manolo Blahnik black suede pointed-toe pumps: "I don't know how I got through my first few fashion weeks without Manolo pumps. They're so comfortable and make the most simple jeans look super sexy."
Maje black 'Flounce' skirt: "Anyone who knows me knows I'm a sucker for flared miniskirts. This one goes with everything from my tuxedo jacket to an old pullover sweater."