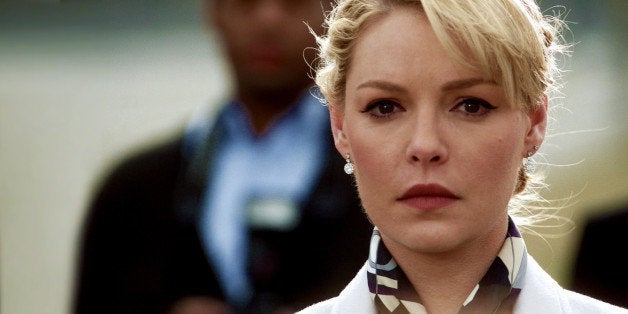 This week has been HUGE for TV fans.
With the networks unveiling their fall lineups and debuting trailers for all kinds of new shows, you might be feeling a little spoiled for choice next season. But don't worry, we've got you covered! Here for you now is the most all-encompassing, comprehensive and just plain epic list of new shows (and their trailers) coming in fall 2014. We've even color-coded them so you won't have to waste your time with any new programs that just don't fit your interests.
The shows in green are our picks for what will be hot next season, shows in yellow we think you should probably give a try and the shows in red are the one's you shouldn't feel guilty about passing over because hey, there are only so many hours in a day and who wants to waste them watching bad TV?
Who You'll Recognize: Ben McKenzie ("Southland"), Jada Pinkett Smith and Donal Logue ("Vikings").
What To Expect: Plenty of comic fare. From what we can see of the trailer, Fox is looking to get gritty and dark with their Batman prequel that follows a young Detective Jim Gordon as he tries to clean up the messy streets of his city and solve the murder of the Wayne family.
Who You'll Recognize: David Tennant ("Doctor Who"), Anna Gunn ("Breaking Bad"), Michael Pena, Nick Nolte and Jacki Weaver.
What To Expect: Other than an A-List cast, the 10 episode series is a remake of the U.K.'s Broadchurch which centers on the murder of a young boy in a small town. Tennant played the lead detective in the critically acclaimed show and will reprise the role for the U.S. version.
Who You'll Recognize: Terrance Howard and Taraji P. Henson.
What To Expect: The character driven drama follows the head of a record label who's just been given three years to live. He must decide which of his sons will carry on his legacy after he's gone.
Who You'll Recognize: Matt Dillon, Melissa Leo and Terrance Howard (again).
What To Expect: It's the brainchild of M. Night Shyamalan, so there's plenty of shady behavior, creepy background music and mysterious murders. After a special agent literally crashes into town, he finds old friends and things that aren't exactly what they seem. Cue the "Twin Peaks" comparisons.
Who You'll Recognize: Will Forte ("Saturday Night Live").
What To Expect: "I Am Legend" without zombie viruses and dead dogs. Forte is literally the last man on Earth and while it's fun to be able to steal as many porno magazines as you'd like and sing the national anthem to an empty baseball stadium, it's also pretty lonely.
Who You'll Recognize: Max Brown ("Beauty and the Beast"), John Rhys Davies, and newcomer Reece Ritchie.
What To Expect: Pyramids, heavy eyeliner and vampires. The show focuses on a thief employed by a Pharaoh obsessed with power.
Who You'll Recognize: Martin Short, Nasim Pedrad ("SNL") and Emmy Award-Winning writer John Mulaney.
What To Expect: Mulaney stars as an aspiring stand-up comedian whose rag-tag group of friends' unconventional methods of support try too hard to tickle your funny bone. Also, the comparisons to "Seinfeld" definitely need to stop.
Who You'll Recognize: No one.
What To Expect: Fox's reality fare is actually based on a hit Dutch television series which claims to be TV's biggest social experiment. The premise: take a group of strangers, cut them off from the modern world and see what happens.
Who You'll Recognize: Rainn Wilson ("The Office").
What To Expect: This midseason drama has Wilson playing the reckless, self-centered detective on a team filled with eccentric criminologists.
Who You'll Recognize: Katherine Heigl ("Grey's Anatomy") and Alfre Woodard.
What To Expect: Heigl plays a CIA officer who briefs the president daily on national security threats. She was also in a relationship with the president's son before he was killed, so expect some revenge to be taking place when the show airs.
Who You'll Recognize: Ben Feldman ("Mad Men") and Cristin Milioti ("How I Met Your Mother").
What To Expect: The rom-com series follows a young man (Feldman) who works at an Internet dating site and dreams of finding his own soul mate. Enter Milioti, a tough as nails lawyer who's completely against falling in love until a chance encounter has her questioning her relationship beliefs.
Who You'll Recognize: Kate Walsh ("Private Practice").
What To Expect: Walsh stars as a judge whose party animal antics spill over into the courtroom. Her life is turned upside down when she becomes the guardian of a young boy whose parents she sent to jail.
Who You'll Recognize: Matt Ryan ("Criminal Minds").
What To Expect: Demon hunting, bad CGI and snarky one-liners, but the show is produced by David Goyer and is truer to the original comic than that Keanu Reeves disaster so don't lose hope yet.
Who You'll Recognize: Debra Messing ("Will & Grace") and Josh Lucas.
What To Expect: Murder mystery meets comedy in this new sitcom. The show follows Messing, a whip-smart detective who has her hands full on the job and at home with her soon to be ex-husband and two kids. There's plenty of cheese-ball comedy here.
Who You'll Recognize: Casey Wilson ("Happy Endings") and Ken Marino ("Eastbound & Down").
What To Expect: Wilson and Marino play a happy and in love couple who, for some reason, can't seem to pull off popping the big question. The same man who gave us "Happy Endings" is behind this new comedy but for some reason, we just aren't as excited as we thought we'd be.
Who You'll Recognize: Timothy Hutton and Felicity Huffman.
What To Expect: Another family drama about two parents dealing with the mysterious murder of their son. Honestly, the plot line is played out but the show is coming from the man who wrote the screenplay for "12 Years a Slave," so we have high hopes.
"How to Get Away with Murder"
Who You'll Recognize: Viola Davis.
What To Expect: It's Shonda Rhimes so there'll be plenty of sex, scandal, murder and long, melodramatic speeches, but we're not ashamed to admit we're already a bit obsessed with this legal thriller.
Who You'll Recognize: Lily Rabe ("American Horror Story").
What To Expect: Creepy kids, hazmat teams, national security threats and very real imaginary friends. The show centers on children who commit horrible acts because they were told to by beings that cannot be seen. So, there's yet another reason you'll never want to have kids.
Who You'll Recognize: Ioan Gruffudd and Judd Hirsch.
What To Expect: The drama follows medical examiner Henry Morgan as he solves crimes in New York City while trying to keep a big secret: he's over 200 years old.
Who You'll Recognize: Ryan Phillippe and Juliette Lewis.
What To Expect: This 10-episode series centers on the murder of a young boy and the hunt for his killer. The main suspect is Phillippe, a family man and the jogger who first discovered the boy's body.
Who You'll Recognize: Anthony Anderson and Lawrence Fishburne.
What To Expect: The comedy answers the question: What do you do when your family's not "black enough"? Anderson plays the patriarch of a well-to-do family who wants his kids to embrace their ethnic heritage.
Who You'll Recognize: Randall Park ("Veep").
What To Expect: The comedy show is already making history as the first Asian American-centered sitcom on TV and follows the Huang family as they leave their comfortable life in Washington, D.C., for the restaurateur business in sunny Florida. Expect plenty of stereotypes to be addressed and also, plenty of laughs.
Who You'll Recognize: Karen Gillan ("Doctor Who") and John Cho.
What To Expect: A comedic commentary on our culture's obsession with social media complete with pop-up hashtags.
Who You'll Recognize: Stand-up comedian Cristela Alonzo.
What To Expect: The show centers on Cristela, a six-year law student who's having trouble managing her family's traditional expectations with her dream career, but the trailer fails to garner any laughs.
Who You'll Recognize: Timothy Omundson ("Psych") and Joshua Sasse.
What To Expect: If "Once Upon a Time" were a musical comedy, this might be what it looked like. Plenty of singing, dancing and medieval hijinks abound in this tale about a man's quest for revenge on the King who stole his one true love.
Who You'll Recognize: Analeigh Tipton ("Crazy, Stupid, Love") and Jake McDorman.
What To Expect: Inner-monologues and dating disasters. The comedy show follows a couple's rough relationship start and their adventures in the Big Apple.
Who You'll Recognize: Halle Berry.
What To Expect: A woman who just returned from a 13-month solo mission in space discovers she's pregnant and mysterious things start to happen.
Who You'll Recognize: Tea Leoni.
What To Expect: Presidential-sized drama. Leoni plays newly appointed Secretary of State Elizabeth McCord. Although she was once one of the CIA's best analysts, McCord quit the spy life to raise a family and become a college professor, so when she's thrown back into the world of terrorists, political maneuvering and hostage negotiating, things don't go smoothly.
Who You'll Recognize: Scott Bakula and Lucas Black.
What To Expect: "NCIS" but with a spicy kick. The team heads down to New Orleans to solve crimes in the Bayou. Nothing new here but, it's "NCIS," you know you'll watch.
Who You'll Recognize: Maggie Q and Dylan McDermott.
What To Expect: To be even more paranoid about your social media use than you are now. The show follows Q and McDermott as they investigate stalking incidents while trying to fight their own personal demons.
Who You'll Recognize: Katherine McPhee.
What To Expect: When you have an IQ higher than Einstein's you don't just lead a normal life. Enter Walter, one of the smartest people in the world and the man enlisted by the government to help save it, using brain power of course.
Who You'll Recognize: Joey McIntyre.
What To Expect: Plenty of slapstick comedy and punchlines that don't pack any heat. The show centers on a family from Boston and plays out pretty much every stereotype you can think of. We expected more from a show produced by Tina Fey.
Calling all HuffPost superfans!
Sign up for membership to become a founding member and help shape HuffPost's next chapter
BEFORE YOU GO