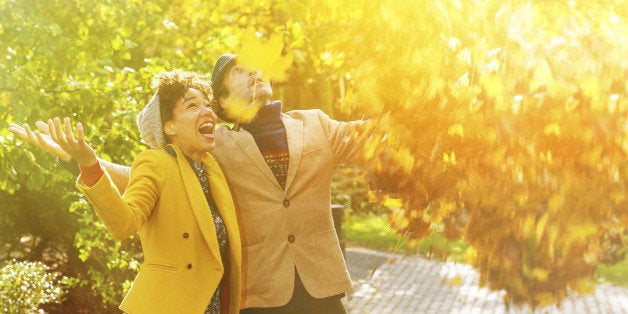 When autumn comes around, some of us like our Pumpkin Spice Lattes like we like our men: a size Tall, with a few artificial ingredients, and guaranteed to stick around through the holidays.
But how can you be certain that the gent combing through scarves at GAP is going to stick around for a New Year's kiss? Two Manhattan women decided there was only one way to find out: They posted a Craigslist ad listing all the requirements for the perfect Fall Boyfriend.
In the ad titled "Needed: Fall Boyfriends," posted to the "rants & raves" section of Craigslist's personals on Monday, the "2 smart, funny, attractive girls" declare their intention to say goodbye to summer hookups, and hello to "2 males interested in something steady/serious-ish as the weather fades from hot, humid, and care-free to crisp, chill Patagonia vest season."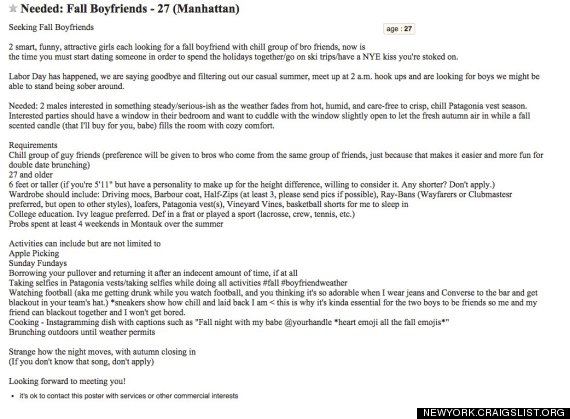 The 27-year-old boyfriend-seekers list specific wardrobe, education and activity requirements, but one prerequisite is pretty universal: "Interested parties should have a window in their bedroom and want to cuddle with the window slightly open to let the fresh autumn air in while a fall scented candle (that I'll buy for you, babe) fills the room with cozy comfort."
The ad was created by two Uptown Citizen Brigade alumnae who "love a good parody," they told HuffPost over email.
The women, who asked to remain anonymous, explained what motivated the ad: "We've often heard people (including ourselves) joke about wanting someone to cuddle with as autumn closes in. Even conversations on Twitter and Tumblr will reference #sweaterweather and #cuddleseason/#cuffingseason," they said -- referring to the "cuffing" trend, which describes such Labor Day-to-January flings.
"So it seemed like it was something already there. Oh and we had some wine, which always leads to inspiration," they added.
Catching themselves discussing men's season-specific merits, the women said the ad is complete self-parody. "It's all in good fun -- we're mostly making fun of ourselves, as we've said things such as 'He probably has good fall game' or 'Wait to see what his half-zip game is like before getting too upset about it.'"
Apart from "the bro that sent us seven dick pics from various angles," the creators are pleased with the responses to the ad.
One potential pair promised an impressive collection of "pastel ties with small animals on them. If that doesn't seal the deal, I don't know what will." Another teased, "Let's just say I know my way around a Yankee Candle store."
Despite posting the ad as a joke, the creators are impressed by the reaction to their seasonal seduction tactics. So, would they consider actually giving the guys who responded a shot? "I mean….it's a joke, until it's love right?"
Before You Go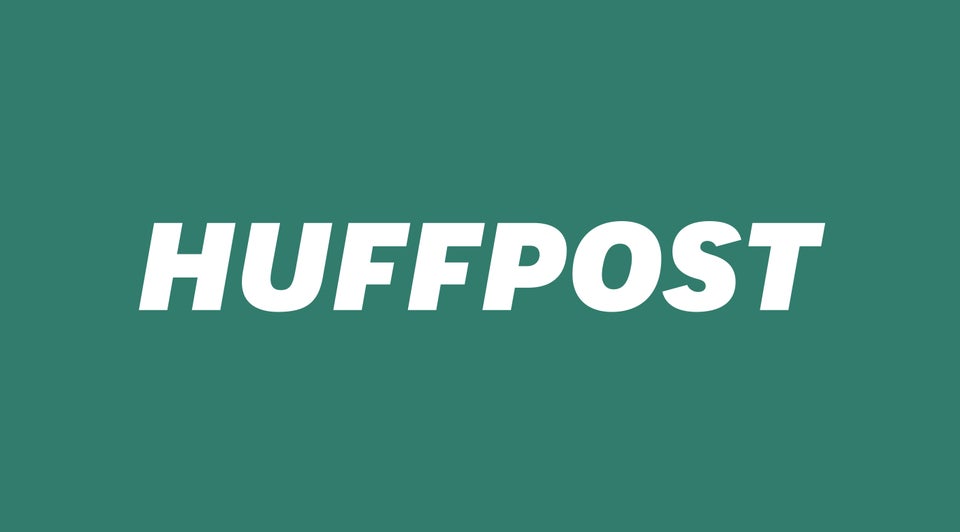 18 Funny Women You Should Be Following On Twitter
Popular in the Community