Wet leaves cling to your boots, and all the months end in "R." It's time. Ditch that wheatgrass-pineapple-infused paprika colada for the warming majesty of whiskey, because in the crisp Autumn chill, only the strong (proof) survive. So dust off your tweed blazer, pick out your best scarf, and raise a glass to six classic Fall cocktails that put whiskey back in its rightful place - your hand.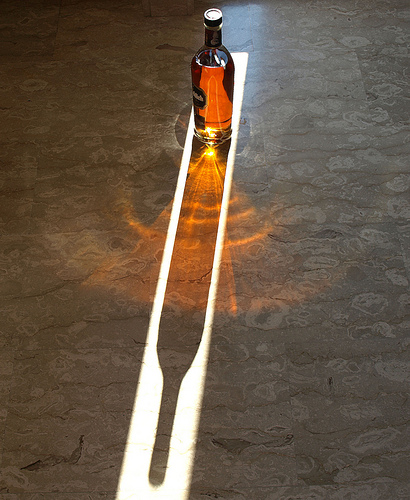 photo courtesy of foodriver
1) Suburban

"If you could distill carved-oak paneling and club chairs, leather-bound volumes and three-cushion billiard tables, [the Suburban] is what you'd get," claims Esquire. Named for the Brooklyn Suburban Handicap horse race, this 19th century tipple combines three longshots rarely seen in the winner's circle -- rye, rum, and port. Yet somehow, they just work. A nice dark rum mellows the harsher edges of rye, specifically the "heat," port subtly plays the role of a sweet vermouth, and a dash or two of bitters rounds out the missing herbal notes. Always a safe bet.
1.5 oz. rye whisky
.5 oz. dark rum
.5 oz. ounce port
1 dash orange bitters
1 dash Angostura bitters
2) Remember the Maine

Traveling mixologist, Charles H. Baker, brought us this American classic in his 1939 tome The Gentleman's Companion. A twist on the original absinthe cocktail -- the sazerac -- this delicious rye drink blends fall-ripened cherry sweetness, and oaky spice inherent in rye whiskey barrel distillation, with the herbal abundance of absinthe. A delightful sipper, and a great way to wade into the shallow end of the absinthe pool before diving in.
2 oz. rye whiskey
.75 oz. sweet vermouth
.5 oz. Cherry Heering
1/2 tsp. absinthe
3) Brain Duster

If Remember the Maine didn't kick in your teeth, never fear, the Brain Duster is here. This infamously strong libation packs a wallop and is a must for absinthe cocktail enthusiasts. Previously dubbed "The Waldorf" at the Astoria (too classy), and "The Hearn" after famous boozehound Lafcadio Hearn (we're getting closer), it wasn't until noted bartender, George J. Kappeler, christened it "The Brain Duster" in 1895 that we finally respected its potent promise.
1 oz. rye whisky
1 oz. absinthe
1 oz. Italian vermouth
1 dash Angostura bitters
4) Tom and Jerry

While this drink requires more than just the average pour, measure, and stir, the effort is well worth it. A holiday favorite for more than a century, this creamy warming elixir was crafted by none other than "Professor" Jerry Thomas and predates the Civil War, making it a truly nostalgic beverage to toast the changing seasons. Serve this at Thanksgiving and discover what people are actually thankful for.
12 eggs
1 cup sugar
1 bottle brandy
Pinch of ground allspice
Pinch of ground cinnamon
Pinch of ground cloves
1 bottle dark rum
1 pint of milk
nutmeg dusting
5) San Martin (often mislabeled "Sand Martin")

Ok, so this drink doesn't have any whiskey in it - who cares? It looks like it does. Named for South American liberator Jose de San Martin, this libation is an excellent fit for the hardcore negroni addict, substituting the herbal punch of Campari with that most refined of French liqueurs - chartreuse. I suggest trying the mellower yellow chartreuse before the "warmer" green.
1.5 oz. London dry gin
1.5 oz. Italian vermouth
.25 oz. yellow chartreuse
6) Brooklyn

What better way to proclaim your hipster status than by ordering "that other borough martini?" Ironically not as celebrated as its Manhattan compatriot, the Brooklyn does things differently by substituting dry vermouth for sweet, adding maraschino liqueur, and finishing with a dash of amaro -- like Amer Picon or Ramazzotti -- instead of bitters. It tastes better if you're wrapped up in flannel.
2 oz. rye whiskey
1 oz. dry vermouth
.25 oz. maraschino liqueur
.25 oz. amaro