Around this time of year, the lust for fall color tends to start fighting with the lust for new art or music, but there is a way to combine the two to the detriment of neither. In anticipation of others like me, the folks over on Route 7, which stretches from Connecticut through Massachusetts, and is only three hours from New York City (and already has the color popping) have anticipated our neediness and a few choice offerings will make you think green, gold and rust were merely on deep background for the palettes and lives of a lot of talented people.
The jewel in the Rte 7 crown is Making It New , a thorough, engaging and ultimately extremely moving exhibition about the golden couple Gerald and Sara Murphy, known for being the subjects of Calvin Tomkin's elegiac book Living Well is the Best Revenge and being the locus of a coterie of brilliant, needy artists and writers (needy artists and writers is oxymoronic, no?).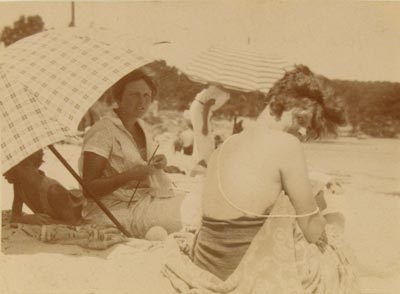 Sara Murphy, with her legendary pearls draped over her back for sunbathing, and Ada MacLeish (under umbrella), La Garoupe beach, Antibes, 1924, Photo courtesy of www.wcma.org
Sara, the beautiful eldest daughter of a Norwegian ink tycoon and Gerald, the heir to the Mark Cross leather goods company joined forces having had similarly golden childhoods in East Hampton, and attempted to recreate the spirit and freedom of those beach-filled happy years for their own three boys, as well as the talented men and women who came to find their golden light mandatory for filling up the tank.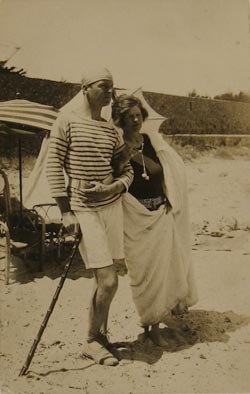 Gerald and Sara Murphy on La Garoupe beach, Antibes, Summer 1926, Photo courtesy of www.wcma.org
Besides the photographs of their enchanting dress up parties sur la plage and genealogical facts, the show includes a copy of a letter Hemingway wrote to Fitzgerald--notes he had requested on Tender is the Night--chastising him for monkeying around with the facts of the Murphys life which, he thought, were perfectly fine as is. Hemingway's idea was that you don't mess with the facts, even in fiction, and this, as we know, has been the subject of many a subsequent literary dust-up.
The Murphys golden existence was deeply derailed as first one, then two of their boys became ill. Nursing them replaced musing and cavorting on the beach and the boat. My original impression of them had been as somewhat lightweight but charming creatures whose resources kept the talents close. Instead I learned of their single-minded devotion to their children and, by extension, to their friends. Unlike some patrons of today whose text is Medici, but whose subtext is Me, the Murphys were truly caring, concerned stalwart friends, there in good times and bad, no matter what your needs. Both were talented artists in their own right, Gerald especially so, and the wall labels make clear despite his penchant for disporting in the all together, he was a very together stand-up kind of guy. I wanted their life until the boys got sick: the price extracted for their brief but glorious reign as muses was exceedingly high and it made me cry. If you don't want to make the drive up to Williams College (though you would have to be mad not to it is so beautiful right now), then you can catch the show further on in the tour at Yale (where many of their papers are permanently housed at the Beinecke Library) or in Dallas next year.
Having just re-read the fascinating Edith Wharton: A Biography by R.W.B. Lewis (which, though it touches rather too gingerly on the sexual proclivities of the various players, is spot-on about her interior life), and her recently re-issued tome on interior decorating, The Decoration of Houses, co-written with her architect, Ogden Codman Jr., I drove right by The Mount in despair, but plan to return next week. Wharton is something of a touchstone for those of us who try to multi-task since she was among the legendary polymaths and though she revered the past and was the product of the most constricted upper class New York environment, her own life was a testament to modern-day thinking (husband, lovers, friends all simultaneously in the mix). Like the Murphys, Wharton lived well and was the admirer of and admired by conspicuously talented people.
Both Wharton and the Murphys would find in Europe the fullest expression of their lives and gather around them in France among the leading lights of their generation. Yet Wharton's marriage ran aground as she reached out for her kindred spirits including Henry James and the Murphys withstood the loss of one child after another. Though Wharton would try to replicate her devotion to Europe in Massachusetts and the Murphys their devotion to East Hampton in Europe (they named their home Villa America), their attempt to make a work of art out of their lives is one that now lands closer to Dita von Teese than it should.
A little further on at MASS MoCa, though a judge has ruled that they may continue to exhibit a partial installation of an artist Christoph Buchel's work whose costs so wildly overran the budget that had been allocated that they had to stop midway, the museum has chosen to finally dismantle the whole thing which has been in storage in a partially finished state since the intended opening in May. The tempest that has ensued has pitted artist's rights versus institutional rights, or artistic vision (some may call it hubris) versus dollars. As readers know, this viewer is often struck by the grandiosity of some installation work, yet at other times I'm wildly sympathetic with the intent to remake the world in one's own vision. (How lucky is that?!) People complain that bloggers and writers are too confessional and wonder why we think that anyone's interested (the intense spilling out of stuff from our hearts and minds disturbs some while others find it a turn-on) but the same impulse to annotate one's own life and share is equally evident in the visual artists too.
Whichever side you fall on, Mass MoCa is worth a visit--it's a series of converted industrial spaces, (as at DIA Beacon, another must-see further east on the Hudson Valley side, not far from where Sara and Gerald Murphy eventually ended up) which allows artists who work at large scale to be liberated from normal space constraints in showing their work. Mass MoCa will co-host a symposium later this fall on the meaning of the whole debacle. The fact that the exhibit was due to go up in the spring and has been decaying in storage since the artist and the museum came to metaphorical blows seems somehow fitting for fall. Soon, a large Anselm Kiefer show will open and will hopefully take the taste of this sad contretemps between an artist and his curators, generally known for their responsiveness to vast and complicated installations, away.
In light of all these elegiac moments on Rte 7, remember if you will the famous Robert Frost poem (written not too much further north in New Hampshire) that has inspired many other moments of creativity.
Nature's first green is gold,
Her hardest hue to hold.
Her early leaf's a flower;
But only so an hour.
Then leaf subsides to leaf,
So Eden sank to grief,
So dawn goes down to day
Nothing gold can stay.
Get out on the road this weekend wherever you are and find a moment to connect with the natural and man and woman made wonders that makes one's heart leap up before they disappear.
REAL LIFE. REAL NEWS. REAL VOICES.
Help us tell more of the stories that matter from voices that too often remain unheard.