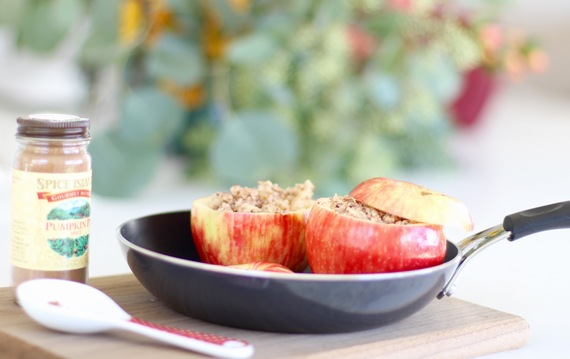 As fall arrives, so do the scents and flavors of cinnamon, pumpkin and vanilla, and it seems everyone gets into baking mode. The problem is, if you like to eat pretty healthy and don't like to use flour, sugar or gluten, it can sometimes be difficult to come up with delicious recipes that won't make you feel awful later!
The good news is that there are always alternatives, and I love coming up with a healthy solution to a food problem. I baked this apple with its own pulp, chopped pecans, and pumpkin spice. It was so easy I probably don't even need to give you directions but I will anyway!
Honeycrisp Apples (You could use any kind, that's just my favorite)
Chopped pecans
Cinnamon + all spice, or what I used which was the "Pumpkin Spice" blend by Spice Island.
Stevia (powdered or drops), brown sugar, or agave nectar.
Stevia-swetteneed milk chocolate (I used Lily's)
Rolled Oats (optional)
In a separate bowl, mix in the pulp with 1/2 tablespoon of Pumpkin Spice, or spices to taste
Add a few drops of stevia, or brown sugar if you prefer (sugar will help caramelize it in the oven)
Mix in chopped pecans
1/2 cup rolled oats (optional)
Spoon the mix into the apples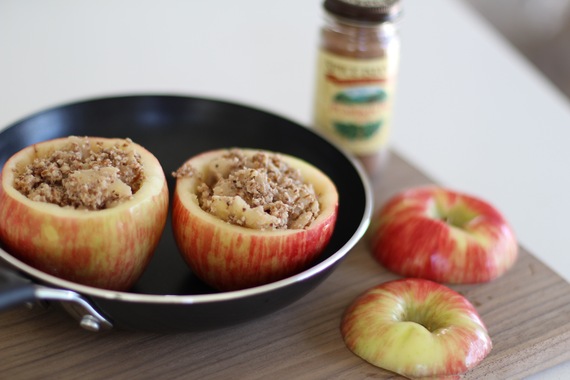 Top with a few squares of milk chocolate (I used Lily's Stevia-sweetened chocolate)
Close each apple with the top slices saved from earlier.
Wrap apples in foil, and pop in the oven at 300 degrees.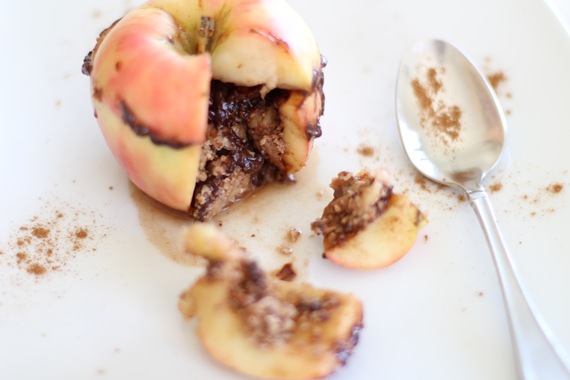 You can serve each apple with a serving of vanilla ice-cream (make sure the apples are still hot!), or if you're feeling fancy, add a topper of pie crust to close the apple instead of the top slice like I did.
Another (adult) option, is to add a touch of rum to the mix before you bake it for an extra punch, and sprinkle a little topping sugar before serving.
Was that easy or what? Enjoy!
Find more of my quickie recipes on Instagram!