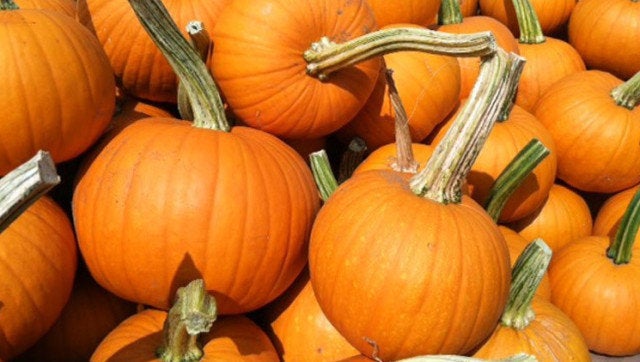 The term "fall decor" really gets on my nerves. Whenever I hear those words, I think of those horrific fake floral wreaths, the depressing front yard scarecrow (sorry, it is) and the onslaught of pumpkin recipes. While I love me some pumpkin pie, I feel this pressure to come up with cool ideas for your home in orange, brown and black. The fact is, I find Googling "sluttiest Halloween costumes" far more entertaining and fun, but we'll discuss that another day. As a designer, TV personality and a mother of two young children I must do something for fall that involves hot glue, the color orange and something with enough sugar to warrant an extra hour at hot yoga and a shot of vodka. Oh, the pressure!
The other thing is, for those obsessed with Halloween Decor and Thanksgiving Decor -- and there are a lot out there -- where can we find the happy medium? Can we find a way to add a subtle touch of fall? Is there way to do it without cutting into the budget for this season's riding boots not yet on sale?
Yes, there is. And there will be no wreaths, ridiculous flags or creepy scarecrows, thankyouverymuch.
Au Natural
The prettiest and most fabulous way to add any kind of seasonal flavor to your abode is always, hands down, by using what Mother Earth has to offer. Twigs, flowers, branches and even hay make for some great fall details. And in this world, hay is available at the supermarket, Walmart and Target, so there!
A bowl of chestnuts, acorns or pinecones look really pretty without looking like you tried too hard. These items also come in the best colors, since they're nature made. Orange glitter just never feels right, you know what I mean?
Pumpkins
I tried to make a jack-o-lantern once and it was not pretty. People think I'm crafty; I'm not crafty at all. Carving pumpkins should be left to the pros on Pinterest. Besides, that disgusting gunk inside had me completely grossed out. I'd rather take the gizzards out of a turkey. You don't have to carve. Carving is strictly for halloween. However, they make for simple and pretty decor. I'm loving the chevron and ikat spray painted pumpkins, but not sure how those will turn out either unless you have some serious crafty skillz. Not to fret, one little pumpkin is all you need! When it starts getting gnarly looking, go buy another for $2.99. Fake pumpkins are a no no. Fake pumpkins are in between the fake fall foliage wreaths and the Halloween flags on the Tacky Suburbanite List.
Candy Corn
Candy Corn. You only see it after Labor Day and before Thanksgiving. What is it, exactly? I'm not sure. But in a sweet craving pinch, it will suffice. It has a pretty color scheme and it's a candy most of us don't obsess over, so it's perfect for having around the house. Buy a simple hurricane glass, plain glass bowl, a lantern or a Mason jar and a few bags of candy corn and you have yourself the easiest DIY project on the planet! Pottery Barn has these great lanterns that come in various sizes and are really well priced. Pour the candy corn at the bottom, add a small candle and voila! Some people with kids or pets are paranoid about candles and I get it. They have great flameless candles on PartyLite in a bunch of different sizes and style. It looks really cute and varies from practically free to less than $100. And candy doesn't rot, just saying.
Firewood
As soon as we have one 45 degree night, the local supermarkets bust out the firewood. Buy a bundle and put it in a magazine rack, a wicker basket or just tied with some thin rope and put it on the floor in the living room. It looks really cool and has a faint aroma of wood you will never find in a bottle. To my horror, my four-year-old son pointed out the logs that change colors while they burn and had a meltdown in aisle 12 because I wouldn't buy them. Unless you have an 80s disco theme in your casita, stick to the real thing. I might give it as a gag hostess gift this season to my bitchiest friends. Love!
The best places to go for your fall decor details are supermarkets, farmer's markets, Trader Joe's, Home Goods, Target and check out places like Papyrus and Minted for cute details besides cards.
The Fall Decor Don'ts (just in case)
1. A cinnamon broom. Who thought that up?
2. Cornucopia. So 15-years-ago-Martha Stewart.
3. Those signs that say "Welcome Friends," "Autumn Blessings," and "Apples 5 Cents." Wait, hold on. I just threw up a little.
4. Wash towels and dish towels that have little fall leaves on them
5. Scarecrows. Not cute ever and none of you have crows, so really what's the point?
Fall is just beginning. We have plenty of time to discuss other important topics like why you shouldn't dress up as Little Bo Peep The Hooker and the perils of green bean casserole. We're just getting warmed up here with our disco themed firewood and 850 calorie pumpkin spice latte!
Check your local TV listings for more of Celebrity Designer, Courtney Cachet's style ideas and tips. You can catch her frequent appearances nationwide on TV and online, where she dishes out all the latest in celebrity home and lifestyle! Keep up with her on www.courtneycachet.com or Facebook and join the conversation!