Each year, hundreds of camera lenses point towards the brilliant golds, crimsons and tangerines that blanket New England and other regions of the U.S like a beautiful canvas. The fall foliage is one of Mother Nature's most prolific works of art, and one that will be photographed and shared with family and friends.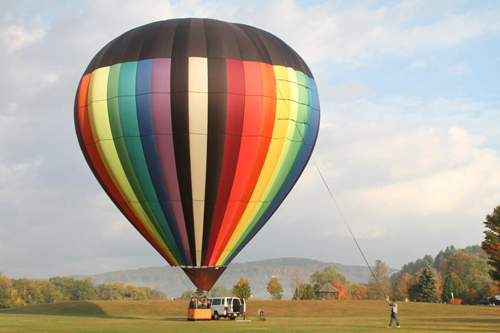 If you have ever envisioned seeing fall's vibrant hues as an exquisite painting, then go to the extremes during your fall foliage getaway this season. Instead of the traditional leisurely walks or drives down colorful lanes, you can play amongst the clouds while admiring the colors below on a sky-high, leaf-peeping adventure. From ziplines and biplanes, to tree climbs and hot-air balloons, you will finally understand what a bird's-eye view really means.
Float up, up and away high above Vermont's tree tops and along the Ottauquechee River as you soak in the glowing golds, opulent oranges and rustic reds on a hot-air balloon voyage. You can choose a romantic ride for two, or join other leaf peepers as you drift over the magnificent foliage. The Carriage House of Woodstock's nine cozy rooms coupled with its peaceful country setting will provide a respite from the day's adventures.

Vertical Horizons, Cave Junction, OR
Climb to new heights and sleep amongst nature's skyscrapers when you spend a weekend at Vertical Horizons. This B&B offers three uniquely-themed treehouses from which to view the yellow of the aspens, the tangerine of the oaks, and the burgundy of the dogwoods from your window. Or, you soak in the colors while saddled-in for a recreational tree-climbing experience. A breakfast made from locally raised products is served each morning, while disc golf, volleyball, horse shoes and fishing are available on the grounds.
Begin your day at this Orange, VA, bed and breakfast by savoring one of the inn's signature breakfast dishes, such as the cast-iron frittatas or the crustless quiche. After your morning meal, don your complimentary Aviator's scarves as you prepare to enjoy an unobstructed view of the Shenandoah Valley's vibrant colors from an open-cockpit, 3-place 1942 Waco ZPF-7 biplane. Digital photos of your high-flying adventure will be provided by the pilot, John Corradi.
Gliding 170 feet in the air for a half a mile at 50 miles per hour. Sound like fun to you? The Shepherd of the Hills' Vigilante Extreme ZipRider® will give you a thrill to match the spectacular aerial view of the Ozark Mountains' brilliant foliage. Afterwards, make your way back to Cameron's Crag where a hot tub dip on your suite's private wraparound deck awaits. Your leaf peeping will continue there courtesy of the picturesque vistas of the Branson skyline, Lake Taneycomo and the foliage-draped Ozarks valley below.
Perhaps you would rather keep your feet firmly on the ground. You can still see the foliage in all its glorious color at Mountain Laurel Inn B&B. The inn's location near majestic Lookout Mountain will give you access to spectacular hikes through foliage-draped trails that you can map out courtesy of the inn's handbook. The West Rim Loop opens up to Cloudland Canyon where you can photograph the fall foliage covering below, along with scenic leaf-peeping spots at Desoto Falls. Enjoy a complimentary picnic lunch for two surrounded by the colorful canopy.
--Mary White, Founder of BnBFinder.com