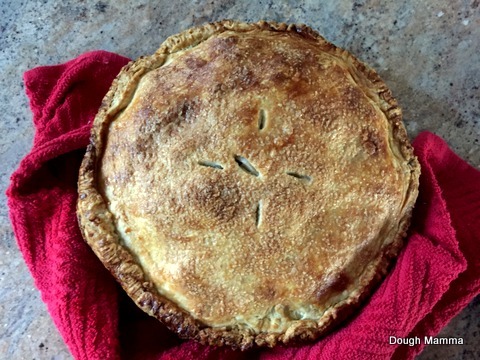 As the days grow shorter and we welcome the harvest moon, nothing says "goodbye" to summer like a good old fashion BBQ with friends and of course, double-crust apple pie. This past weekend we had perfect weather, lovely company and a banging hot apple pie. It was the first time I tried this recipe and I was skeptical of its simplicity, but I decided to roll the dice and see how it played out. The verdict? Buttery flaky crust, stuffed full of sweet and tart crunchy apples followed by warm notes of cinnamon and nutmeg, wholesome deliciousness.
Traditionally I have always sautéed my apples prior to placing them in my pies. I'm also used to pre-baking my pie crust. When I first read this recipe, I wasn't sure it would produce great results, but I was intrigued by its lack of ingredients and procedures. What a nice surprise when at first bite I was reminded of how wonderful certain dishes can taste if you just allow the ingredients to speak for themselves, the true art of restraint.
This time of year and well into fall, apples are at their peak. So go ahead and be bold, a good apple pie doesn't require a whole lot of bells and whistles, let it be what it is, a comforting, warm, sweet and crisp dessert best enjoyed with friends.
Enjoy!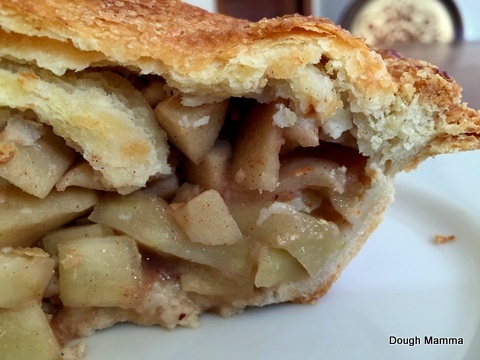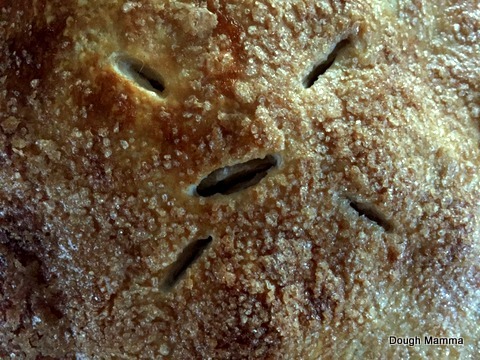 Title: Fall Harvest Apple Pie
Author: Susan G. Perdy
Prep time: 25 mins
Cook time: 40 mins
Total time: 1 hour 5 mins
Serves: 9
Notes: Feel free to add more cinnamon, most people won't complain. This recipe does not require High Altitude adjustments. I learned a new trick with this recipe, which is to use egg glaze and a sprinkle of cornflakes on the bottom of the pie before adding apples, to prevent a soggy bottom crust.
Ingredients
Flaky Pie Crust
3 cups All-purpose Flour
2 Tbsp of granulated sugar
¾ tsp of salt
12 Tbsp of unsalted butter, cold
6 Tbsp of vegetable shortening, chilled
1 lg egg yolk
2 Tbsp of white vinegar
3-4 Tbsp of ice water, or more
Glaze
1 lg egg
1 tsp of water
Filling
8-9 cups of ¼ inch slices of Granny Smith apples
½ cup of white sugar
4 Tbsp of lemon juice, fresh
3 Tbsp of flour
1 tsp of ground cinnamon
½ tsp of fresh ground nutmeg
2 tbsp of plain cornflakes
Instructions
Set your oven rack in the bottom lower third. Set temperature to 425 F.
In a large bowl, whisk the flour, sugar and salt to blend. Add the butter, shortening. Mix with a pastry cutter or your hands until the mixture resembles coarse meal, with some butter pieces the size of peas. Add the egg yolk, vinegar and 1-2 Tbsp of ice water and mix. Add more water as needed, 1 Tbsp at a time, until the consistency feels like Play-doh, not too wet and not too dry.
Form into a ball and wrap in plastic. Refrigerate for about 30minutes-1hr.
Divide dough ball in half and refrigerate one piece. On a lightly floured surface, roll out one half. Place your pie pan on top of the dough and trim, leaving two inches beyond the plate rim. Gently gather dough onto your rolling pin and place in pie pan. Drape the edges of the dough over the rim of the plate. If there are any cracks, just press the dough together to seal. Refrigerate the dough in the pan for 30 minutes if you have time, to help keep the shape.
While the pie dough is chilling, in a large bowl, toss sliced apples, sugar, lemon juice, flour and spices.
To prevent the apple juices from softening the bottom crust, spread egg glaze on the bottom of the chilled dough and then spread cornflakes on top of the glaze. Now pile the apple mixture.
Roll out remaining dough on a lightly floured surface and gently place on top of the apples. Fold the edge of the top crust over the bottom one and pinch them together to seal. Cut a few slits in the center to vent steam.
Brush the pie with egg glaze and sprinkle with about 2 Tbsp of granulated sugar. Refrigerate for an hour or overnight.
Bake for 15 minutes at 425 F and then lower temperature to 350 F and cook for another 40 minutes or so.
Remove from oven and cool on a wire rack for a couple of hours.