Love is in the air. The bone-chilling, frostbiting air. And if it's not love in the air, at least it's something close, like the scent of black truffles wafting over warm, cheesy pasta. That's right, it's nearly Valentine's Day once again, time to brave another dining encounter with someone who came from the Internet, or reach into the freezer for a Stouffer's and a pint of Ben & Jerry.
So if you're looking for sparkling romance, or at least a good dinner and enough cocktails to sit through the date, here are a handful of Cupid's favorite archery ranges.
Le Petit Paris
The fanciest dining room in town and perhaps the most decadent dining experience to come along in years.
Begin with an amuse-bouche and a glass of sparkling wine followed by either surf and turf, lobster cassoulet and duck foie gras or if you want to go raw, there's the tuna sashimi heart with coriander, mango & ginger. If that sounds truly sinful, you're starting to get the idea.
For your main course, select either herb-crusted lamb with polenta or the filet of sole with dieppoise, mussels, mushrooms, white wine cream & carrot purée.
Cleo at the Redbury
Here's what's in store for you if you at this Hollywood hot spot with inspired Middle Eastern cuisine. Whet your appetite with these items for starters: mixed grain falafel with green tahini & pickled fennel; smoky harissa dip; roasted rutabaga with almond, date & orange; and kale & goat cheese tiropita.
Next, you can't go wrong with a couple of really great salads, but considering it will be a cold winter night, how can you pass up a soup? If that sounds soul-warming, try the pressed barley & brisket soup with broccoli rabe pesto, black kale, root vegetable and caraway.

There are many choice entrées available, but nothing sexier than the bone-in braised short rib Sabzi tagine with lemon, herb and almond couscous. There are a half-dozen delicious desserts, but since this is a day of indulgence, consider the molten caramel chocolate cake.
208 Rodeo
For those who prefer to spend the holiday evening where others spend your annual salary on, say, accessories, then head to Rodeo Boulevard. At 208 Rodeo, love is not the only thing in the air, so is money. The luxurious 208 Rodeo, a staple of Beverly Hills dining and also offers live music.
Start with an amuse bouche -- a caramelized onion tartlet with Chevre and chive on a puff pastry. I highly recommend the jumbo shrimp cocktail with horseradish, sweet chili and fish roe. I might also steer you toward the créme fraiche and Chanterelles with truffle essence. If you're dining on the outdoor patio, consider the wild mushroom bisque.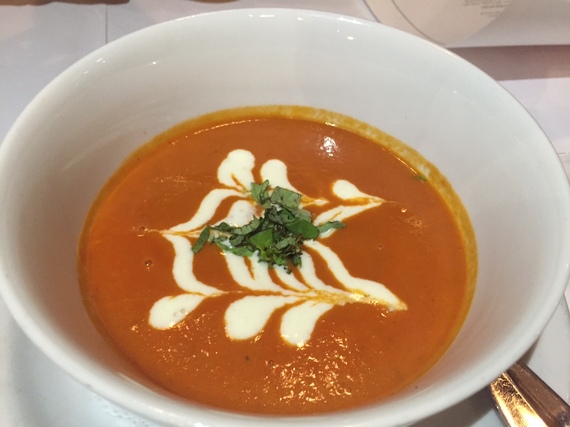 Warm the soul with a hot soup on 208 Rodeo's patio overlooking the boutique shops - Photo by Gina Hall
For carnivores, there's Wagyu beef short rib. For pescetarians, black cod. For cheese-eating pasta lovers, spinach Ricotta ravioli. Additionally, there's Beechwood mushrooms with baby artichoke and oven-dried tomatoes, as well as a polenta dish with rainbow chard and Cipollini onions.
For dessert, consider the chocolate fondue with fruit, brioche and marshmallow.
Water Grill
Romance is always in season at Water Grill, whether it be in the beautiful downtown space within the historic Pacific Electric Building or a stone's throw from the beach in Santa Monica.
If your in the mood to indulge, go surf and turf with an eight-ounce mesquite grilled filet (be sure to have it pink in the center, of course) and half a North American hard shell lobster, served with creamed spinach and Bordelaise sauce.
Now imagine warm bitter chocolate fondue featuring bitter chocolate ganache, homemade marshmallows and pomegranate.
Caulfield's
A restaurant inside a boutique hotel. Get the ball rolling with a couple of cocktails perfect for Valentine's Day. First, there's the Ms. Monroe: strawberry & vanilla infused vodka, st. germain, strawberry, lemon juice and spicy habanero bitters. Or for something even more decadent, there's Caulfield's Chocolate Raspberry Martini: vodka, creme de cacao, cream, Chambord, Frangelico and Kahlua.
Get started with a Little Gem salad, with buttermilk ranch, avocado, pancetta, heirloom cherry tomatoes. And aren't raw oysters supposed to be good for your libido? Get a half-dozen or go all out on the Grande platter: oysters, mussels, shrimp, crab claws, Ahi tuna tartare and half a Maine lobster.
Then, if you're serious about this holiday as a time to indulge your taste buds, then you have to go with Caulfield's mac 'n cheese. What's so special about this mac & cheese? It's made with lobster, truffle oil and aged cheddar.
For your entrée, may I recommend the King crab ravioli with baby asparagus, Meyer lemon and fines herbes beurre blanc or the house-made pappardelle with roasted winter squash, brown butter vinaigrette, pepitas.
Better yet, why not share a meal for two with your special someone or just someone? Everyone wins with the herb-crusted rack of lamb for two in a rich Bordelaise sauce and served with potato gratin.
Finish with a butterscotch budino or flourless chocolate cake with whipped cream, just two of many desserts.
Popular in the Community