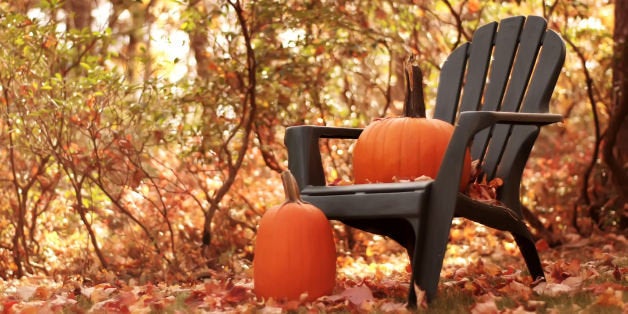 Regardless of what the weather is doing, I feel like my first real encounter with autumn happens when we head to our first fall festival. Having grown up in Northern California, I don't know if it's because my parents didn't take me to too many harvest events or because our Indian summer was so long that fall was somewhat of an afterthought, but I don't remember the rush of opportunities to go apple, raspberry and pumpkin picking let alone pumpkin beverage drinking.
I suppose we can chalk it up to experiences I didn't have, so I tend to go a bit overboard on the festival circuit with my kids, and yesterday we dove in. Due to a newly scheduled teacher workday, my kids had the day off and we drove to a family-owned farm complete with acres of slides, a hayride, a corn maze and rope swings. They go for the goat feedings. I go for the cow-milking demos. They go for the old-fashion, water pumping stations. I go for the apple cider tastings.
We all go for the super slide.
While there, I'm reminded of the bountiful ways one can easily decorate a tabletop, side board or entryway with very little expense.
There are lots of different colors when it comes to pumpkins and squashes and not always do you have to march with the orange party line. This thick, waxy blue jarrahdale decorated our indoor entryway all the way through February last year--and then my friend suggested we cut it into soup!

2. A festive tablecloth goes a long way.

To jazz up a table setting, you really don't need fancy flowers or a huge centerpiece. A bright tablecloth in autumnal hues can make a singular, profound statement. Also consider cloth napkins: they're environmentally friendly compared to paper varieties.
Taking time to sort your squash pays off. These two ideas in a wooden shipping crate and colorful wheelbarrow caught my eye for their simple beauty.
4. Mums the Word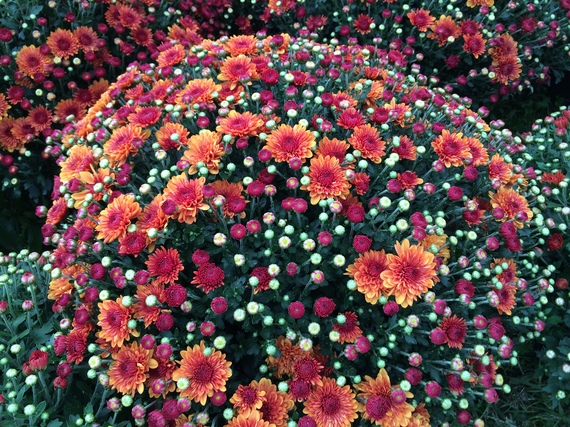 It took me a long time to come around to mums (I'll admit to saying years, actually). But now is the time to plant them to take advantage of their long blooming season, which can extend to the first frost. Given the bright hues and full bloom, they don't even need many if any filler plants around them either (read cost effective and visually fulfilling).
These small groups of maize triggered an easy place card DIY. Simply hot glue together two small stalks, and glue a place card to maize. Place horizontally above a dinner plate, or lengthwise down plate for a dramatic effect.
I love the soft glow of dinner by candlelight, and these local, beeswax candles will also emit a subtly sweet fragrance as they burn.
At dusk after the festival, while I made crab salads with artisanal goat cheese with my best friend for dinner, our kids got to washing and decorating their mini pumpkins on the deck. All it took was permanent markers and their creativity to end up with "water wave," "tribal" and "Jackson Pollock." As you can see, mine is yet to be determined.