With the air beginning to get crisp, and summer Fridays over, now is a good time to start a simple desk yoga routine. Desk yoga, when done right, can impact your productivity, and overall wellbeing during the work day. As the founder of an office yoga company, I've spent the past five years developing an adaptive yoga system, that can be done anywhere with no equipment, that targets specific anatomy affected by sedentary lifestyle.
Below are some key desk yoga poses that will help you easily fall into your new office yoga routine.

Seen above, this is a simple (and sneaky!) office yoga pose that stretches out your hip joint, and improves lower back pain. It's simple: While sitting in your chair, place your right ankle on your left knee. Flex the right foot, so you can protect the knee joint, and focus the stretch in the hip. Hold for 3-6 breaths. Switch to the other side.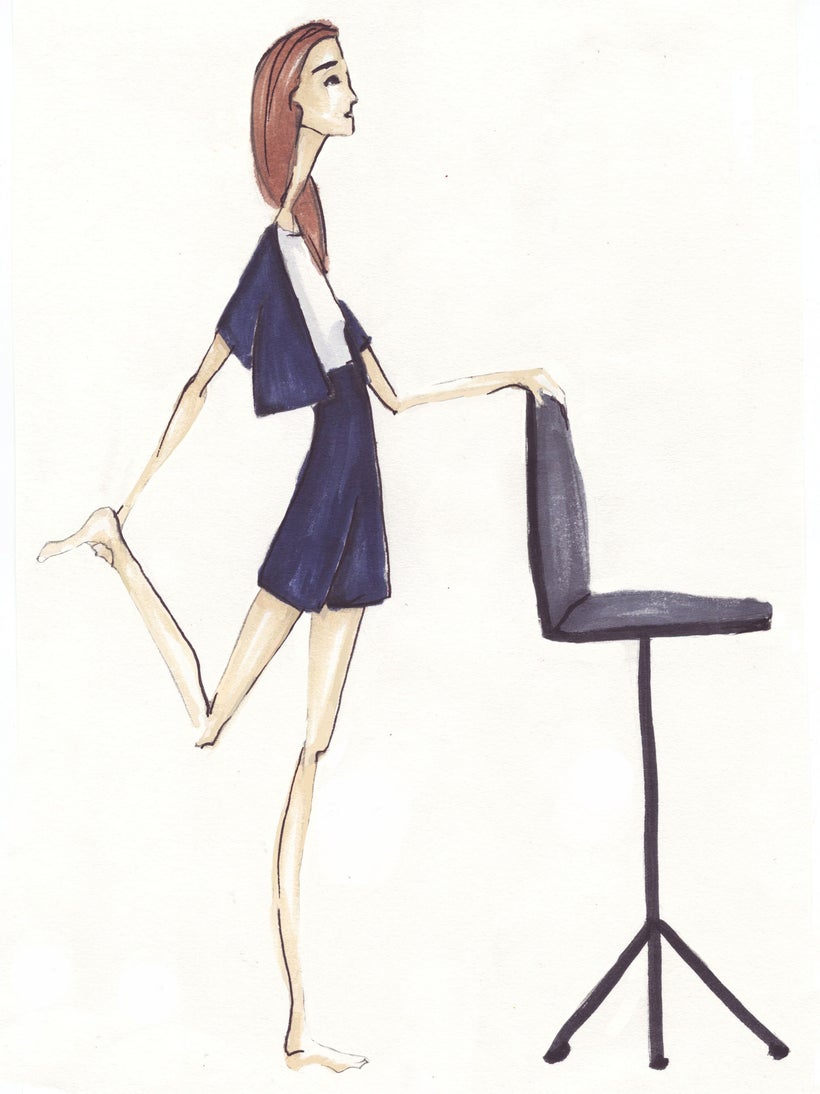 As you can see in the image above, the chair at your desk becomes a prop to help you stay balanced. One of the amazing things about doing a balancing yoga pose is that it absolutely focuses your brain on the moment and action at hand—if your mind wanders to your worries or planning (or anything that stresses you out), you may fall. So doing a pose like Chair Dancer gives you a literal escape from your anxieties, if only for a minute or two. It's easy: Start by holding on to the back of your chair, or desk, with your left hand. Bend the right knee, and grab the outside of the right foot with the right hand. Stay here if it's challenging. You can begin to tilt forward at the hips and let go of the chair, getting a deeper stretch and a more challenging balance on your right quadricep. Hold for 3-6 breaths. Switch sides.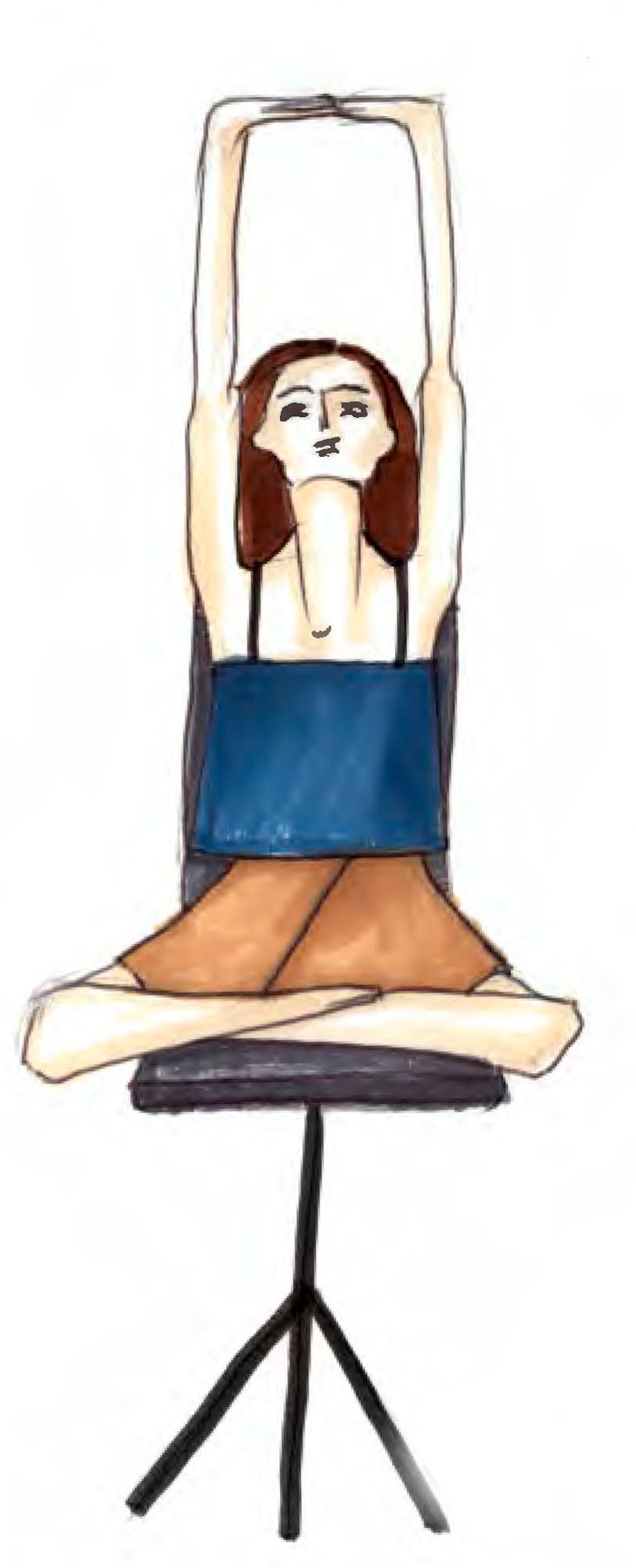 Interlacing the fingers is key here. Inside out your hands, so your palms face the ceiling as you reach your arms up with your inhale. With your exhale, relax the shoulders down in their sockets, but continue lifting the heart, to create a subtle backbend in your upper back. Hold for 3-6 breaths. Relax for a few breaths, and switch the grip, interlacing your fingers in a way that feels awkward.
In the image above you can see that the model is sitting cross legged. If this is comfortable (and possible in your chair), go for it. If not, just make sure your feet are planted firmly on the ground. If you have space, you can do this one sitting on the floor.
This practice is simple and effective. You can read more detailed instructions here. Essentially, commit to meditating for one minute every hour for the entire work day. It's easily done with a timer on your cell phone, and will help you have better awareness of time passing, and help you focus. An easy meditation is imagining your thoughts are clouds. Notice them go by, but don't get attached to one thought more than another, and watch the thoughts fade by as they continuously pass. Notice the nature of the thoughts: Are they mental talk or mental images? Notice where the mind is wandering: Are your thoughts memories, daydreams, planning, or worries? Label the thoughts as just that: Thoughts. Feel grounded once the minute is over, and get back to the task at hand.
If you're looking to learn more about de-stressing at work, read this article, and learn about simple ways companies are integrating wellness into the work day.
Lauren Coles is the creator of Office Yoga Teacher Training, and Founder of Daisy Yoga. With a Master's Degree in Education, she works with specialized populations, including office workers, urban adolescents, and people with disabilities. She was a work-life balance counselor at a benefits company on Wall Street in 2007, and has been passionate about workplace wellness ever since.
REAL LIFE. REAL NEWS. REAL VOICES.
Help us tell more of the stories that matter from voices that too often remain unheard.
This post was published on the now-closed HuffPost Contributor platform. Contributors control their own work and posted freely to our site. If you need to flag this entry as abusive,
send us an email
.