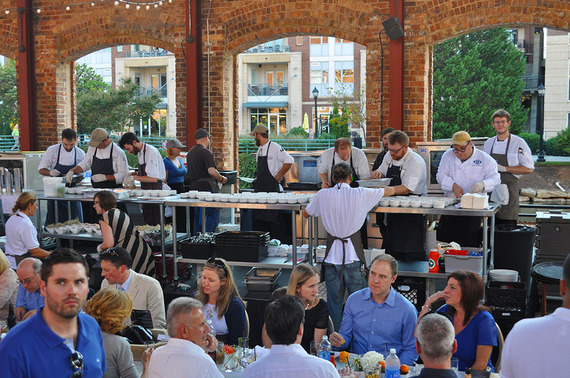 Over Labor Day weekend the legendary Pinehurst Resort in North Carolina will host Taste of the New South, a food and wine celebration to focus on traditional foods prepared with contemporary flair. The village of Pinehurst was designed by Frank Law Olmsted, the landscape architect of Central Park. Even without the dozens of championship golf courses and picturesque horse farms that surround the village, it's one of the South's most underrated towns in terms of charm, attractions, and hospitality.
After a welcome celebration in Pinehurst Resort's Cardinal Ballroom on Friday night, the festival moves to the Pinehurst Fair Barn for an oyster roast and pig pickin', along with "newgrass" music by Fireside Collective. Other festival events include Saturday's Sip 'n' Stroll through the village of Pinehurst followed by Southern Brunch and a cooking demo by Jake Wolf, owner of the popular Raleigh restaurant, Capital Club 16. Elsewhere on Saturday, college football enthusiasts can take in the games with traditional Southern fare at the Tailgate Lunch Party, an oyster and brew pairing lunch, several seminars and tastings covering wine and craft brews. Lisa Leake, author of 100 Days of Real Food, will lead a seminar on her family's decision to eat only fresh foods, while Pinehurst chefs prepare foods from her bestselling cookbook. Saturday night guests can choose from three vintner's dinners co-sponsored by Acura, featuring wines from around the world.
Sunday begins with the Farm to Fork Brunch at the Carolina Dining Room where all ingredients of the meal will be sourced within a 50-mile radius of Pinehurst. More seminars follow, most notably with Mark Essig discussing his book, Lesser Beasts: A Snout-To-Tail History Of The Humble Pig and a screening of PlantPure Nation and talk by its producer Nelson Campbell and recipe presentation by his wife Kim Campbell, along with tastes prepared by the Pinehurst culinary team. The festival culminates with a dinner and silent auction to benefit Pinecrest High School's culinary arts program.
Festival prices for A Taste of the New South at Pinehurst Resort begin at $299 per person, per night and include accommodation at the majestic Carolina Hotel as well as all events and activities.
The Thomas Jefferson Foundation once again partners with Southern Exposure Seed Exchange for its ninth annual Heritage Harvest Festival at Monticello, September 10-12, 2015. This annual festival is a celebration of this founding father's interests in sustainable gardening, food preparation, winemaking, and cultural heritage.
Two pre-festival seminars are planned before the main festival of September 12. On Thursday, September 10, guests can register for Epic Tomatoes, a three-hour session with Craig LeHoullier, author of Epic Tomatoes; Nan Chase, author of Drink the Harvest; and Southern Exposure Seed Exchange's Ira Wallace, author of The Timber Press Guide to Vegetable Gardening in the Southeast. On Friday morning in the Monticello mountaintop kitchen, food historian and author of Cooking with Fire, Paula Marcoux, will discuss some of the culinary techniques and recipes that Jefferson's enslaved cook, James Hemings, might have learned during his apprenticeship in France.
The official festival opening happens Friday night at the Paramount Theater with The Fabulous Beekman Boys discussing "10 Things We Learned about Life by becoming Goat Farmers: How Two Manhattan City Slickers Learned a Thing... or Two!" A reception with small tastes of local fare from producers featured at the festival will follow.
On Saturday the splendid estate of Monticello is open for the main festival, though a separate ticket is required for tour of the house. A family-friendly event with an educational emphasis, the grounds are set with booths featuring storytellers, musicians, historians, craftspeople and artisans, as well as a food court. A highlight among the festival booths are sampling tables for the diverse varieties of watermelon, tomatoes, honey, and other common goods. If you time it right on Saturday, you just might see a Colonial drum corps marching through or "Mr. Jefferson" greeting children and telling stories from his life.
Euphoria
September 17-20, 2015, Greenville, SC
Euphoria is a four-day festival of food and more in the small town of Greenville, S.C., located in the rolling foothills of the Blue Ridge Mountains. To mark the ten-year anniversary of Euphoria, singer-songwriter Edwin McCain, one of Greenville's leading residents and festival co-founder, is returning to the music stage to share in the festivities. McCain will perform during Euphoria's Thursday night music event, "Songwriter's Recipe," joined by Grammy award-winning songwriter Tim Nichols. McCain will also headline Euphoria's "Taste of the South" event on Friday night.
A who's-who of premiere and rising chefs and foodies from as far away as California and Chicago, Euphoria is nonstop demos, samples and collaborative food presentations throughout the charming town of Greenville. Many of the crowd-pleasing Euphoria events from previous years will be joined by several new festival options, including a children's cooking competition hosted by Tanya Steele, the creator of the annual Healthy Lunchtime Challenge and Kids State Dinner with Michelle Obama. Also new this year is an event dedicated to pastries and desserts featuring Eric Wolitzsky from Bravo's "Top Chef Just Desserts" and Fifth Group Restaurants in Atlanta; Stacy Noland of Stacy's Sweet Spot, and Asheville, N.C.'s French Broad Chocolates. A biking and a golf event at The Cliffs will help festival-goers burn off calories.
Among the returning favorites are the Saturday night collaborative dinners held throughout Greenville, including an enviable dinner at Hotel Domestique featuring Michelin Starred Chefs from across the country (Curtis Duffy, David Kinch, Sean Gray). The Taste of the South features more than two dozen chefs plating their finest Southern-inspired fare while music by Edwin McCain fills the night. The Saturday afternoon Traffic Jam is a must for food truck enthusiasts. At this year's Sunday morning Jazz Brunch, Delfeayo Marsalis and Mark Rapp will perform while diners choose small plates from among a dozen or so vendors. The Sunday Supper returns to the spectacular Wyche Pavillion where award-winning chefs Art Smith, John Currence, Scott Crawford, Kevin Johnson, Frank Lee, Mike Davis, Anthony Gray, Michael Kramer and Heidi Trull will collaborate on a family-style dining experience worth writing home about.
Euphoria pools profits to support several local charities, including Greenville Youth Orchestra, Pleasant Valley Connection, Project Host and United Ministries.
The Music City Food and Wine Festival brings superstars of top American kitchens together with live music for two days of food bliss over September 19-20, 2015. The festival will feature cooking demonstrations and panel discussions; intimate tasting sessions, and two tasting tents offering food, wine and cocktail samples from local and regional artisans.
The seminars and demos take place in four different tents set up on the Green at Nashville's newly reinvigorated Riverfront Park. While the demos and seminars are going, so are the two big tasting tents. The Grand Tasting offers attendees the opportunity to taste a diverse range of signature bites prepared by the city's top culinary talent, alongside more than 60 international and national wineries, spirits purveyors, breweries, restaurants and other artisanal exhibitors. The Chef Showcase features world-class chefs serving up samples of the classic dishes that put them on the map. The Grand Tasting and the Chef Showcase repeat on Saturday and Sunday, allowing attendees to take their time tasting through each tent.
The festival's signature event happens Saturday night at Walk of Fame Park. Harvest Night, sponsored by Infiniti, showcases dishes from world-renowned chefs with live musical performances curated by Kings of Leon. The complete line-up of musical performances has not yet been announced.
The resort island of St. Simons off the coast of Georgia hosts its fourth annual St. Simons Food and Spirits Festival September 30-October 4, 2015 to benefit the Hospice of the Golden Isles. Known for its sweet white Georgia shrimp, the waters off Georgia's Golden Isles offer a plentiful variety of seafood, but that's not all this festival celebrates. Look for hickory-smoked barbecue and sharp pimento cheese, artisan breads and local cheeses, charcuterie meats and organic produce, craft brews and hand-crafted cocktails.
The five-day festival opens with a kick on Wednesday, September 30 for a barbeque and beer pairing at Southern Soul BBQ. Thursday's event is for the sportsman and foodie alike with the BBQ Pro-Am where professional golfers and local pitmasters compete in a barbeque cook-off held on Rainbow Island and sponsored by Sea Island. Two events on Friday night aim for any budget, with the Sip, Taste and Tour in the Pier Village offering small bites, drinks and sweets in the various village shops, and the Friday Night Festival Feast, a five-course, wine-paired dinner prepared by local and celebrity chefs at Halyards Restaurant. Saturday afternoon festival-goers can experience Saturday Under the Oaks, a farmer and artisan market, complete with tasting tent, mixology tent, a kid's zone, and live music. Little St. Simons Island hosts an oyster fest at Coast Kitchen on Saturday night, while many of the restaurants on St. Simons will offer dine-around specials, with a donation of proceeds going to the festival's charitable beneficiary. The legendary King and Prince Beach and Golf Resort hosts the final event, the Spiritual Sunday Brunch, a soulful afternoon of music, spirits, food and fellowship.
The TerraVita Food and Drink Festival in Chapel Hill, N.C. reflects this community's progressive passion for food, nutrition, education and sustainability. A hallmark of TerraVita is its gathering of green-minded talent and educational emphasis on sustainable farming, kitchen practices and food preparation.
The festival's signature events happen on Friday and Saturday afternoons with The Sustainable Classroom, a series of demos, discussions and classes with leading culinary thinkers, doers, chefs and artisans, all of them speaking on how sustainability informs their work. The festival opens with a discussion on Thursday, October 8, featuring a panel of culinary luminaries discussing how the capital earned through food enterprises can do good in the community.
On Thursday night the festival moves to The Great Room at Top of the Hill (home of TOPO Distillery) for the Carolina Table: East Meets West (eastern North Carolina, versus western North Carolina). This year's family style dinner pairs chefs Steven Green of Herons in The Umstead Hotel and Spa in Cary, N.C., Sean Fowler of Mandolin in Raleigh, Jim Noble of Noble's Restaurants in Charlotte and Winston-Salem, and pastry chefs Krystle Swenson of Standard Foods and Andrew Ullom of AC Restaurants. Those who haven't had enough to eat and drink--or just want to socialize with like-minded foodies--can drive over to the Weathervane at Southern Season for the Lambs and Clams after party headed by Border Springs Farms' Craig Rogers and other chefs from throughout the Southeast. Friday night's dinner, Hill Fire: Pits, Spits & Grills, is a celebration of the pig with some of the area's finest chefs, pitmasters and farmers, including James Beard Best Chefs of the Southeast winners Ashley Christensen of AC Restaurants and Fig's Jason Stanhope. After the classes conclude on Saturday, TerraVita heads to the nearby Southern Village for its Grand Tasting on the Green where more than 40 local restaurants, brewers, distillers, wineries and artisanal food purveyors will offer samples to swoon over.
In concert with their emphasis on sustainability, TerraVita has a zero waste goal and through the use of compostable and recyclable materials has met its objective each year.
Planners of Fire, Flour and Fork in Richmond don't call their event a festival, but "a gathering for the food curious." The five-day event is imagined as the three elements of its name, and has curated events around each identity.
The fire element spotlights the passions of two dozen renowned and award-winning chefs from throughout the country who will heat up Richmond kitchens during collaborative dinners and themed suppers. Some of the celebrity chefs lending their talent include Peter Serpico, Katie Bell, Travis Grimes, John Fleer, and Dylan Fultineer. A highlight looks to be the John Dabney Dinner where Michael Hall and David Dunlap will tell the story and recreate some of the dishes of John Dabney, a mid-nineteenth-century African-American hotel cook and restaurateur.
The flour is all about breads, pastries and sweet treats with guest chefs Joanne Chang of Boston's Flour Bakery, Chicago's Mindy Segal of Mindy's Hot Chocolate Bar, David Bauer of Asheville's Farm and Sparrow Bakery, and Nashville's Lisa Donovan of Buttermilk Road.
As for the fork, just imagine yourself wandering with a fork in hand through tasting tents, artisan markets, demos, classes, and on location specialty tours.
Fire, Flour and Fork isn't forgetting October 31st is Halloween. Its Beaux Arts Ball hopes to ignite the spirit of 1930s Richmond with architecturally inspired food and costumes to celebrate the 120th anniversary of the legendary Jefferson Hotel where the ball is set. Walter Bundy of Richmond's Lamaire leads a team of a dozen guest chefs for an exquisite dinner of taste, texture and temptation.
Other events for the food--and drink--curious are the Bartender Battle, where four Richmond mixologists duke it out for high stakes; and a Sunday supper where kids can participate in a special dinner and class with Family Meal's Bryan Voltaggio.
The historic port town of Savannah, Ga. welcomes renowned chefs and foodies from throughout the nation for a week of dinners, demos, tastings and a whole lot of excitement. The Savannah Food and Wine Festival's main event, the Celebrity Chef Tour, is a collaborative dinner at the spectacular Mansion at Forsythe Park, prepared by James Beard Award winning chefs working side by side with local chefs and culinary students. Headlining this year's Celebrity Chef Tour are chefs Scott Crawford, Anthony Lamas, Jonathan Waxman and Tory McPhail.
Other outstanding festival events include the pre-festival event on November 7. Billed as the world largest low country boil, this quintessential Southern gathering will be held on the riverfront of the Westin Savannah Harbor Golf Resort and Spa. There's a Grand Reserve Tasting for wine connoisseurs at the Westin Savannah Harbor Golf Resort and Spa, as well as the Sip, Savor and Shop along historic River Street. The Main Event is a grand tasting at the Georgia State Railroad Museum, where dozens of great Savannah restaurants offer samples, along with wines, spirits, beers and demos. The Jazz and Bubbles Brunch closes the festival on Sunday at the Westin Savannah Harbor Golf Resort and Spa.
The Savannah Food and Wine Festival is sponsored by Publix and is presented by the Tourism Leadership Council, a 501-(c) 6 organization, with proceeds benefiting the TLC Scholarship Fund for hospitality program students in colleges and universities in the Coastal Empire and many local charitable organizations.
Music to Your Mouth at Palmetto Bluff in Bluffton, S.C. attempts to rekindle the food and music associations that many people recognize among their most memorable experiences. This year MTYM has replaced the big tasting tent with individual Culinary Salons focusing on different types of food and preparations through classes, demos and tastings. A panopoly of musical styles are featured during the four-day festival, including such iconic Southern sounds as bluegrass, country, blues, southern rock, jazz, and low-country stomp.
Although the Culinary Salons are new, the festival has maintained many of its favorite events, including the Block Party with this year's guest chefs Asha Gomez, Steve Satterfield and Anne Quatrano partnering with Palmetto Bluff chef Drew Dzejak; Rock the Dock presents seafood fresh from Bluffton oysterman Jared Mayhew and prepared by guest chefs Mike Lata, Andy Ticer, and Michael Hudman; the Potluck Supper where guest chefs Lauren Mitterer, Ashley Christensen, Phillip Krajeck and Spike Gjerde will craft their favorite dish from their childhood or from their own home; Put on the Pig with MTYM pitmasters Craig Rogers, Rodney Scott, John Lewis, Drew Robinson, and Sam Jones; Biscuits; Pie and Jam is a breakfast extravaganza with some of the South's best pastry chefs, incluidng Carrie Morey, Lisa Donovan, and Lauren Mitterer; Open Fire, another barbecue party with the MTYM pitmasters; Green Eggs, Ham and Lamb features breakfast on Sunday with Virginia's leading shepherd Craig Rogers of Border Springs Farm, along with ham master Sam Edwards of Edwards Virginia Smokehouse and master baker Carrie Morey of Callie's Biscuits.
MTYM gives back five percent of all ticket sales to benefit Second Helpings, a Bluffton charity that collects perishable goods from local food providers and distributes the food to non-profit agencies who supply shelters and those in need. To date, Music to Your Mouth has contributed more than $90,000 to Second Helping.