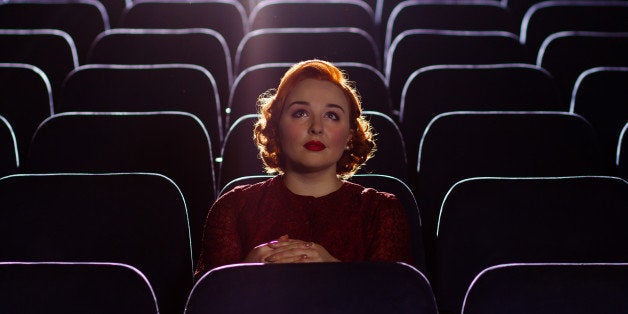 As the Guardians of the Galaxy-sized summer blockbusters give way to the more subtle grown-up films of fall, moms everywhere can manage their entertainment expectations with one simple truth:
You won't get a chance to see any of them in an actual movie theatre. (Hire a sitter just to go to the movies? No, thanks.)
Rather than feel a little sad for yourself when the rest of the world is talking about the complicated relationships in This is Where I Leave You or what they think of Angelina's second directorial effort, take comfort in reviewing this handy guide to your must-see fall movies.
Aaliya: The Princess of R & B
Break out the Costco bag of Skinny Pop, because you will NOT be left out again when Lifetime airs their newest made-for-TV movie. How were you so late to the The Unauthorized Saved by the Bell Story/The Brittany Murphy Story party?
They both aired during back-to-school week.
Yes, it was fun to click through all the "62 biggest hot train wreck messes" slideshows the next day at work, but it just wasn't the same as tweeting along with the rest of the world. Set your DVRs now for November 5th.
Because it's the one thing that you genuinely enjoy around Halloween that you can share with your kids. And also because It's the Great Pumpkin, Charlie Brown is severely overrated.
A Drew Barrymore Thing You Have Zero Interest In
The plane took off safely. All three kids are all buckled in with all three LeapPads, full charged. You're heading home for Thanksgiving, and you've got three hours of in-flight entertainment to keep you busy. You know what? Chef would be delightful, but Neighbors would make you so, so extra thankful.
Prepare to spend your journey at 30,000 feet with Drew Barrymore, a dolphin, Adam Sandler--and maybe even Adam Sandler playing a dophin.
Frozen, for the Twelve Billionth Time...
The Blind Side/Something Kind of Too Dramatic for What You're in the Mood For
One of the most under-appreciated extras of getting to steal away for a manicure is straining your neck to read the subtitles on the muted romantic comedies screened at the nail salon.
This was the only way you were able to watch 17 minutes of Dallas Buyers Club (and therefore be able to speak confidently about Matthew McConaughey's Oscar chances) and 42 minutes of the Sandra Bullock/Melissa McCarthy fun fest, The Heat (and never tell anyone you stayed in the drier an extra half hour because you were shamefully amused).
Before you hustle off for your next You Don't Know Jacques! session, be warned: This is a tale of two Sandra Bullocks.
They'll be playing The Blind Side. Again. Just like they've been doing since it came out. And when it ends, front desk person will start up something that is 100 percent not the light, female buddy cop flick you wanted. Instead, it's something with a guy who's probably British (you'll never know; the sound is off) and probably with Naomi Watts with unkempt hair, because all single hardworking mothers in movies have unkempt hair.
You don't say a WORD when he retires to the basement EVERY SINGLE Saturday to watch college football, and you've had this ONE NIGHT on the calendar with your book club/Bunco friends (same friends) for FOUR MONTHS.
(And you had to pick between GG and seeing Reese in Wild-- two new releases would be abusing the privilege.)
That One with Colin Firth That Won an Oscar Maybe Like Four Years Ago?
The King's Speech. Or A Single Man. This fall, you'll finally know what all the buzz of 2010 was about -- not because you want to, but because you need to. You need to return the DVD to Netflix that you've had for eight months now so you can get what you really want to watch: the remaining 81 minutes of The Heat.
And in case you do want to know what's coming out in the theaters...