Fall Out Boy might have a Billboard No. 1 album under its belt, but Patrick Stump and Pete Wentz didn't know they'd truly arrived until Elton John stopped by to record "Save Rock and Roll," the title track off the band's comeback album.
"People always ask you this canned question, like 'When did you guys realize you made it?'" Stump, the group's lead singer, told The Huffington Post in an interview before the Fall Out Boy's Friday show at iHeartRadio's New York theater. "And we've been doing this for 10 years, and I think the moment we realized we really made it is sitting in the studio with Elton John, because that's not one of the things I thought was in the realm of possibility."
But John -- who the band says fully endorsed the pro-rock message of the album -- isn't the only big name that's featured on "Save Rock and Roll" (out April 16 on Island). Big Sean, Foxes and none other than Courtney Love all appear (2 Chainz is on a remix too), making the album something other than a fun piece of pop rock. Instead, the project -- and its title -- position the group behind sing-song youth anthems like "Sugar We're Goin' Down" as curators, connecting what's working in today's music with what they think we've lost.
"Rock and roll means more than leather jackets and blues riffs," bassist and songwriter Wentz said. "We're never going to be a Pitchfork band, we're just not those kind of darlings and we never aspired to be. But I think that we could be a band that's a gateway drug for people. Like, 'They were wearing this band's shirt on stage so I'll check them out,' or 'They made me feel all right, so I know I could be a weirdo in high school and feel like I fit in.' That's what this record, to me, inspires. It needs to unlock something in all of those kids, and if it does, then it's done it's job."
"Everyone wants to pretend like they sprang out of the ground with an Animal Collective record in their hands and a David Bowie haircut, and that's just not the case," added Stump, who became an Elvis Costello fan after finding him via The Specials. "You discover these things gradually."
Even if the title's meant to be a bit of a joke ("It is a little tongue-in-cheek," Wentz said), they're in pretty good company. Excepting fun. and a few Ke$ha songs, guitar-driven music has been all but excised from the radio, replaced by a barrage of electronic dance music, hip-hop and hip-hop that's bending over backwards to sound like dance music (see: Chris Brown, Tyga, Usher, etc.). Things have gotten so bad that Daft Punk has turned its upcoming "Random Access Memories," the most-anticipated dance album in years, into a rejection of EDM, forgoing samples in favor of live instrumentation from the likes of Chic's Nile Rodgers.
"When we play radio shows, we're usually the only artists there with real instruments," Wentz added. "And I think that's important. It's been really great to see the success of fun. It's cool to see someone that's a little more rock."
Even with a mission, it's somewhat surprising that the band decided to strike it up again. Fall Out Boy exited on the tail end of when MTV cared or pretended to care about music, and the band's every movement became fodder for gossip. (This, of course, is particularly true for Wentz, whose 2011 divorce from Ashlee Simpson was a big moment when it comes to the pop punk rumor mill.) It wouldn't be an overstatement to say the group was disillusioned with fame and success in the music industry.
"I don't think we were necessarily aware of it at the time, but when you're on the road for such a long time, you get in this cycle of make a record, promote it, promote it, promote it," Stump explained. "Then there's this point where you have to go back and be inspired and psych yourself up to make a record by a certain date. And that never works, and we found ourselves running on fumes a little bit -- creatively and probably as people, too."
Wentz agreed, noting that "there isn't a good handbook" for being a musician. (If that sounds familiar, it's because it echoes Kurt Cobain's musings about a "punk rock 101 course" in his suicide note.) The 33-year-old cites his 4-year-old son, Bronx, as a "big deal" that "really humanizes and grounds" him.
"If you look at people like Michael Jordan, real buzzer-beaters, and they're getting the ball with seconds left in the game and everyone knows they are and they have to win the game," he said. "There's something about them that you assume means maybe that's not the guy who calls his mom on Mother's Day, because whatever it is that drives them to be that great force probably negates other parts of their personality. Whatever made our band that larger-than-life thing, hopefully we can find things that make this monster that is Fall Out Boy work but also let us go home and see our families. And that's what I hope we take out of the second time around."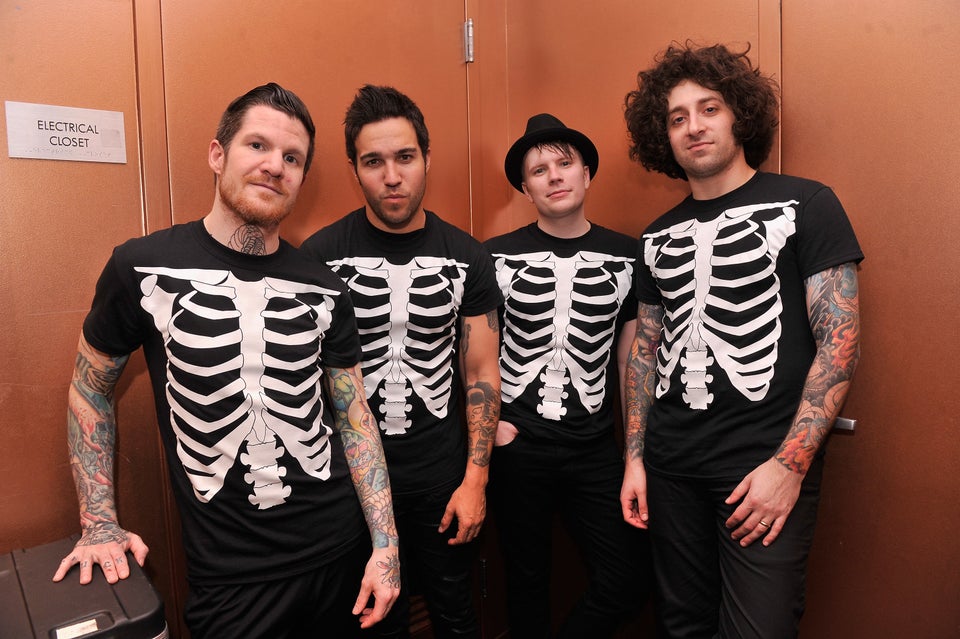 Fall Out Boy iHeartRadio
Popular in the Community