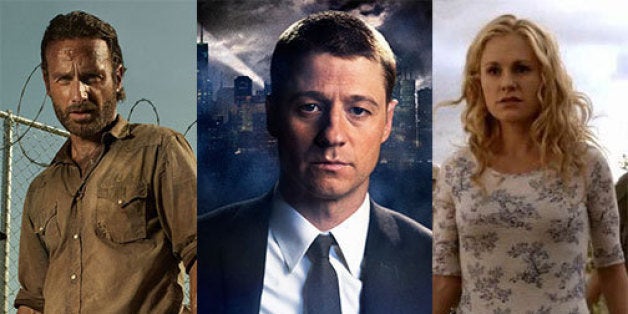 In case you haven't heard, Comic Con happened last week, and thanks to the San Diego cosplay convention, we've got a lot to talk about when it comes to the fall TV season.
Plenty of shows paid a visit to the entertainment mecca and debuted clips, trailers and teasers for their upcoming seasons. From plagues and villains to zombies and kilts, there was a little something for fans of every genre to sink their teeth into. We've rounded up all of the fall previews for you to binge on until the new TV season gets here.
"The Walking Dead"
Okay, this had to be first. The teaser for Season 5 of the hit AMC drama has everything we could hope for: badass Rick Grimes, Daryl wielding his crossbow, a new mission, explosions, fight scenes and plenty of walkers.
"Gotham"
Seriously, with every preview we get more and more excited about this "Batman" prequel. The new teaser has more Penguin, more Jada Pinkett Smith and an even darker look at the underbelly of the city.
"Outlander"
The kilt has officially dropped. Starz is bringing the Diana Gabaldon time-traveling romance drama to the small screen next month but fans were treated to a new trailer that included some good-looking men in kilts. Need we say more?
"The Simpsons"
Fans of the family from Springfield got a special treat this year at Comic Con. The show previewed their premiere episode and gave viewers a five minute tease of their "Family Guy" crossover.
"The Originals"
The sophomore season of "The Vampire Diaries" spinoff looks bloody good. Haley's gone hybrid, Klaus and Elijah are out to kill their less-than-loving parents, Kol might not be as dead as we thought and Rebekah's back!
"Bones"
"Bones" previewed some Season 10 footage that came complete with bar fights, prison jumpsuits and more dead bodies to examine.
"Reign"
The Black Death sweeps through the castle, taking out a few of our favorite royals when Season 2 of "Reign" comes back this Fall.
"True Blood"
The final five episodes are all that's left of our beloved blood-sucking drama. The vamps of Bon Temps -- Mr. Compton included -- have come down with Hep V and it's up to Sookie to find them a miracle.
"Teen Wolf"
There's a bounty on everyone's head in the final episodes of Season 4 of "Teen Wolf." From the looks of this teaser, things seem pretty grim, but since the supernatural drama has been picked up for a fifth season, we're sure at least some of the cast will survive.
"Constantine"
The bad-boy demon fighter is back -- sadly sans cigarettes -- and he's "one nasty piece of work." Trapped souls, evil spirits and all manner of creepy things haunt this new preview.
"Arrow"
Oliver Queen's got a new enemy and he should be very familiar to "Batman" fans. It looks like Ra's al Ghul is the new big bad for Season 3.
"The Flash"
The CW comic series didn't officially have a panel at Comic Con this year but that didn't stop them from releasing a new TV spot at the convention. Apparently they wanted to prove Barry Allen is pretty fast and doesn't mind breaking the speed limit.
"Falling Skies"
The war against the aliens rages on but it looks like the humans aren't doing so bad in this Season 4 preview.
Calling all HuffPost superfans!
Sign up for membership to become a founding member and help shape HuffPost's next chapter
BEFORE YOU GO
PHOTO GALLERY
The Walking Dead