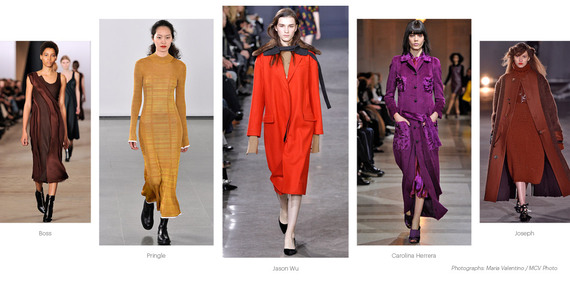 It's been a loooong summer but now, finally, Fall is at hand. We're hardwired, when temps cool, to change our palette accordingly. Earth tones and warm, rich hues replace those blues and popsicle-bright pops.
This Fall, the seasonal palette is showing up in some updated shapes and silhouettes and interesting textures.
Boss The warm mahogany shade of this sculptural dress makes a striking statement for a Fall wedding or cocktail party. A minimal gold cuff or earrings and a pointy-toe pump would complement beautifully.
Pringles Known for their exquisite knits, the British brand Pringle takes a sweater dress to new heights. In a gorgeous ochre hue, it manages to be both covered-up and sexy because of the intricate corset-like pattern of the needlework.
Jason Wu Orange is a controversial shade: You either love it--or hate it. It's all about the depth of color and the fabric. A classic, single-breasted cashmere coat in the perfect shade of Mandarin orange is simply delicious.
Carolina Herrera Purple is the color of princes, popes and prophets. A rich combination of serene blue and fiery red, it requires presence. No one will overlook you in this exquisite coat and dress ensemble.
Joseph Keep the home fires burning with this cozy combination of turtleneck dress and textured overcoat in a hue that evokes the evening's embers. Perfect for a walk on the moors--or on a blustery sidewalk--with the addition of a sturdier shoe or boot.
When shopping these colors:
Outerwear as look maker: A coat or blazer in a bold Fall color is a chic head turner. Check out the Banana blazer in Citron, the Boss coat in Sienna Red, and the Veronica Beard jacket in Brick. These are particularly effective if the rest of your look is dark/neutral colors.
Deserving some depth: The textures are the twist on the Fall colors. Love this sleeveless ribbed turtleneck from Ann Taylor and the Italian wool turtleneck sweater from Miu Miu. An exceptional find is this Bordeaux-colored sheath dress in intricate brocade. It recalls fall leaves!
Attitude adjuster: What's interesting is how color can transform a piece's impact, whether it's making a rather prim shirtdress from Co more adventurous because it's Rust or turning a straight suede skirt into retro cool because it's Oak Brown.