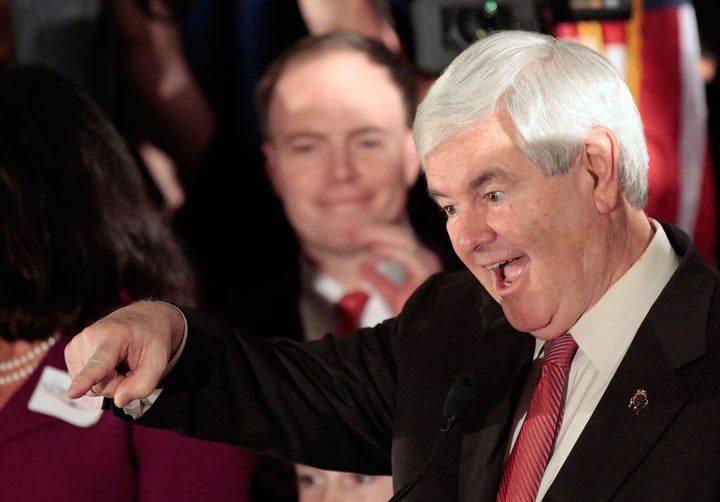 Those Tea Party types are so promiscuous. Conservative Republicans have been spoilt for choice in the primary election cycle, with Michele Bachmann, Rick Santorum, Rick Perry, Ron Paul and Newt Gingrich all vying for their support. Bachmann founded the House of Representatives' Tea Party Caucus in 2010, and she was encouraged to run for president after winning a poll given by the Iowa GOP last August. Nonetheless, Gingrich beat her in a straw poll among Tea Party Republicans in December, and in Iowa, conservatives, evangelical Christians, and Tea Party supporters all went for Santorum. Santorum and Gingrich were neck and neck in New Hampshire, each claiming 14 percent of Tea Party supporters' votes and 9 percent total. With Bachmann out of the race, and Gingrich ahead of both Santorum and frontrunner Mitt Romney by a wide margin in South Carolina's primary, is Gingrich the new Tea Party candidate?
It's no secret that Tea Party supporters detest Romney, but Gingrich's history with the conservative faction is less well known. His American Solutions for Winning the Future program trained Tea Party activists for political office, but his proteges initially felt no obligation to back his campaign. Since its inception in 2007, American Solutions also had functioned as Gingrich's fundraising and promotional tool. It raised over $50 million before declaring bankruptcy last year, after Gingrich decided to run for president.
Throughout his career, Gingrich has been a lightning rod for the wrong kind of controversy. One recent scandal involved an accusation that he paid a Myrtle Beach, South Carolina, Tea Party chapter for its endorsement. Nevertheless, Tea Party poster girl Sarah Palin told Fox News that she would vote for Gingrich in South Carolina's Jan. 21 primary if she were a state resident, but only to prevent Romney from claiming the Republican candidacy.
Tea Party activist Sen. Jim DeMint (R-SC) didn't play favorites in the weeks leading up to his state's primary. His Senate Conservatives Fund is solely focused on building a conservative presence within Congress, endorsing candidates in Texas, Ohio, Wisconsin and Nebraska. The Tea Party movement has been credited with overturning the Democratic majority within the House of Representatives in 2010. If DeMint's strategy is successful in the Senate, the next U.S. president will be forced to contend with Republican dominance in both Houses. It's no wonder DeMint thinks it doesn't matter who sits in the White House.
Obama would suffer in such an environment, but not Gingrich. During his tenure as Speaker of the House of Representatives from 1995 to 1999, he caught flak for polarizing Congress. Even other Republicans blame Gingrich for creating an atmosphere hostile to bi-partisan cooperation.
If the vision of an army of Tea Party Republicans primed and prepared to infiltrate the government gives you the heebie-jeebies, it's worth noting that the movement is under fire. In Wisconsin, the process to recall Gov. Scott Walker and his Lieutenant Gov. Rebecca Kleefisch is well underway, and United Wisconsin's petitioners have collected nearly double the number of requisite signatures to dethrone the governor. Tea Party activists attempted to replicate Walker's union-busting tactics in Ohio, but last November voters in that state rejected legislation to limit collective bargaining rights.
Throughout the primary election process, the conservative vote has been so splintered that right-wingers have found it tough to get behind a single candidate. Indeed, if the moderate Romney were to win the Republican nomination, some conservatives have threatened to spoil his bid for the presidency by sitting out the general election. This is what happens when your enemy's enemy is also your enemy.
With so many primary contests yet to come, it remains to be seen whether Gingrich will continue to enjoy the Tea Party's favor. Given his track record with committed relationships, he may find wooing the Christian contingent more challenging -- these are the same voters who supported Santorum in Iowa. But at the very least, Gingrich's campaign will continue to supply enough prurient drama to pique even the most jaded imagination.
Calling all HuffPost superfans!
Sign up for membership to become a founding member and help shape HuffPost's next chapter