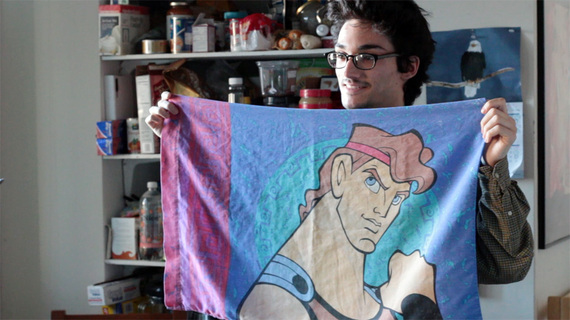 I'm From Driftwood is a 501(c)(3) nonprofit archive for lesbian, gay, bisexual, transgender, and queer stories. New stories are posted on the site every Wednesday.
Alexander Zuccaro of Tom's River, New Jersey, says he never really fit in on the playground. Describing himself as artistic, he says he wasn't that interested in playing sports with the boys but didn't really want to hang out with the girls either. He recalls:
I can remember growing up always feeling strange, odd, and different, not just for being gay but being artistic as well. I never really hung out with the boys who wanted to play sports, but I didn't really want to hang out with the girls either on the swing sets. I wanted to do my own thing.
Alexander first realized he was gay at 5 years old thanks to a Hercules pillow set, a secret comfort he could turn to when he couldn't explain himself to his friends at school. The pillow was his "boyfriend," he says:
I remember Hercules was on my pillowcase, and I remember thinking to myself, "This is my boyfriend." And as a 5-year-old, I was making out with it. I was kissing it and holding it and thinking, "Oh, my God, my boyfriend is here with me."
Alexander describes why his pillow made the perfect companion:
By kissing my pillowcase, he couldn't talk back to me; he couldn't make fun of me or ridicule me or tell me I was wrong. It was something that was just natural, and I could just do without any problem.
But why Hercules? Alexander recalls:
I just thought this muscular man is saving all these people and is very strong and heroic, it was very attractive to me as a young child, and I wanted that kind of figure in my life.
Popular in the Community