Several years ago, my life was in drama mode, filled with tragedy and robbed of humour. This was unusual for me because I tend to focus on the lighter side of situations. Let's face it, life is filled with heartbreak and challenges. To maintain my sanity, I typically choose to laugh rather than cry. Unfortunately, there were several issues creating drama, which undermined my otherwise positive perception.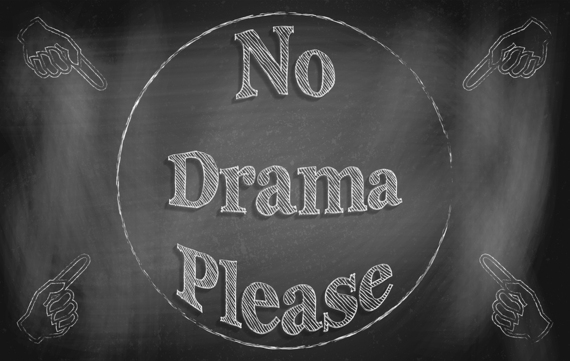 Image Bratovanov via Bigstock
I was struggling because I was out of work. At the same time, a close relative made a false accusation about my behaviour in "society." This was detrimental to my emotional well-being. The accusations hurt my heart, but eventually my name was cleared and justice prevailed. The entire situation was a significant learning experience.
Around this time, I was invited to speak at a Ladies' Night event in London, the theme of which was "Positivity." I had learned from my recent life experiences, so I decided to put that knowledge to good use by writing a book about love and relationships. It was at this event that I met and spoke with a psychic who I would meet again in the near future, and who would have a dramatic impact on my future.
A couple of weeks after the event, I had an appointment with the psychic who I had met there. It was my first experience with a psychic reading. Until this time, I believed I should not play with destiny or interfere with what was meant to be. I had even read that in some faith based systems, it was "forbidden" to want to see a future outcome. But, I was desperate. So, I sat down with the psychic, and I told her all of my emotions. She was candidly direct with me, and she said, "Look at your hair. How can you talk about love, when you are not looking after yourself? How will you convince people to believe in the message you are sharing?"
The psychic told me that I should be honest with myself and with others about how I was feeling. I recalled a past incident when I was honest about a challenging time I experienced with an ex-friend and ex-business partner. At that time, I was upset, and I retreated into myself. It was as if I had put my life on hold. When I spoke to someone about the situation, they explained that I had brought it on myself. I later realized that this was because I did not love myself. I failed to see my value. It was ironic that the Ex saw this value and took advantage of the valuable person that I am. I am happy to share this story today because my life is much happier since I have learned to love myself. It is important to be open and talk about the issue of self-love because it is relevant to many people who feel disconnected from loving themselves. They are desperately searching for love, and they believe that this missing element can only be found from the outside.
Recently, I was once again motivated to write about my experiences with self-love and with my journey to find my new love match. I am driven to do this because I am conscious of the fact that there may be others like me. If I have felt disconnected from love, surely others have had the same experience. Why do we feel this way? It is because we live in a world focused on obtaining acceptance by conforming to certain standards. Acceptance is achieved by the way we receive and attract love. I was guilty of this myself, not too long ago.
My battle for acceptance started a long time ago before I understood the true depth of the word. When I was younger, I knew I was connected to the love source. I easily found love and joy. It was all around me; it was in the relationships I had with my parents and siblings. It was in the beauty of the world around me, even the funny bits. Love was abundant.
Then, I was corrupted by the conditioning system. I am referring to a societal system where things must be done in a certain way. Later in life, because of this system, I felt I had to act in a specific way to be accepted. For example, in my relationships with my parents, if I behaved in a way they deemed "good," everything was alright. Therefore, I began acting like the ideal child in order to connect with love and with my parents. This meant being the "good" student or being an "easy-going" child. I later realised I was over-projecting one area of my personality to the detriment of the other parts of me.
As we grow and learn about love, images and messages in fairy tales, films and songs show us that love is found outside of ourselves. They want us to believe that if you are truly happy, love will find you. We are shown images of the shining, white knight in silver armour, who comes to the rescue of the damsel in distress. He, of course, is her one true love, and he saves her. These messages are confusing for children because they make us believe that love is found externally when somebody else loves us. It took me almost three decades to discover that I must first love myself before others can love me. Somewhere along my life's journey, I had actually fallen out of love with myself! It took the psychic to remind me that I needed to love myself, and I needed to be and to share the REAL me. I was now on a journey to fall in love with myself all over again.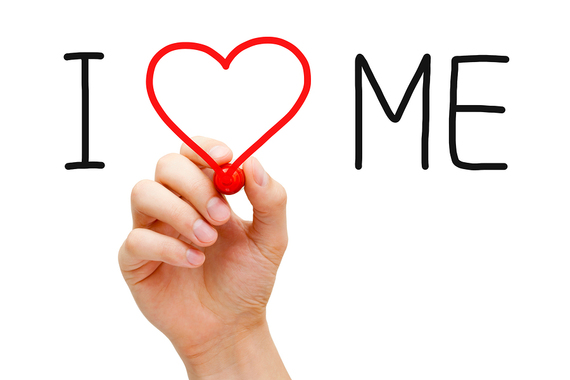 Image Ivelin Radkov via Bigstock
So, what is involved in falling in love with yourself? In modern times, some people describe it as self-love. There seems to be an epidemic of ignoring our own needs because it is deemed egotistical. This is an example of how society conditions us to believe there is only one route to love. The reality is that there are many paths for us to choose. Love is in abundance. It is everywhere, and it is inside of us!
It is important to take care of our "self." It is loving to nurture yourself, and it is an important part of giving love to others. Becoming a Single Important Person (S.I.P.), a term I introduced in my first book, Be Happy, is crucial to the core of our being. An S.I.P. is in love with and in touch with their inner core. They understand they are awesome, and they are happy with themselves. This self-love and self-acceptance may be a challenge at first because we are habitual creatures. That means we need to get into the habit of self-care by remembering to nurture ourselves. This includes eating well, pampering ourselves and providing ourselves with pleasurable experiences. For instance, I enjoy date nights with myself, because they make me feel awesome! We must find a balance in ourselves.
By falling in love with myself again, my other relationships have improved. I am more aware of when I need to love myself first. Acts of self-love include knowing when to say "NO" to something or someone, creating clear personal boundaries and eliminating negative energy in your life. I find that our love core is like any magnet; the stronger it becomes, the more love we see and attract into our lives. It is simple. Love loves love.
It is important to remember to love yourself first. Life is a continuous journey. There may be challenging days, but by staying positive and loving yourself, you will succeed in making your dreams come true.