In the 1977 hit Annie Hall, Alvy (Woody Allen) Singer stops his new cabaret singer crush Annie (Diane Keaton) Hall on the street, in an awkward attempt to express his feelings. Wanting to kiss at the beginning of the date to get it over with, he blurts out:
Love is too weak a word for what I feel - I lurve you, you know, I loave you, I luff you, two F's, yes I have to invent, of course I -- I do, don't you think I do?"
Alvy would have added "I LUFT you" to that list, if only he'd met cabaret singer Lorna Luft instead.
After being cooped up for a week in a thimble-sized Greenwich Village studio apartment with the flu, I traipsed uptown to hear the dazzling Lorna Luft, daughter of the scintillating Judy (Garland), half-sister of the dynamic Liza (Minelli).
Yup, it's official. With apologies to Woody, I'm in LUFT.
Entering 254 West 54th Street, site of the nightspot Feinstein's 54 Below http://54below.com/, is like taking a pinch of Proust -- Remembrance of Things Disco Past -- plunging back in time to 1977, the same year as Annie Hall, as well as the opening of Steve Rubell and Ian Schrager's buzzing nightclub Studio 54 . From 1977-81, regulars from Salvador Dali and Jackie Onassis to Diana Ross and Margaux Hemingway would dance the night away. And oh yes. Add Liza and Lorna to that list.
Just as a historical note, the theater venue opened originally in 1927 as the Gallo Opera House, then was reincarnated as the Casino de Paris (1933), the WPA Federal Music Theater (1937), the New Yorker Theater (1939) and the CBS Studio 52 (1942), site of assorted tv game show tapings from To Tell the Truth and What's My Line to Password. AHA...my déjà vu was validated; I'd actually taped a broadcast in that very same 254 West 54th Street theater, when I was a teen-age contestant on Password with Allen Ludden, Soupy Sales and Sheila MacRae.
Descending the steps to enter the downstairs Feinstein's 54 Below, one savors the experience like sipping a fine Merlot, wandering past tantalizing photos of 1920's pinups, chorus and dancing girls draped in furs, feathers and fans. Entering the cabaret is like slipping through celluloid, wandering into a room of old film clips.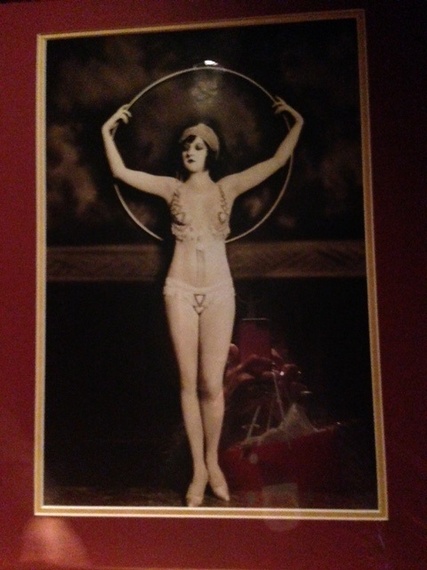 I could almost visualize Fred Astaire at his prime table swooning over Ginger Rogers. I imagined the Ziegfeld Follies Girls would be shimmying on stage at any moment. The thrill permeates the music and dining space, from the upper "salon" bar to the plush booths in the intimate, swanky spectator room.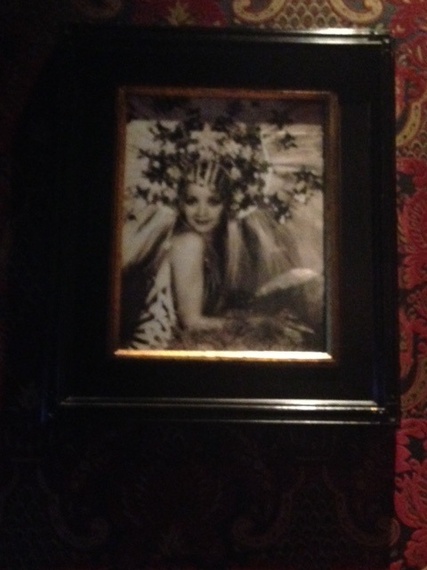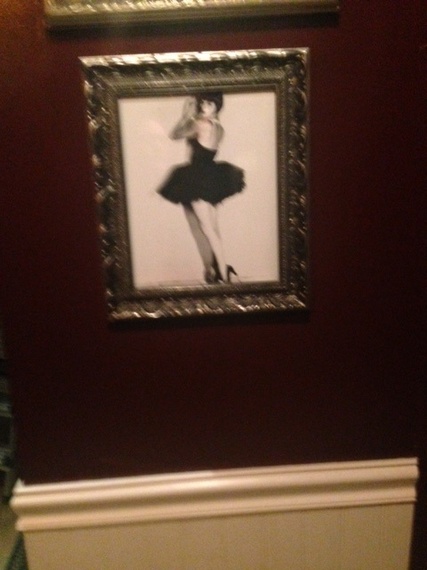 Vintage 1920's supper club photo collection - John Lee Beatty, designer
Under the gracious watch of General Manager John Iacetti (he floats around, effortlessly conducting and choreographing the guests, servers, and musicians like a blend of Lenny Bernstein and George Balanchine). The 54 Below room (opened in June 2012) sparkles with energy; no table is more than 24 feet from the stage.
Waiters and waitresses in smart bow ties and suspenders skim the room like turn-of-the-century ice skaters. It's 1/3 snazzy club, 1/3 glossy rink, 1/3 sassy elegant nightclub. The room is a glimmering combination of Tony-award winning producers, artists, and designers.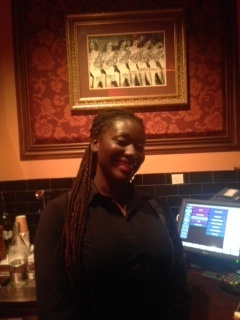 In 2015, the Ambassador of the American Songbook himself, Michael Feinstein, established a creative partnership with producer/owners Tom Viertel, Richard Frankel and Steve Baruch), and the club was renamed Feinstein's/54 Below.
Designed by John Lee Beatty (restaurant design) and Ken Billington (lighting), sound designer Peter Hylenski, and architect Richard Lewis, Feinstein's/54 Below's creative team is led by Jennifer Ashley Tepper, Director of Programming. Personal touch is all: they are thrilled to custom tailor a menu, a recipe, a private event or a guest act.
Mandisa Boxill, staff, Feinstein's/54 Below
Chef Lynn Bound (whose smile knows no bounds, stretching across her face) has added a touch of sass and class to the menu, from her purr-making parsnips to her blissful short ribs. The Butternut squash soup with cashews demanded an encore.
Dismayed that I was down to my last spoonful, I was rekindled by the sudden emergence of a red flash against a gold curtain backdrop, announcing the smashing entrance of Lorna, soaring onstage, a bolt of red hot energy with an unstoppable voice. Luft sweeps in, the essence of 3D: dashing, daring, and divine. We seem to have come full disco ball circle. "Talk about life repeating itself," she croons. "I'm back in the basement of Studio 54...and this time I'm going to remember it."
Alternating as debonair songstress and snappy raconteur, backed up by her hip band (including pianist/husband Colin Freeman, drummer Joshua Priest, and bassist Jim Donica), she strikes a dramatic pose. Her deep, velvety voice confides in us, winking the hilarious ("my Mother knew how to do everything except drive"), and delivering the courageous ("just 19 months ago I had seven ribs removed after a sudden re-diagnosis of breast cancer.")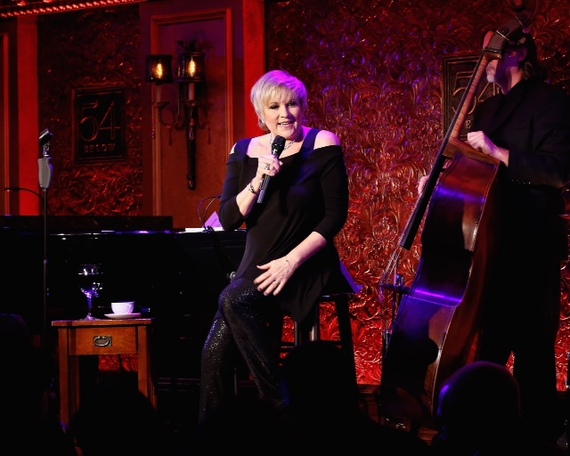 Lorna Luft and bassist Jim Donica at Feinstein's/54 Below
Photo Credit http://www.zimbio.com/
Let me just say this. My Mom was in love with Lorna's Mom. Anne Berman would invite her 1960's BFF's over for Saturday night galas in Bayside, Queens. The line-up? Orange marmalade-glazed chicken, rice pilaf with pignoli nuts, and a Judy Garland marathon. She named my older sister Judy after her. We'd sit on the top of the stairs, way past our bedtime, listening in, catching glimpses of chatter and sounds of Judy Garland songs. My Mom and I watched The Judy Garland Show, and I distinctly remember the 1963 Christmas episode where she proudly introduced the world to Liza, Joey and Lorna. She plied me and my sister with hours of Judy G. films, which I now watch to transform my mood from beige to turquoise. I still watch Meet me In St. Louis, anticipating Judy (Esther Blodgett)'s line: "Personally, I think I have too much bloom." And I can watch A Star is Born 100 times; I'm still like a teen-ager, awestruck and mesmerized by the Born in a Trunk number.
Talk about turning a mood around. Blending wit, wisdom and humor, Lorna has inherited the gift of comedy, commentary and connecting with an audience. She dazzled us with songs, lyrics and anecdotes, reminiscent of her mom Judy Garland's extraordinary gift of storytelling. Threading together themes of her own life with cinema life, she bursts into the room like a femme fatale in filmy firecracker red, contrasted with sparkly black leggings. In a sense, she is a live portrait of Stendahl: Le Rouge et le Noir. Her sculpted stance is familiar, as are those long thin legs. According to Luft, Oncologist Philomena McAndrew and Doctor David Agus, along with a team of cardiologists and thoracic surgeons, "merged some of my back to my front" -- with incomprehensible designs more intricate than Leonardo da Vinci. A blend of the comedic and the courageous, Lorna she admits that ultimately humor conquers: "On a scale of 1 to Caitlin Jenner, this is an 8."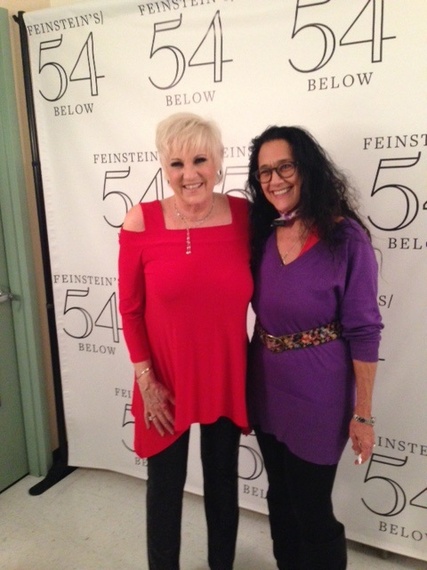 Embroidering an evening quilt of musical and comical themes, Luft is tenacious, ever grabbing the gusto in life. Even within her haunting Johnny Mercer medley (crooning a haunting Moon River to a forceful Something's Gotta Give), Lorna drops pearls of wit, dotting the lines of wisdom in an intimate setting - "Johnny Mercer wrote down the lyrics a quarter to three... but the bartender's name was Tommy. He later confessed to the bartender that Tommy just wouldn't cut it, so he used set 'em up Joe, which was always meant to be Tommy."
Confessing to her audience, Luft is in a tête-à-tête with each one of us, explaining how she has coped with her horrific diagnosis. Seven ribs lighter and 19 weeks later, she came out of her surgery, raring to cook up a new theme for a new show. What came immediately to mind? But of course. Songs about "what's been cut out?" Her creative juices assembled a group of songs cut out of films. Who knew that the classic Harold Arlen tune Over the Rainbow had been mercilessly deleted and that the noble producer Arthur Freed had saved it. Luft deftly recounts the story of Boys and Girls, a song cut from Oklahoma, Meet me in St. Louis and Take me out to the Ball Game.
Feinstein's/54 Below is cut from the cloth of flair. It is a swirling, sophisticated and snappy experience, supporting the art of dining, clinking, drinking, and soaring with the elegance of music.
Lorna Luft is the essence of the Feinstein's/54 Below experience. Soaring with optimism, she is the epitome of creativity, touching us with her big heart and voice. After all, the anagram of LORNA LUFT is FULL-ON ART.
Calling all HuffPost superfans!
Sign up for membership to become a founding member and help shape HuffPost's next chapter