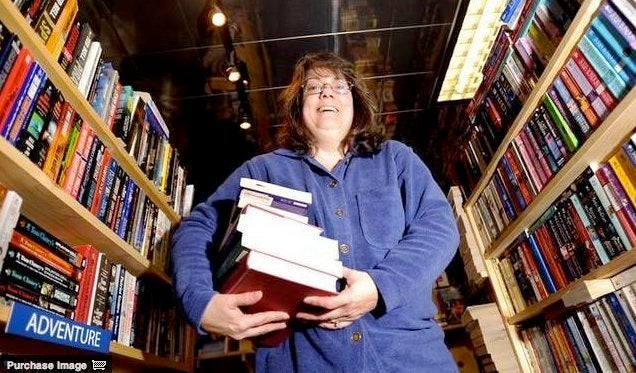 A funny thing happened on my way to becoming a dedicated e-reader. I wound up falling back in love with a couple of small, independent bookstores in my home borough of Brooklyn.
It began when I was in the Fort Greene neighborhood and came across Greenlight Books, a relatively new bookstore trying to make it against all odds in this e-reader age. It could not be a nicer, homier bookstore, carrying a lot of independent publishers and writers who are not household names. There was just something very comforting about browsing there. I fell in love immediately and bought a couple of books.
Then I found myself outside Brooklyn's Trader Joe's over on Court and Atlantic in Cobble Hill, the neighborhood where I first lived when I moved to Brooklyn in 1982 (anyone remember Cousin's?). Anyway, I wandered across the street into Bookcourt which was around back then, and found that it has super-sized itself by moving into the storefront next door. Like Greenlight books, Bookcourt is the very ideal of a small independent bookstore with staff picks and a knowledgeable staff.
And then, by pure coincidence, I happened to come across a book titled Other People We Married by Emma Straub, who apparently works or worked at Bookcourt. It's a terrific book of short stories, marvelously written, with a cover designed by Straub and her husband. It's published by Five Chapters, a small independent publisher.
I started thinking, man, I like these people and what they stand for, and I'd really hate for these two bookstores to go out of business or for writers like Staub not to have their support. And I am afraid that will happen if we all flock to e-readers. Yes, we're gaining some convenience, maybe, but what are we losing? And are we prepared for that? I'm not.
And here's the other thing. Yes, I enjoy my Nook and/or Kindle when I'm traveling (I actually have both) but the feel of reading on one is kind of claustrophobic. Books come and go on them and I don't feel the same attachment I do when I hold a real book in my hand, and can turn back the pages to see something I've missed or to look at the author's photo, or to show off a cool cover.
Around the same time, I was falling for these two bookstores, I was reading Super Sad True Love Story, a novel of the future. There is a scene on an airplane when the main character whips out a book, and the guy sitting next to him tells him to put it away because it smells kind of moldy.
That is decidedly not the kind of world I want to live in.
Support HuffPost
The Stakes Have Never Been Higher
Related
Popular in the Community