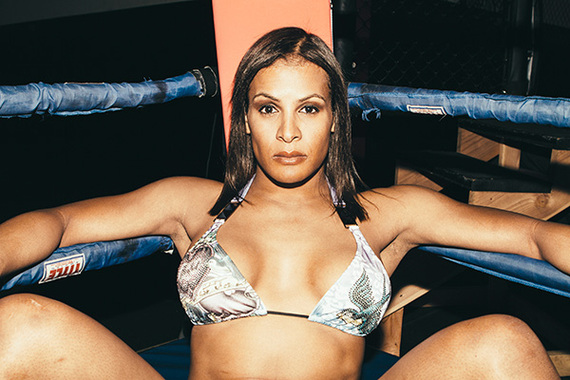 Fallon Fox, the first openly transgender female to compete in the MMA, discusses transistioning, fighting, her goals and being authentic. Fallon Fox is a professional Mixed Martial Arts Fighter specializing in the art of Brazilian Jiu Jitsu, Wrestling, and Muay Thai. She began training in 2008 after serving in the Navy as an Operations Specialist second class and currently has a record of 5-1-0. She is currently training and waiting on her next MMA fight.
Fallon knew as a young child she was different than other boys but it took many years later for her to understand what that meant. While a student at the University of Toledo, Fallon began to research transgender identity in order to better understand herself. Fallon struggled with being comfortable with the body she had at the time. Fallon physically transitioned from male to female in 2006, finally matching up her inner identity with her physical form.
Fallon bagan training jiu jitsu in order to get back in shape and find a way to defend herself physically. She gained a passion for jiu jitsu and Mixed Martial Arts and found empowerment. She later went on to study Muay. Fallon entered the MMA as a fighter in 2011. Fallon's goal is to be the best female fighter in the world and be a role model to others that anything is possible if you work hard and believe in yourself.
Fallon encourages transgender youth not to be afraid of your true self and be proud of who you are. The challenges are difficult but there is great joy in being authentic and real. Transistiioning is a process and can be frightening but there is peace, joy and satsfaction on the other side. Every transistion is different so began when you can do it safely and only when you feel ready.
To listen to the full conversation with MMA fighter Fallon Fox go here:
Check Out MMA Podcasts at Blog Talk Radio with
ToniNewman
on BlogTalkRadio
Fallon Fox is one of the many transgenders on the move in 2014 and achieving great things. To read more about transgenders on the move in 2014 and living authentic lives please check out the new issue of Proud to Be Out-The Digital Magazine at http://www.proudtobeout.org. You do not have to hide or live in darkness for being authentic and your true self. Fallon's word of encouragement is Stand Tall and Be Proud and I echo that 100%. To learn more about Fallon Fox check out her website at http://www.fallonfox.com.
Calling all HuffPost superfans!
Sign up for membership to become a founding member and help shape HuffPost's next chapter