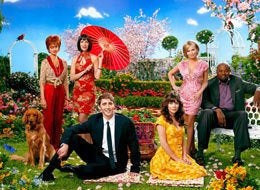 Anticipation is building for the new season of television shows, especially because the Writers' Strike led to production alterations to practically all series on the air and in production.
A part of that excitement seems to be brewing around returning and new shows that have, or could, have a spiritual aura to them.
While the network execs, showrunners and stars are trying to keep plot lines hush hush, here are some series to look out for in the 2008-2009 TV Season.
In this drama from producer Jerry Bruckheimer, the FBI has hired biophysicist Dr. Jacob Hood (Rufus Sewell) as a special science advisor to the government. Representing the last line of defense from scientific crises and oddities, Hood pursues those who exploit findings and developments. Hood's personal beliefs play a role in his mission to safeguard science from those who plan to abuse it. Executive producer Ethan Reiff hinted recently at the Television Critics Association Summer Press Tour that as the series progresses Hood's faith will be explored in relation to a past loss.