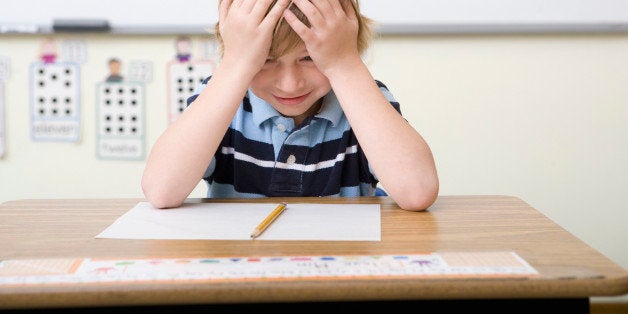 U.S. Secretary of Education Arne Duncan made headlines over the weekend with the publication of an editorial in the Washington Post. He appeared to acknowledge the need to reduce the amount of high stakes testing in the nation's public schools. Despite the title, "Standardized Tests Must Measure Up," a close read of Duncan's prose reveals that little has changed in his overall view or in his support for corporate education reform. The cornerstones of the corporate education reform agenda, including the narrative of failing schools and the argument that testing, albeit modified, provides the best means of measuring student progress remain prominent in his essay.
Duncan's piece appeared following a meeting of the Council of Chief State School Officers and Urban School Leaders in Washington last week. Attendees included a veritable who's who of the disciples of corporate education reform, such as New York State Education Commissioner John B. King, District of Columbia Public Schools Chancellor Kaya Henderson and Louisiana State Superintendent John White. All have all been under pressure from parents, teachers, and education activists to reduce the amount of testing and refocus on more holistic learning outcomes. The tone coming out of that meeting regarding the amount of testing was also decidedly less ambitious -- but none of us should be fooled.
It is perhaps not surprising, in an election season when so many of those who attempted to impose these changes stand to lose their jobs that Duncan and others would feign a change of heart. If you listen carefully, it is not really a change at all.
At the conclusion of their meeting, the Council's Executive Director Chris Minnich, for instance, flanked by King and several other state leaders, predictably from districts that witnessed significant backlash acknowledged "there is always room for improvement." However, they only admitted the need to "take a look at all assessments and make sure they are of the highest quality and deliver meaningful results," not to phase out over testing.
The most telling comments came from the highly controversial king. While seemingly endorsing limitations on the amount of local testing, he did not back away from the high stakes testing model that has been just as polarizing. Opponents have criticized the amount of testing but have been equally vocal about the stakes involved, often pointing to remarks like those made by Secretary Duncan that testing would allow educators to "to look every second grader in the eye and say, 'You're on track, you're going to be able to go to a good college."
Publicly backing away from such comments, Duncan has done little else. Speaking at the annual meeting of the American Educational Research Association in 2013, for instance, the Secretary condemned "high-stakes testing where children's lives or teachers' careers are based on one test." Nevertheless, he insisted that the solution was not in abandoning standardized tests but refining them into what he called "assessment 2.0." His latest remarks in the Washington Post appear to be more consistent with re-branding the tests instead of meaningful reduction or even better, more varied assessments.
Politics seem to be the primary motivating factor for Duncan's latest comments as many of corporate education reforms staunchest supporters on both sides of the political divide face tough re-election campaigns where education is a key issue. In September, for example, Duncan's fellow Democrat, Connecticut Governor Dan Malloy -- who has also been under intense pressure for his support of corporate education reform -- sent a letter to the Secretary asking to start a dialogue about reducing the amount of assessments.
With all this as backdrop, Duncan's appeal is less a change of direction than an attempt at PR, a rallying cry for state politicians to view the clamor against testing as a temporary setback and to stay the course. In his brief communication, his language is qualified such as when he acknowledges, "standardized testing sometimes diverts energy" from the focus on education reforms and other "ambitious set of changes."
As he conceptualizes the problem,
It's vital that political leaders stand behind changes that will prepare our young people for success in the real world -- changes that educators have worked so hard to get underway. We must also stand behind states that have increased standards for learning, and where adults are holding themselves responsible for the progress of all students. We must stand strong for responsible and equitable school funding. We must stand strong for making both preschool and college accessible to all.
The Secretary's rhetoric ignores the reality that many of these conditions remain unmet and policies pursued by the Department have actually contributed to significant crises in urban school districts such as Philadelphia, Oakland, and Memphis where chronic underfunding has compromised not enhanced the quality of education.
Duncan concludes that, "we must stand strong in the knowledge -- not the belief but the knowledge -- that great schools make a difference in the lives of all children." The problem, despite the Secretary's crafty pitch, is that he continues to believe that such knowledge can only come from data primarily derived from high stakes testing. Paying lip service to states that have moved beyond bubble tests and modified teacher evaluations does not change the fact that real leadership from Washington would come in the form of revised mandates, not newspaper editorials.
What American education really needs is for those entrusted with the responsibility of moving us forward to put students and not data first. Then and only then will be back on the road to great schools.
Popular in the Community